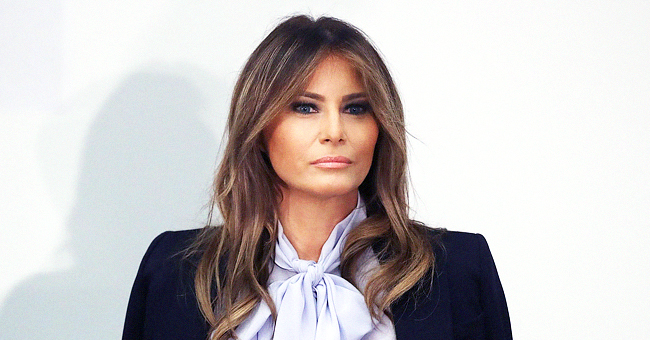 Getty Images
First Lady Melania Trump Struggles to Cut Ribbon at Reopening of the Washington Monument
First Lady, Melania Trump struggles to cut the ribbon at the opening for the newly renovated Washington monument. The incident sparks a huge reaction on twitter.
Melania Trump arrived at the reopening of the Washington Monument in style. Quickly getting to business she graciously greeted all the invited guests, including a group of fourth graders, from Amidon Bowen Elementary School in Washington. In a series of photos from the event, she writes:
"It is wonderful to see the Washington Monument shine again. Thank you to the @nationalparkservice for the care you give our many national treasures."
Everything seemed to go off without a hitch as the excited fourth graders joined in to cut the red, white and blue ceremonial ribbon. Counting down with the fourth graders, the scene created a picture perfect moment.
However, the smooth proceedings were interrupted after the ribbon was finally cut and Melania was left still holding onto her large scissors. After a few attempts she continued to struggle to cut the ribbon. Keeping her composure, she finished the ribbon cutting and moved on to touring the building.
Despite trying not to draw an attention to the embarrassing moment, by maintaining her composure throughout the ceremony, one user twitter was not about to let her live this down.
Flooding the comment section with laughing face emojis, many users mocked the First Lady, suggesting that she does not know how to use a pair of scissors.
After the ceremonial ribbon cutting, Melania was joined by the fourth graders, as she took the first ride up the elevator, to the top floor of the Washington Monument.
The restoration of the monument cost $15 million and it took 3-years of construction to complete. For over eight-years, there have been ongoing repairs.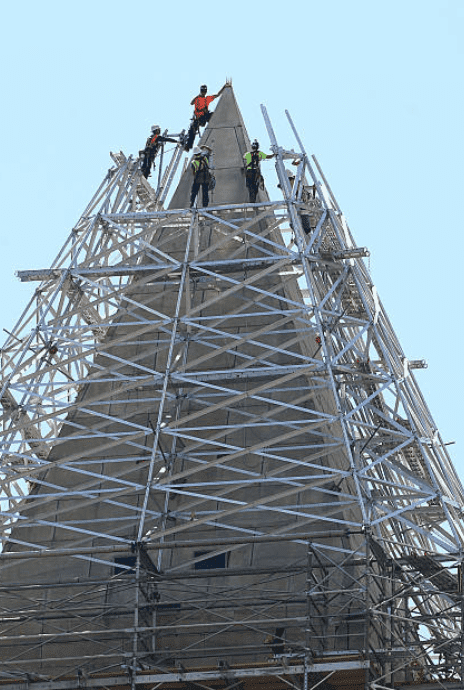 Construction workers repairing the stonework on top of the Washington Monument that was damage during an earthquake on Aug. 23, 2011, Washington | Source: Getty Images
It is reported, the structure was initially damaged in 2011, during a 5.8-magnitude earthquake that caused 150 cracks. In 2016, after the cracks had been repaired, the elevator cable snapped, requiring more repairs. The renovations also upgraded the visitors screening area and the elevator system has been modernized.
Please fill in your e-mail so we can share with you our top stories!