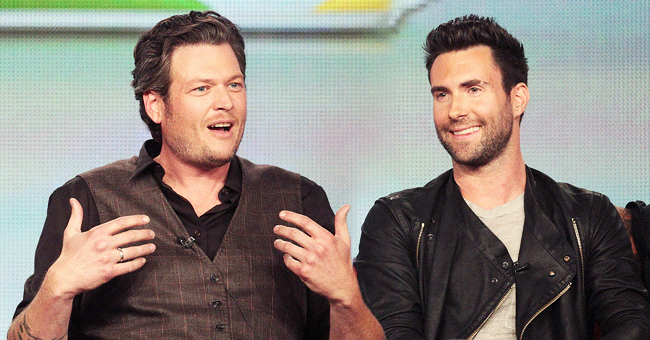 Getty Images
Country Singer Blake Shelton Talks about Maroon 5 Frontman Adam Levine after 'the Voice' Exit
Country singer and "Voice" coach, Blake Shelton, opened up about his relationship with former coach Adam Levine after his departure from the reality singing show.
Shelton revealed that he is in touch with Levine during his appearance in "Access." He mentioned the last time they spoke with each other.
Adam announced his departure from the NBC show after 16 consecutive seasons. Shelton also talked about the prospect of Adam returning to the show in the future.
ADAM AND SHELTON FACETIMING EACH OTHER
During his appearance on the show, Shelton mentioned that they're still in touch. We talk. We never have lost contact," the country star said.
The country star mentioned that he spoke to the Maroon 5 frontrunner just a week ago.
"I had been drinking for a few hours, and I don't know what he was doing, but I was at home in Oklahoma, by myself," he said. "we ended up FaceTiming each other for 45 minutes, just nonsense talk."
THE COACHES TALKING TRASH IN THE FACETIME CALL
When the coaches were talking, they talked about the things that they couldn't discuss on TV.
"Just stuff that you could never say on TV. It was just a typical conversation," said Shelton. The country star even joked about making fun of the "Access" hosts.
SHELTON THINKS ADAM WILL RETURN TO THE SHOW
When asked about the departure of the "girls like you" singer, Shelton mentioned that it was a loss to the show.
"It sucks not having Adam on the show. He's been there since the beginning, and it's hard not to have somebody that stupid to make fun of," he quipped.
"Maybe someday, who knows, he might end up coming back. I doubt it, but maybe." In one of his playful dabs, he mentioned that the coaches in the new season are more talented than Levine.
Adam's vacant seat has been filled by Shelton's girlfriend and returning "Voice" coach Gwen Stefani. Shelton was praising Stefani during the interview.
Please fill in your e-mail so we can share with you our top stories!