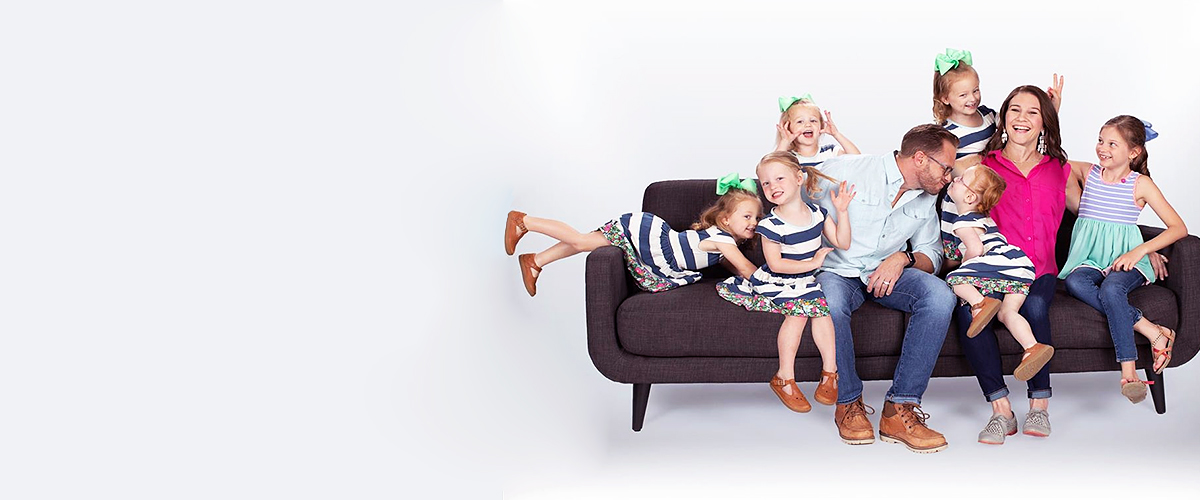 A Look into Danielle and Adam Busby's Busy Life Raising Quintuplets Plus One

Danielle and Adam Busby were the first couple in the US to birth all-female quintuplets. They showcase their crazy life on reality television. Here's how they manage.
From Target to tying the knot
In 2003, Danielle and Adam first met when they were working together at retail giant, Target. It took months for Adam to make a move on his future wife, though.
According to Danielle's blog, his catchphrase was an underwhelming, "Hey beautiful." After a few shared lunch breaks, the pair went out on their first date, which doubled as a meeting of the family for Danielle.
Adam proposed on Christmas Eve in 2005. By 2006, the pair were married in a small ceremony. Soon after, they began trying for kids, but there were challenges ahead.
Their eldest arrives
It took two years before the God-fearing couple was finally able to get pregnant. On her blog, Danielle described her love of being pregnant and knowing that a miracle was inside her.
The couple welcomed Blayke Louise Busby on April 5, 2011. The little one is a big help around the house, even more so now that she has five sisters.
Six different personalities
In 2015, Danielle and Adam got the surprise of their life when they gave birth to quintuplets and they were all girls. Ava, Olivia, Riley, Parker, and Hazel were their five in a million bundles of joy.
The unexpected group also gave the couple the opportunity to have their own reality series on TLC which brought in much-needed finances for the single-income household.
Viewers may still find it difficult to make out who is who — even if Ava and Olivia are the only twins — but their parents have already learned about their distinct personalities.
Telling the girls apart
According to their TLC profiles, Parker is the "leader of the pack." Riley, the "cutest little troublemaker" is always there to make her sister's job a little more difficult.
Hazel is the "fiery redhead who will melt your heart" while Ava is a "mama's girl with a sweet little grin." Then there's the house clown, little Olivia, the "goofball who will keep you laughing."
In their parents' words, Parker is "daddy's girl," "reserved," and "serious." Riley thinks "everything is about her," she's "bossy," "tough," and prone to tantrums, but she's "smart."
Ava loves to "giggle" and is the "mama's girl." Meanwhile, Olivia is "the entertainer" who constantly fights with sister Riley, and, finally, Hazel is always in her own "happy bubble."
Hitting back at critics
Of course, intense criticism comes with the territory of reality tv. So when Danielle and Adam got negative reactions for opting to put Riley ahead of her sisters in school, they were prepared to answer.
"Riley's above and beyond with her intelligence," Danielle told People. "Knowing where she's at right now, this was our decision based on her. Of course, we looked at the family and how this change affects everyone else."
As Riley headed to kindergarten, big sister Blayke went to the third grade while the rest of the quints began pre-school. Husband Adam thinks the criticism from others is "bizarre."
He reminded others: "There's nobody out there who knows the intricacy of the decisions we make. It's just crazy that somebody out there is criticizing us about something they have no idea about."
The mom-shaming continues
Another angle that critics came from focused on Danielle's bonding time with the twins as opposed to the rest of her girls. Actually, they think she spends too much time with the twins, period.
Again, Danielle did not let the mommy-shamers influence her attitude or decisions. She told InTouch Weekly: "I feel like people choose to 'see' what they want and they base their response off of what they are dealing with in their own life."
She added:
"I 100 percent know my heart and my love for all my kids are equal. I may not get around to posting 'enough' of something … but since when is love based off of how much we post on social media?"
Parenting tips from the Busybs
Danielle clearly has a good mom head on her shoulders, so we welcome the tips she gave about managing a bunch — or even just one — of kids. On her blog, Danielle's biggest tip is to keep a schedule in place.
Another tip is to stick to products and brands that work. Huggies and Pampers are rotated between day and night in her house. Regarding cooking, she advises to find easy recipes — crockpots work — and stick to them.
Somehow, Danielle always fits in "me" time to refresh herself. Exercise is a great way to relieve stress and Danielle does hers at home. Other tips the mom of six has are goal-setting as a family, and slowing down now and then.
Finally, not only does the couple ensure they teach each kid how special they are, but they also make sure to spend time alone once a week. Talk about a well-rounded family of eight.
Please fill in your e-mail so we can share with you our top stories!