The Talk' Co-Host Sharon Osbourne Poses on Emmys Red Carpet after Her Plastic Surgery
On the 71st Emmy Awards purple carpet, Sharon Osbourne showed off the results of her latest plastic surgery procedure. The talk show host has fans gushing over her new look.
"My next surgery is booked. I'm having it in August, so when we come back to film in September, I will have a new face. I'll look like I used to do creams. I never took a picture to a doctor and said, 'I want to look like Catwoman.' I didn't want to go that far,"
Speaking in May, to her co-hosts on "The Talk" about her plastic surgery plans, Sharon Osbourne revealed that she would getting a fourth facelift. She explained that she was getting the procedure done in order to look "more refreshed."
In her first public appearance since going under the knife, a few weeks ago, Osbourne looked stunning posing on the purple carpet.
Our @MrsSOsbourne has hit the purple carpet with @KevinFrazier as @ETNOW's#EMMY co-host! #Emmys2019 pic.twitter.com/07JNQ7TnYK

— The Talk (@TheTalkCBS) September 22, 2019
Draped in diamonds, and wearing a long black fitted dress, Osbourne was joined by Kevin Fraser to cover the Emmy Awards. The two were working together as correspondents for Entertainment Tonight.
Taking notice of her new look, fans gushed about how beautiful Osbourne appearance, after her plastic surgery. 
Sharon looks flawless. She has always been an amazing person

— T Graham (@TyroneDrake8) September 23, 2019
You looked beautiful last night!

— Debora Melanson (@MelansonDebora) September 23, 2019
Before taking the mic for purple carpet interviews, Osbourne posed, drawing people's attention to her new look by holding her fingers up to her face.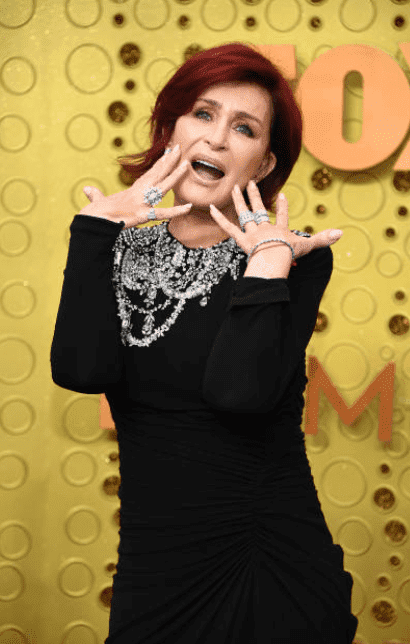 "It was five weeks [ago] today that I had my operation. And I had my neck done, my jowls. They kind of pulled it from the top of my head… but everything was just lifted up. So, it looks more refreshed," she revealed in an interview.
.@MrsSOsbourne kicked off the season 10 premiere of #TheTalk by revealing her new facelift and sharing details on her 13 hour procedure. pic.twitter.com/9iXeeayyGE

— The Talk (@TheTalkCBS) September 9, 2019
Osbourne, who is 66-years-old has always spoken candidly about plastic surgery. In her 2014 memoir, "Unbreakable," she revealed that her first procedure was a breast reduction and breast lift. Earlier this month she spoke to Jimmy Kimmel about why she is so open about her plastic surgery procedures, explaining:
"You know what it is? It's just that it's so popular now for men and women to get facelifts that there's very few, really good surgeons and there's so many people wanting to have it done that, odds are, you're gonna get a dud [...] I think, too, a lot of people go in to change too much and then it just doesn't work."
Osbourne is no stranger to going under the knife, she has had a long list of surgical procedures, including; breast augmentation, four facelifts, and a very painful vaginal rejuvenation.