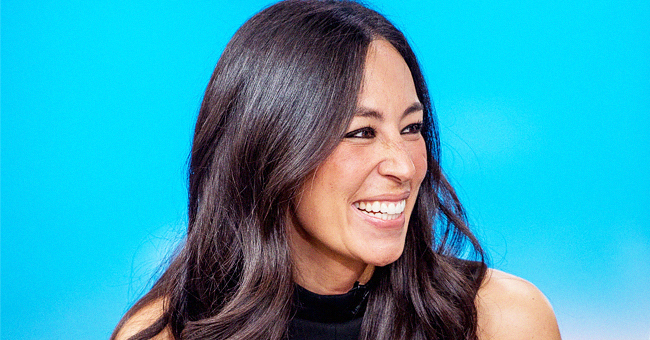 Getty Images
Joanna Gaines Shares Sweet Moments of Riding with Her Dad Jerry Stevens in 'His VW Bug'
Joanna Gaines recently shared cute Instagram stories with her father, as they went "joy riding" in his car.
Joanna Gaines has the sweetest relationship with her father, who she often mentions on social media. Recently, the "Fixer Upper" star posted a glimpse of her day with her dad as they drove in his "VW Bug."
"Joy riding with my dad in his VW Bug," she wrote on the snap.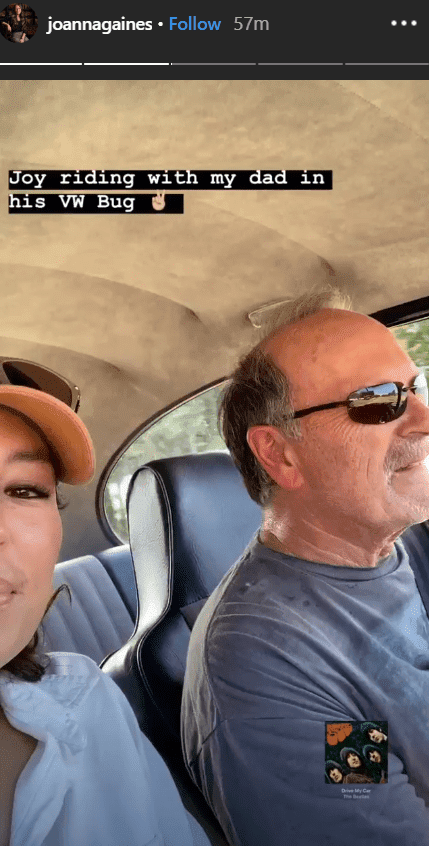 Screenshot from Instagram story. | Source: Instagram.com/JoannaGaines
In one clip, Gaines sat in the passenger seat while her father, Jerry Stevens, drove, while he threw a peace sign while still seated in the vehicle in another post. Gaines is Stevens' daughter with his wife of 45 years, Nan Stevens.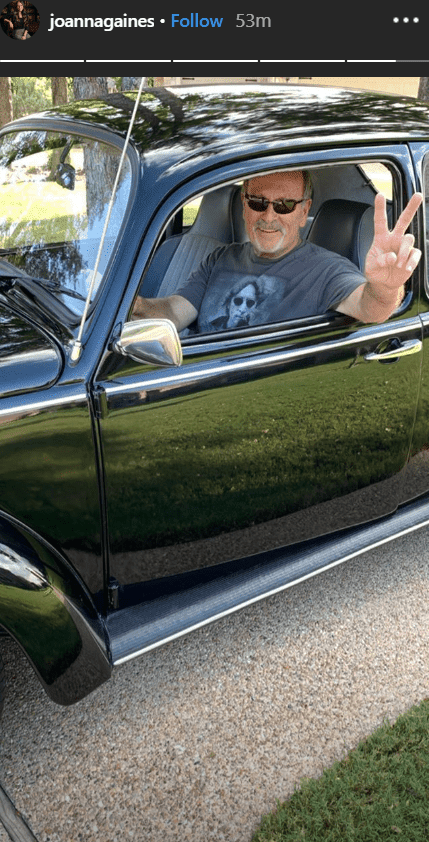 Screenshot from Instagram story. | Source: Instagram.com/JoannaGaines
A FAIRYTALE ROMANCE
The home design queen shared their fairytale-like love story on Instagram and in her book, "The Magnolia Story. According to Gaines, the romance that bloomed from her parents remained a source of inspiration for her own relationship.
"My parents met in 1969 when my dad was stationed in Korea, and their story is one you hear about in the movies," she wrote. "All the odds were against them but they fought through."
In her book, she recounted the time they first met at a party where her mom saw her dad sitting by himself in a corner. Nan then pointed him to a friend and said, "that's the man I'm going to marry."
Months went by, and Stevens had to move back to the United States, yet they remained in touch. Shortly after, he bought Nan a plane ticket and asked for her hand in marriage. Although none of their parents approved, they got married anyway.
ON THE ROCKS
"From what they've told me, they actually had a rocky marriage for several years," Gaines wrote in her book. "There were times, they say, when they didn't think they would make it because all they did was fight."
After Stevens' mother died, everything changed. He had a sudden epiphany of being "in a casket," while his loved ones gathered around him. Then it hit him; "how wrongly he was living his life."
"He knew he didn't want to end up in that casket the way he envisioned, leaving my mom alone to fend for herself," she wrote. "Forty-five years later and they've never been stronger," she added.
RECENT ACCUSATIONS
Recently, Gaines' father made headlines for reportedly being investigated for being involved in a prostitution ring, which took place in a massage parlor that he frequents. However, no solid proof were found about his participation, hence the dropping of charges.
"I'm not saying it's not possible any of them were ever there," said Detective Joseph Scaramucci. "I just have no evidence to corroborate that."
JOANNA GAINES
Gaines is currently a mother-of-five with her husband, Chip Gaines, who stars alongside her in the HGTV show "Fixer Upper." She looks up to her husband for his amazing parenting skills, which she credited last Fathers Day.
"They all look up to you so much @chipgaines You're the strongest, bravest, funniest, and most loving man they know. You lead our babies well- Happy Father's Day!" she wrote on Instagram.
Please fill in your e-mail so we can share with you our top stories!