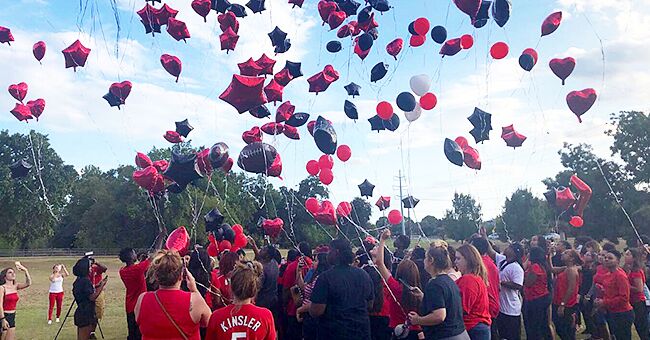 twitter.com/Maria_NBC5
Lewisville High School Football Player Deshaud Williams, 16, Died in His Twin Brother's Arms after Collapsing
Deshaud Williams,16, passed away in the arms of his twin brother, Dashaud after suddenly passing out amid a game of tag in Lewisville. There were no prior symptoms of any health conditions discovered during his annual health examination.
Deshaud Williams from North Texas high school's sudden death surprised his family and whole community last Friday. The 16-year-old was running and playing tag in the Lewisville parking lot before dying in his twin brother's arms.
"We started jogging a little bit more, and he was like, 'Da, I can't breathe," Dashaud Williams, his twin, narrated. "I was like, 'You good? Come on; we're going to get home.' And he was like, 'I can't breathe. I'm about to pass out.' And I ran to him, and he fell to his knees and fell on his back."
Williams passed the annual health exam, which included a heart test, that their school-administered during the school year. His mother, Razel Sheppard, said his death remains a "big mystery."
"He's never been sick. He was a healthy all-around kid. Hopefully (we'll) get answers," she said.
Williams' friend, Darren Johnson described his friend as someone motivating and determined. Someone who would get back up no matter how "tired" he was and would do the same for others. He added:
"There was no better friend you could have. He'll always be in our hearts."
Lewisville High school Football mourned the death of their beloved athlete and student through social media on Saturday, where they wrote:
"Today our hearts are broken. Please keep the Fighting Farmer community in your prayers as we mourn the loss of a student athlete."
According to the family's GoFundMe page, Williams was an honor student and a part-time worker at a pizzeria, with a dream of becoming a chef. The page read:
"He was an industrious, reliable, sweet, kind, and caring young man with a bright future. He was a gentle giant, a soft-spoken brother, son, and grandson [who] loved playing football and Fortnite."
Similarly, a British couple experienced the same circumstance when their five-month-old child suddenly stopped breathing. The little angel died in the arms of his parents, at an airport on the way home.
"Ernie was such a happy boy; he was always smiling. It's senseless; we're all pretty powerless in these circumstances, you can't really find any answers," they said.
Please fill in your e-mail so we can share with you our top stories!