Meghan Markle Shares Hug with Local Boy in Heartwarming Pic as African Royal Tour Begins
Meghan Markle shared a heartwarming hug with a young local boy as she begins Royal tour in South Africa with Prince Harry.
The African Royal tour by Meghan Markle and Prince Harry started on a good note, with the royal couple already getting positive press coverage. One of the highlights so far is the Duchess of Sussex's heartwarming hug with a local boy.
Zoey Forsey of Mirror UK shared on Twitter a candid shot of Markle dressed in a black and white patterned maxi dress by Malawian designer, Myamiko, bending down to hug the little boy, beaming.
Other photos shared by Forsey showed the Duchess clasping the hands of an older woman while speaking with her, and Prince Harry holding Markle's hands as they walk through a cheering crowd.
The first day of the Royal tour saw the Duke and Duchess of Sussex visit Justice Desk, a nonprofit that teaches children how to defend themselves. During the visit, the couple attended a workshop with the girls' empowerment group, Mbokodo. 
The group teaches young women who suffered physical trauma how to defend themselves, and Markle used the session as a means to show her sisterhood and her solidarity with the women as a mixed-race female.
Lovely photos coming through from our photographer @ianvogler, who is in Cape Town following #SussexRoyalTour #MeghanMarkle https://t.co/qpJG5AK13s pic.twitter.com/AD0BLW6FFY

— Zoe Forsey (@ZoeForsey) September 23, 2019
She said:
"… while I am here with my husband as a member of the Royal family, I want you to know from me, I am here as a mother, as a wife, as a woman, a woman of color, and as your sister."
Markle and Prince Harry had their first touring activities without their son, Archie. They left him with a nanny, as the little boy was exhausted from the 11 hours flight from London's Heathrow Airport into Cape Town.
A great first day from Meghan Markle and Harry's #SussexRoyalTour - can't wait to see what tomorrow brings! 🇿🇦👑Photos: @GettyImages https://t.co/tGE7mDo4er pic.twitter.com/QCJaGOzqv5

— Zoe Forsey (@ZoeForsey) September 23, 2019
Upon their arrival, the couple got treated to a dance performance at the Nyanga Township. The parents-of-one joined in on the performance at different times, showing off their dance moves.
Nassima Nama, a South African, said of the Royals' dance steps:
"Their dance moves are great. They really enjoyed coming here, and sharing the day with us."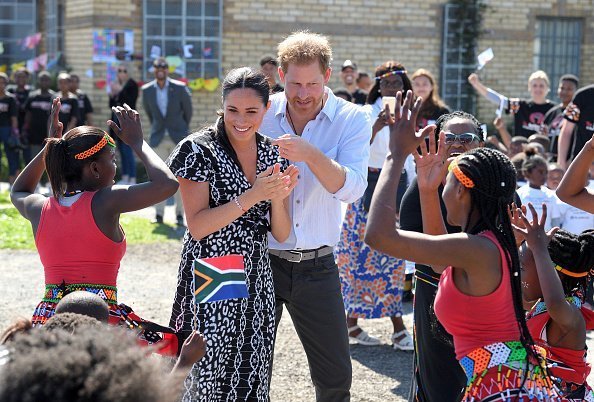 Markle and Prince Harry's African tour is a ten-day event, covering South Africa, Malawi, Angola, and Botswana.