Duchess Meghan Markle Spotted Not Wearing Diamond Engagement Ring on the Royal Tour to South Africa
Since arriving in South Africa, many questions have surrounded the discovery as to why Meghan Markle has not been seen wearing her engagement ring.
Since Prince Harry and Meghan Markle's arrival in Cape Town South Africa, for their 10 day Africa tour, people have been watching the royal couple's every move. 
One thing has become apparent to the public is that Meghan's $300 000 engagement ring is noticeably absent from her finger.
A source tells Hello!, Meghan made the decision to take off her ring in order to be "low key" during her public appearances, with South African locals. 
Lovely picture of #meghan at the Auwal Masjid mosque by @ChrisJack_Getty pic.twitter.com/jfW83zETKv

— Emily Andrews (@byEmilyAndrews) September 24, 2019
The ring, was intricately designed by Harry and holds both sentimental and historical significance. During their first sit-down interview, after the announcement of their engagement, Harry explains the design of the ring saying:
"The ring is obviously yellow gold because that's [Meghan's] favourite and the main stone itself I sourced from Botswana and the little diamonds either side are from my mother's jewellery collection, to make sure that she's with us on this crazy journey together."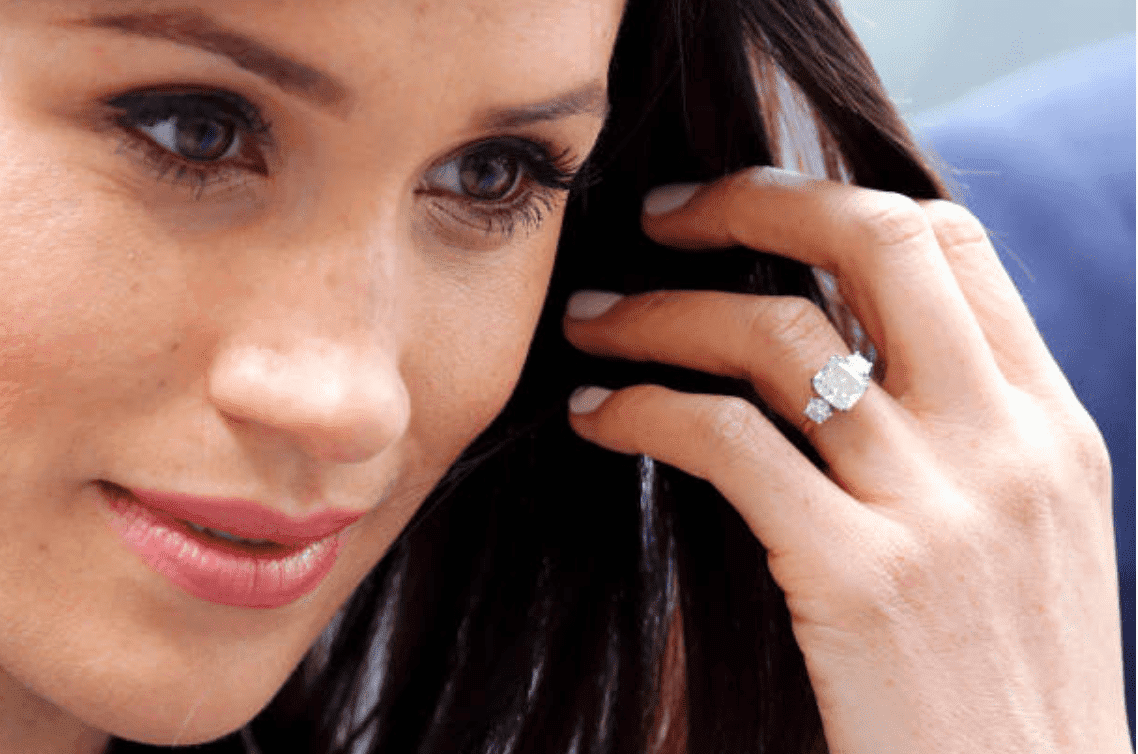 On her first day in South Africa it was noted that the turquoise ring by Jennifer Meyer was simply a style choice by Duchess, to match with turquoise earrings she was wearing, by the same designer. Promoting the collection, Meyer writes:
"Radiant Meghan, Duchess of Sussex, in South Africa wearing JM Diamond Bezel with Turquoise Marquise Studs & Turquoise Marquise Ring from our brand new collection."
Meyer is one of Meghan's favorite jewelry designers, she has worn several of her turquoise designs to various events such as her outing to watch Serena play at Wimbledon. 
Most notably when she appeared in public for the first time to announce Prince Archie's birth, she was wearing a necklace by designer. 
Speaking to PEOPLE about Meghan's appreciation for her jewelry, Meyer says:
"It brings me such joy to see Duchess Meghan wear my pieces. The Duchess seems to really love turquoise, as do I. It's my go-to for everyday layering!"
Meghan was also gifted a gold necklace written "Mummy," for mother's day, made by Meyer. Sharing why the turquoise collection is on trend and a particular favorite for mothers, like Meghan, she explains:
"Turquoise is a healing stone, that gives a calming, loving and spiritual grounding energy...which all of us moms definitely need!"
Meghan may have taken off her engagement ring, but she is still wearing her gold wedding band. Made in the Cleave Workshop, it was gifted to her by Queen for her wedding.