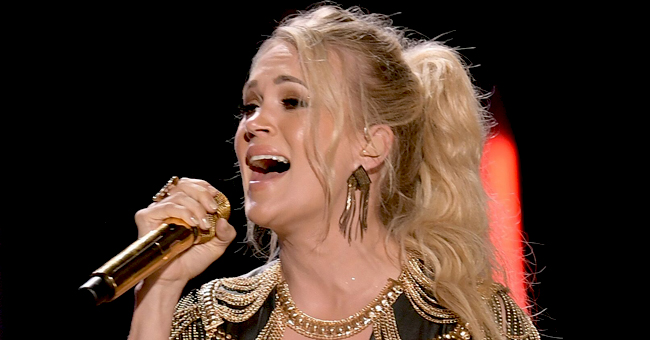 GettyImages
'Southbound' Singer Carrie Underwood Marks 15 Years since 'American Idol' Audition in Nashville
It is now fifteen years since Carrie Underwood first auditioned for "American Idol," and she marked the occasion by paying tribute to women in Country Music during her Concert in Bridgestone Arena.
Carrie Underwood made headlines in 2005 when she won that year's edition of the music talent television show. Since then, the country singer has gone on to have a successful career.
Her road to stardom started with that first audition for the show, and she recalled that day with fondness in her concert in Bridgestone Arena, Nashville.
ALL ABOUT UNDERWOOD'S CONCERT
Carrie Underwood's concert in Bridgestone was a part of her tour called "The Cry Pretty Tour 360," which she is using to celebrate women in country music.
Her invited artistes for the tour were only of the female gender and they include "Runaway June," and the duo, Maddie & Tae" who opened the concert.
The duo thrilled fans to loads of hit from female country singers like Dolly Parton, Reba McEntire, Shania Twain, and many others.
Carrie's performance and that of her invited artistes was epic, and the fans enjoyed every bit of the show, showing their appreciation with their continuous cheers.
Carrie Underwood loved the energy from the crowd and showed this with a video posted on her Instagram page after the concert. She said:
"I just wanna cry, that crowd was incredible, the band was great, just a great night. I don't even know what to say because I'm blown away."
CARRIE'S JOURNEY TO AMERICAN IDOL FAME
The singer made her debut in the show in 2004 after auditioning in its fourth season. After succeeding in her auditions, Carrie found her way to the main show before finally winning it in 2005.
Her story is one that inspires many, and she took the opportunity of her concert to spur her fans to always go after their dreams though they may seem unrealistic.
Citing herself as an example, she said that her dream as a child was to be a famous country singer, but that as she grew older, that dream tended to give away to more practical realities.
That was the case until the day she met an open door which she walked through, thus changing her life forever.
She said:
"As I got older, dreams tend to give way to practicalities, so I started going to school to get a real job. One day there was an open door, and I walked through it, and my life was changed forever."
CARRIE UNDERWOOD TO HOST CMA AWARDS IN NOVEMBER
The country singer is set to host the Country Music Association Awards again, but this time not with her regular co-host Brad Paisley.
Carrie and Brad had formed a beautiful partnership hosting the awards since 2008, but the 2019 edition would have her paired with new but legendary faces.
Carrie would host this year's edition of the CMA with legendary country singers, Dolly Parton, 73, and Reba McEntire, 64. The awards will celebrate the legendary women of country music.
Carrie Underwood has set the tone for that with her tour celebrating the achievements of female country music legends.
Please fill in your e-mail so we can share with you our top stories!