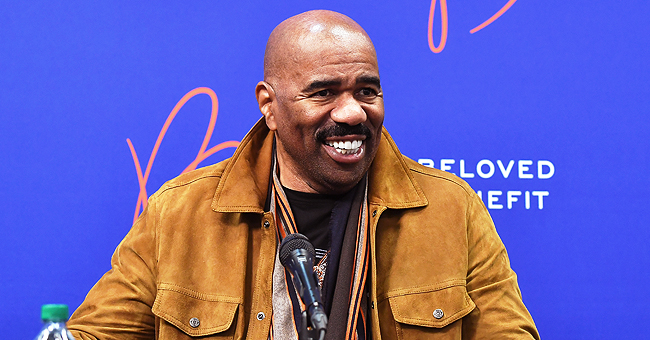 GettyImages
'Family Feud' Host Steve Harvey Shares Video of Grandson BJ Adorably Listing the Presidents of America
Steve Harvey melted the heart of his followers with an adorable video of his grandson talking about America's past presidents.
Steve Harvey's grandson, BJ, is one cute and smart little boy.
In a video shared by the proud grandfather on Instagram, the little boy dressed in a white shirt adorably sang his version of, "44 Presidents, and I know them all."
BJ IS ONE SMART KID
Harvey's voice in the background encouraged BJ to keep going as he recited names from Thomas Jefferson, to Benjamin Franklin. In the accompanying caption, the TV host gushed,
"Show 'em lil man. My grandson BJ, aka Buddha, actually knows more about [presidents] than me…"
The video got the attention of Harvey's followers and melted their hearts.
"Smart little man."
While his father, Ben Raymond commented,
"My son is a genius."
STEVE HARVEY IS A PROUD GRANDFATHER
The "The Steve Harvey Show" host is a proud grandfather of five grandchildren — BJ, Noah, Rose, Elle, and Ezra. Ezra is the youngest, and he joined the Harvey clan in September 2018.
He is the child of Jason and Amanda Harvey. Jason is Marjorie Harvey's son and the TV personality's step-son.
At the time of Harvey's fifth grandchild's birth, he wrote alongside an Instagram post,
"5th grandchild, 3rd boy; he's the tiebreaker. Lil Ezra is here. So happy [we have] another Harvey boy. #familyiseverything."
As much as the "Family Feud" host seems to enjoy being a grandpa, he has expressed in the past that he would prefer to have some quiet time with Marjorie.
He once said on his show,
"I've been waiting for years for my kids to get out of my house. I want to be an empty nester. Now they come to the house; they have more people with them. They always bring them over and drop them off."
BLENDED FAMILY
Despite that sentiment, Harvey is every inch a family man. Between him and the woman he met for the first time at a comedy club in Memphis in '90 (Marjorie) are seven children.
The TV host and Marjorie have the perfect example of what a blended family should be.
It didn't come easy, and the Harvey family matriarch had to explain to their children after they got married in 2007 that it's up to them to get along which they eventually did.
Harvey and Marjorie always put their family first, and when trolls attacked the grandmother-of-five for allowing her granddaughters breastfeed their dolls, she wasted no time in clapping back and asking the haters to back off, which they did.
Please fill in your e-mail so we can share with you our top stories!