'Blue Bloods' Fans Weigh in after Behind-The-Scenes Photos of the 200th Episode Were Released
CBS' "Blue Bloods" celebrated its 200th episode on Friday night with a total of 7.8 million views, and some lovely behind-the-scenes pictures from this episode and the fans are super excited about it.
Season 10 "Blue Bloods" premiered on Friday night, and it was indeed a night for lovers of the show. 
To celebrate the success of the season 10 premiere, which also happened to be its 200th episode, "Blue Blood"s official Instagram posted some heartwarming behind-the-scenes pictures yesterday.
The lovely images featured the Reagan family having their usual weekly dinner in the form of the rehearsal dinner, with Eddie's mother joining the table. 
The photos showed a lot of familiar faces at the table, including Tom Selleck, Will Estes, Bridget Moynahan, Sami Gayle, and Tony Terraciano. 
The accompanying caption read:
"If you loved last night's 200th episode, swipe to see some #BehindTheScenes photos from the filming of it! ➡️? #BlueBloods"
The episode gained a lot of good reviews from its fans, and they could not stop talking about it on Instagram.
This user wrote:
"I loved it. I just wish they would have started the show with the wedding."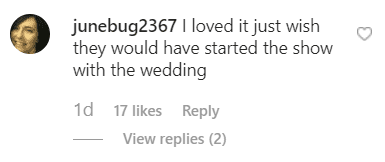 Another gushed:
"I loved the newest episode, but truly wanted to see more from the wedding or reception. Hopefully, we will see scenes in future flashbacks."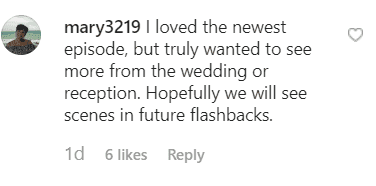 All this user could say was:
"Blue Bloods gets better and better!"

This netizen urged:
"Always good. Still, feel cheated on the wedding."

It seems fans' joy at the 200th was smeared with a streak of disappointment.
In the season nine finale "Something Blue," Eddie (Vanessa Ray) and Jamie (Will Estes) got married. Many fans looked forward to seeing the ceremony, but the episode ended with Frank walking Eddie down the aisle. 
Fans hoped the next season would start with more of their wedding. However, they were disappointed again because the season ten did not begin with the wedding. 
As reported by TV Line, the 200th episode of the CBS production had a total of 7.8 million viewers and a rating of 0.6. Unfortunately, this was an eight percent and two tenth drop from its Season 9 average and finale. 
The Reagan family mostly mean business and this episode was not an exception, as "Blue Bloods" marked a significant landmark in its Season 10 premiere, according to TV Insider.
There are a couple of returning casts, one of whom joined the family for Sunday dinner while the other nearly lost her life to helping a grieving father.
There is no doubt that the Reagans are indeed back!