LPBW Fans Send Condolences to Amy Roloff as She Mourns the Death of Her Mother
Following the news that Amy Roloff's mother has passed away, fans send Amy and her family well wishes and messages of condolence.
According to PEOPLE, Amy Roloff's mother, Patricia Knight died on Monday, at 86-years-old. In and exclusive statement she says:
"I am so sad about my mom's passing but comforted by all the memories I have and that she lived a happy, long life with my father. She was a great mom. Thank you for all the condolences and well wishes. Life is a gift, appreciate the moments in each day."
It is reported, Patricia's cause of death has not been made public. However, an obituary has stated that the family will be holding a memorial for her at a Michigan funeral home, on October 25.
As of now, Amy and her children have not shared any statements on their social media directly mentioning Patricia's death. 
Amy has only hinted at the fact that she is going through a tough time, she reveals:
"It's been a tough week after hearing sad news. But these two - my grand kids Jackson and Ember - always make me smile and melt my heart. Simply, Love them so much. #grandkids #imthankful #imblessed #amyroloffssecondact love being a grandma!"
Fans are flooding Amy's comment section with well wishes and messages of condolence.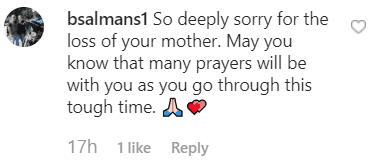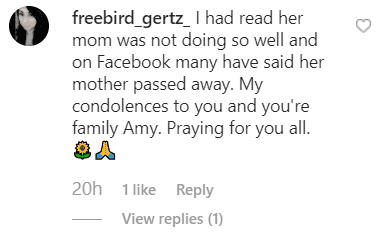 In August, Amy had visited her parents in Michigan because her mother had been hospitalized. She shared with her fans that she also took the trip to spend some quality time with her parents. In an ominous message about her visit with her parents, she explains:
"This time the moments meant so much more- maybe because I'm not so sure when the next time I'll get to share a day, a conversation, a meal ... w/ my Mom and Dad."
During her trip to Michigan, Amy's parents had the chance to meet her boyfriend Chris Marek. She shared pictures of Chris enjoying dinner, kayaking and preparing a barbeque at her parent's house.
The news of her mother's death comes just weeks after Amy announced her engagement to Chris. 
The couple admit that they never expected to find love again, even more so, the both never expected to get married at this point in their lives.