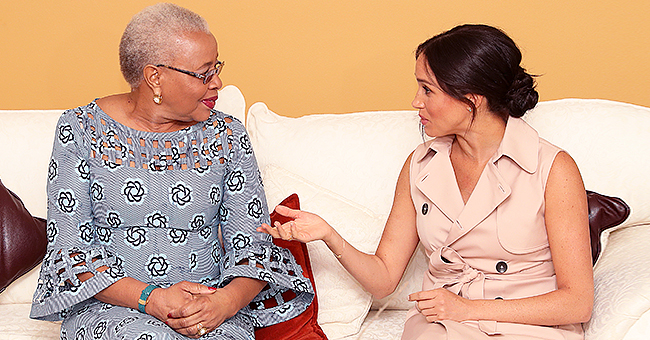 Getty Images.
Meghan Markle Wears Trench Coat Dress to Meet Nelson Mandela's Widow on the Last Day of South Africa Royal Tour

On Meghan Markle's last engagement on the African tour, she wore a trench midi dress to her first-ever meeting with the widow of Nelson Mandela.
The Royal Sussex tour of Africa is over. For Meghan Markle's last engagement to meet with Nelson Mandela's widow, Graça Machel, alongside her husband, Prince Harry, she wore a trench midi dress.
The blush pink sleeveless dress is a design of "House of Nonie," and it retails at $766. It features button design, fabric belt, and side slits. Meghan wore her hair in her signature messy bun and paired the outfit with stiletto heels.
A
video shared by photojournalist
, Omid Scobie, on Twitter showed Markle hugging Machel outside the residence of the British High commissioner. Prince Harry equally shared a hug with the woman he met for the first time during a trip to South Africa in 2015, and he complimented her on how great she looked.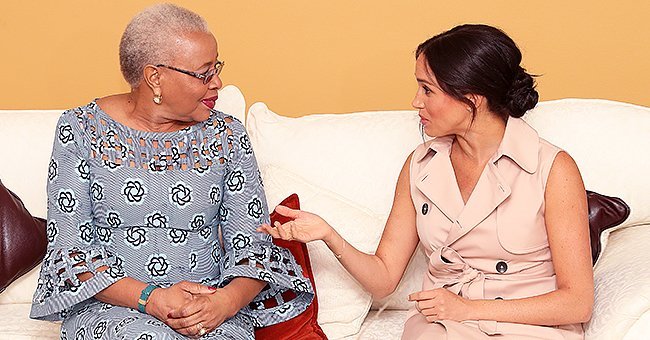 Meghan Markle discussing with Nelson Mandela's widow, Garca Machel during the Royal Sussex tour.| Photo: Getty Images.
The Duchess of Sussex's outfit was also a tribute to the late Nelson Mandela, the former President of South Africa. The mom-of-one who recycled some of her outfits during the tour wore the dress for the first time to the London centenary exhibit of the life and work of the late freedom fighter.
The clothing choice scored the former actress points with the public, and one person had this to say about it,
"Love how Meghan is re-wearing the same dress from Mandela's exhibit in London to meet Graça Machel. Such fantastic reuse of clothing."
Markle, Prince Harry, and Machel, after the meet and greet, took part in a Creative Industries and Businesses reception for British and South African Investors, and South African female entrepreneurs. At the reception, the Duchess thanked their host country, and the countries the Duke visited, for the hospitality they received. She said:
"Whether for Harry, Archie, and me in South Africa, or for my husband as he was traveling Botswana, Angola, and Malawi; please know that you have given us so much inspiration, so much hope, and above all, you have given us joy."
A day earlier, while Prince Harry was still in Malawi, Markle had two solo visits to the University of Johannesburg and Action Aid, to talk about female access to higher education, and the high rise of gender-based violence, respectively.
Throughout the African tour, the parents-of-one talked and learned more about issues affecting the female gender. They are committed to working towards shedding light on these issues, and Machel made a promise to work with Markle in the future on causes they both support.
Please fill in your e-mail so we can share with you our top stories!