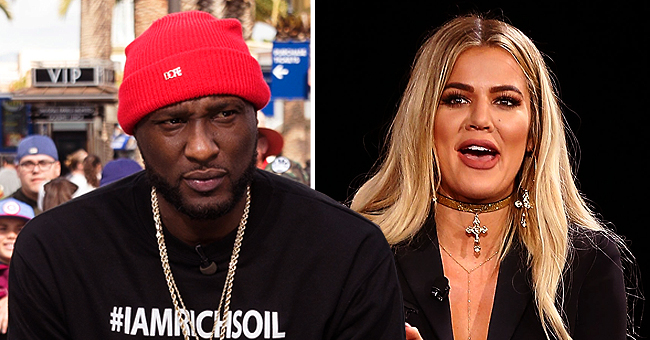 GettyImages
DWTS Contestant Lamar Odom Responds to Fan Who Wishes He and Ex Khloé Kardashian 'Would Get Back Together'

Former Basketball pro, Lamar Odom had the perfect reply for a fan who made comments about his getting back with reality TV star, Khloe Kardashian.
On September 17, Lamar posted an image showing him in a warm embrace with his "Dancing With the Stars" co-dancer, Peta Murgatroyd.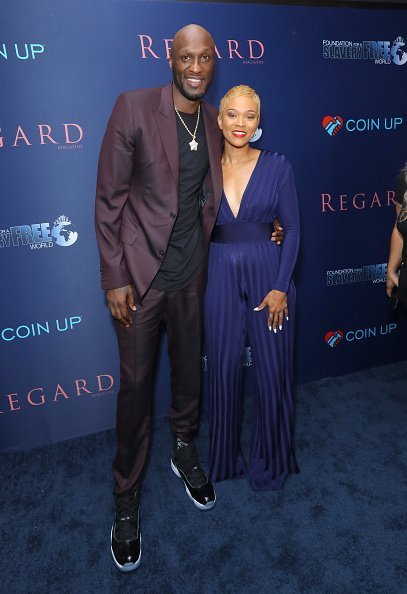 Lamar Odom and Sabrina Parr at the Regard Magazine on October 02, 2019 | Photo: Getty Images
LAMAR'S INSTAGRAM MESSAGE
The post was accompanied by a lengthy, emotional and inspirational message from the athlete. Lamar started the long message by honoring his fans. He wrote,
"This post goes out to all my fans in the world. In 2015 my family was told by doctors to say goodbye. At that time, there was a small or no chance I'd survive. I did survive though, and when i woke up from my coma nobody really knew if I'd ever walk or talk again."
Lamar continued by stating that although he had gone through that life-threatening moment, it didn't break him.
"Yet there I was yesterday after surviving 12 strokes and 6 heart attacks dancing my ass off on @dancingabc with the amazing @petamurgatroyd ??!!!! So for today, if someone told you something ain't possible, do it anyway and make a picture of it. "
LAMAR'S REPLY TO A FAN'S QUESTION
"They are not dating. There is nothing romantic going on"
However beautiful the message was, one fan was a bit more concerned about the basketballer's relationship with his ex-wife, Khloe Kardashian. The fan wrote,
"@lamarodom, very well written. Wish you and Khloe would get back together...I am still holding out hope."
The "DWTS" star however responded to the message writing,
"@beachgirl90266 I am currently with a woman I love and respect. I am leaving whatever in the past in the past. If you can't respect me and my girl then please unfollow me."
LAMAR'S RELATIONSHIP WITH SABRINA PARR
Lamar's very publicized relationship with Khloe Kardashian came to an end a few years ago and the former has since moved on with 32-year-old Sabrina Parr.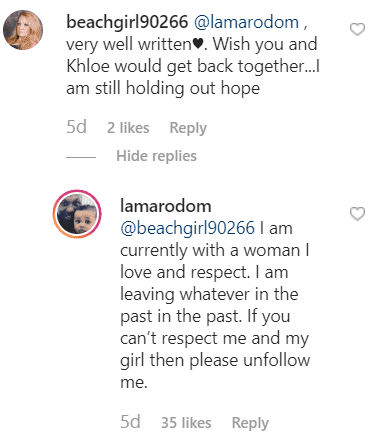 Comment from Lamar Odom's Instagram post | Photo: Instagram/lamarodom
On August 2nd, the pair confirmed they are a couple by posting identical images on their respective Instagram pages. The posts were captioned,
"What we have is much more than they can see..." @getuptoparr ❤⭐️?"
However, a few days after their big reveal, People reported that a source revealed that the relationship isn't real saying,
"They are not dating. There is nothing romantic going on with Sabrina and Lamar. It's fake."
This seemed to be untrue since the couple has been seen hanging out a lot in recent times and also gave a joint interview on Dish Nation. During the interview, Sabrina Parr opened up to host Gary Hayes about why she decided to pursue a relationship with the athlete.
"Sometime pain, I think, attracts women," Odom initially answered before Parr could. "The pain I've been through." "That wasn't my story, I wasn't attracted to the pain and the drama," Parr retorted.
"You have to meet people where they are. He was never in a position to be someone's husband, you know? He was sick, he needed to heal, he needed to grieve. He experienced a lot of losses. And he never had time to go through that."
Parr who grew up in Cleveland Ohio is a business owner, entrepreneur, personal trainer, and life coach and from the look of things, Lamar is ready to stand up for his woman when there is a need to.
Please fill in your e-mail so we can share with you our top stories!