Judge Tammy Kemp Faces Ethics Complaint for Giving Amber Guyger a Bible after the Botham Jean Murder Trial
Freedom from Religion Foundation files an ethics complaint against Judge Tammy Kemp, of Texas' 204th District, for her reaction at the end of former Texas police officer Amber Guyger's trial.
A Judge from Texas' 204th District is currently facing some challenges over what happened after a murder trial that caused tears and protests across the United States, as per a story by LAW.
Trouble began when Judge Tammy Kemp not only hugged but also handed a Bible over to Amber Guyger after the conclusion of Guyger's murder trial. Since then, the Judge has been under fire as to whether or not she crossed an ethical line.
And as NBC discloses, The Freedom from Religion Foundation went as far as filing a complaint against Tammy with the Texas State Commission on Judicial Conduct. Submitted on Thursday, the claim calls for an investigation into the Judge's alleged judicial misconduct.
Police Union Decries Egregious Carriage Of Justice In Amber Guyger Murder Conviction https://t.co/WEbOw4azf5 pic.twitter.com/cSpZjoRb3l

— The Onion (@TheOnion) October 1, 2019
The article also states that the group believes that tammy went too far after sentencing Amber to ten years in prison for murdering Botham Jean. The Judge, who spoke to Amber after the emotional victim impact statement by the deceased's brother, Brandt, excused herself from the courtroom.
The Judge returned a few minutes later with a personal Bible which she turned to John 3:16. Tammy then told the accused that "this is where you start." She continued, saying, "He has a purpose for you."
Brother of Man Slain by Cop in Home Hugs Killer — But Mom Says Hug Wasn't 'Complete Forgiveness' https://t.co/lq7QWeG6jk

— People (@people) October 3, 2019
But it's not all bad as some people are on the Judge's side. The Judge's supporters believe that what she did "has brought more hope and healing to this community than a life sentence ever could have."
Regardless of what the masses think, the prosecutors believe that Amber got less than she deserved in her sentence. However, according to a CNN proclamation, Dallas District Attorney John Creuzot said that his office is satisfied with the verdict and sentence.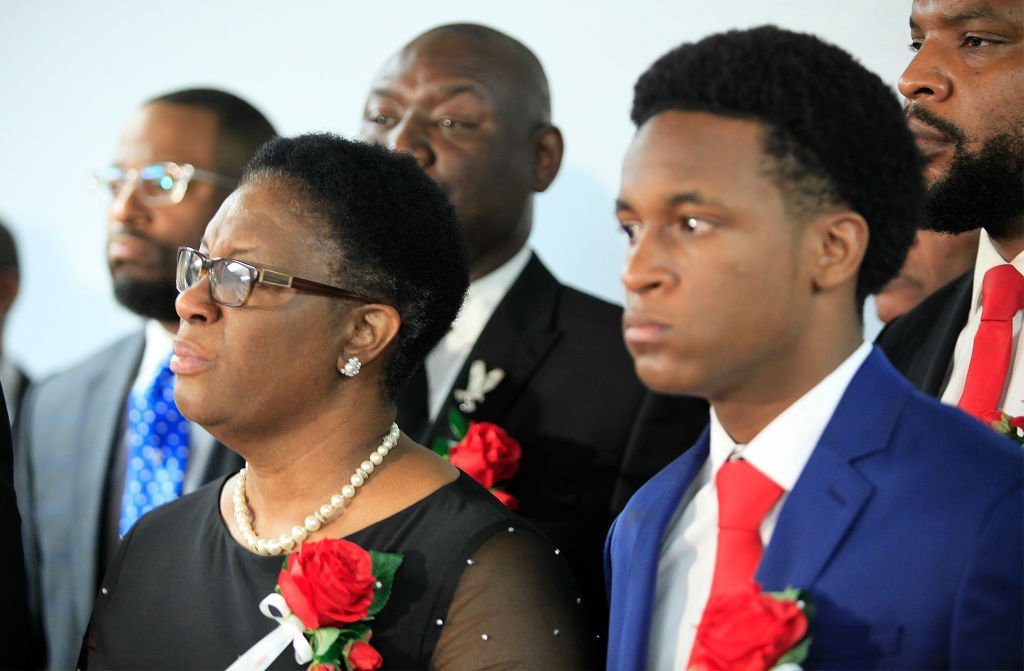 One person who has proved to be surprising is the victim's teenage brother Brandt who offered his forgiveness to Amber after her sentence reading. USA Today recollects that Brandt hugged Amber while telling her that he wished her the best. According to him:
"If you truly are sorry, I know…I can speak for myself; I forgive you. And I know if you go to God and ask him, he will forgive you."
Sentenced to 10 years in prison, Amber will be eligible for parole after the first five years.