Melanie Griffith Shows off Her 2 Handsome Sons in a Recent Photo & Fans Praise the Brothers
Melanie Griffith celebrated National Sons day with a rare photo of her children. Fans can't stop commenting on her sons.
Melanie Griffith shared with her fans a rare photo pf her two sons, Alexander Bauer, and stepson, Jesse Johnson. In a caption celebrating them, she writes:
"Happy National Sons Day to my two kind, generous, smart, loving sons. You both have my heart♥ @jaydoubleyoujay @moonshinebuddy."
The black a white image shows her son's, Alexander and Jesse in front of a kitchen stove. The brothers are both wearing sweaters and black woolen beanies.
The picture has many fans gushing over how handsome they both are. 

A fan even proposed to marry her one of her sons, she comments:
"I want to be your daughter-in-law, foes now I will call you "suegra" (in Spanish is shorter than English."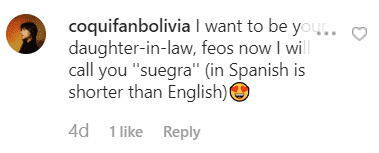 Having been married four times to three Hollywood actors, she has four children. From her marriage to Steven Bauer, she shares Alexander Bauer. 
"Fifty Shades of Grey" star, Dakota Johnson is from her marriage to Don Johnson. Marrying Don twice over the course of their relationship, she has taken in Don's son, Jesse Johnson. 
From her last marriage, she has shares daughter, Stella Banderas with actor, Antonio Banderas. In honor of her other children, Melanie also celebrated National Daughters Day, saying:
"On National Daughters Day I honor my two beauties Dakota and Stella!! #fbf I love my girls so so so much."
The mother of four is proudly single and an empty nester, at 61-years-old. Speaking to E! News, Melanie confesses that after four failed marriages, she is not looking forward to getting married, she explains her views on marriage saying:
 "I really don't think it's relevant for anyone anymore. But especially if you're 60 and you have four kids and you're living the life you've always wanted. Then why get married? It's, like, I would love to fall in love and have a romance, a relationship, but I haven't. I keep looking. I've had a couple of lovers but not a relationship."
She proudly reveals that she has a great relationship with all of her ex-husbands, but the most important relationship she has is with her children.
With her children growing up to pursue their own careers, and the divorces that have left Melanie single, she says it has given her the chance to reflect on ways to revive her career and refresh her life.