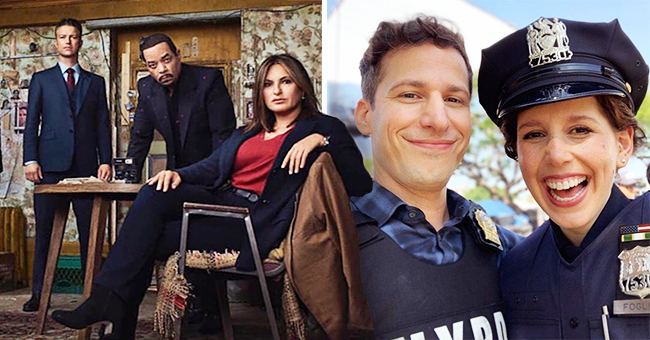 twitter.com/nbcbrooklyn99 / twitter.com/SVUandChicagoPD
Kelli Giddish Makes Reference to 'Brooklyn Nine-Nine' in 'Law & Order: SVU' Episode & Fans Weigh In

Fans of the hit TV series "Law & Order: SVU" weighed in after Kelli Giddish's character referred to fellow police drama series, "Brooklyn Nine-Nine."
On the latest episode of "Law & Order: SVU," Kelli Giddish who plays "Detective Amanda Rollins" referred to another police drama series based in New York, "Brooklyn Nine-Nine."
FANS' REACTION ON TWITTER
The show's Twitter page shared the reference with a GIF of Giddish's character at the time she mentioned the Brooklyn-based show. It read,
"The Nine-Nine called, and they just picked up the owner of the boat."
The show equally thanked the "Nine-Nine" detectives for their help, writing,
"Shout out to all the @NBCbrooklyn99 for all your help on this case."
Fans related to the reference in different ways. One Twitter user wrote, "I knew I needed it," While another tweeted, "Ok. B99 is now in the SVU-Verse."
FANS WANT A CROSSOVER
A third person hinting at a crossover wrote, "I would pay money to see Benson make Peralta cry," and a fourth noted that a crossover would mean that "Benson," played by Mariska Hargitay, and a character called, "The Vulture," have been having an affair.
The last comment is a reference to Dean Winters, who has played different roles on both shows. This is not the first time fans of SVU and "Nine-Nine" are asking for a crossover.
In December 2018, after NBC took on the latter following a cancelation after season five, and released a combined promo video, fans reacted by asking for a crossover episode, even if it's not for the full hour.
ARIEL WINTERS IS HONORED TO PLAY A ROLE ON "LAW & ORDER:SVU"
The fans are yet to get their wish, but with SVU already referencing the Brooklyn show, they might get their dream.
The last episode of the "Olivia Benson" led show followed the story of a young lady, "Reagan," who woke up in a boat to discover she had gotten sexually abused.
Ariel Winters, the self-proclaimed "Diehard" fan of the show, who has watched every single episode played the character.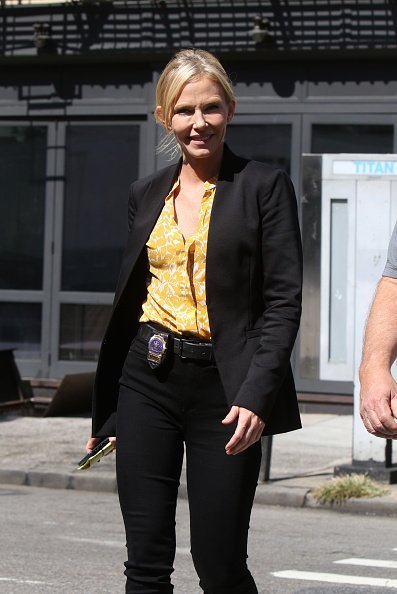 Kelli Giddish on the set of "Law and Order: Special Victims Unit" on September 03, 2019 | Photo: Getty Images
Speaking with E! News after the episode aired, the "Modern Family" actress said she was honored to have played the role, and credited Hargitay with helping her become the character.
The SVU leading lady, Mariska Hargitay has been on the show since it premiered on September 20th, 1999. She has starred in over 200 episodes and now serves as a director, and producer.
Please fill in your e-mail so we can share with you our top stories!