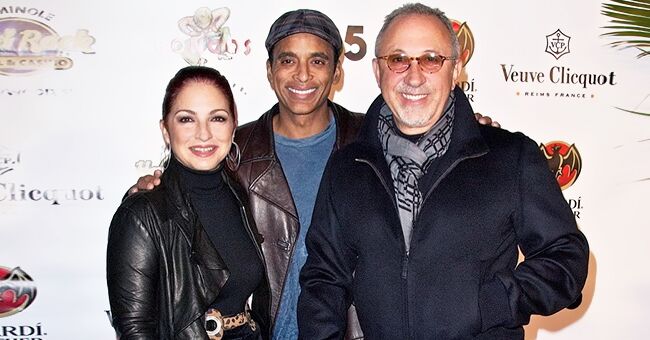 instagram.com/gloriaestefan
Gloria Estefan and Husband Emilio Wished a Happy Birthday to Singer Jon Secada in a Recent Post

Gloria Estefan paid tribute to a dear friend with a photo of the both of them together with her husband, Emilio.
Grammy Award-winning music star Gloria Estefan recently posted a photo with her husband, Emilio, during a friend's birthday. She paid tribute to her friend through the caption:
"HAPPY BIRTHDAY, HERMANO!! @jonsecada We love you and hope your day is full of all the joy & love that you so richly deserve! A CELEBRAR, BABY!"
GETTING MARRIED
Estefan and her husband have been happily married for forty-one years with two children, a son Nayib, and a daughter Emily. Estefan shared that their love story began through music at a jam session in 1975. She recalled:
"In comes Emilio. He's playing the accordion in very short shorts, and he looked like he was naked, so that was the first impression that I got. Then my mom drags me to a wedding a few months later, and I walk in the door, and there [he is] playing 'The Hustle.'"
It only took two weeks for Emilio to get in touch with the singer, and shortly after, they started bonding over music as a wedding bank. The couple eventually tied the knot in 1978 and remained in love since. Emilio said:
"When it's real love, it gets better. It's all about respect and love and communication. When you have a great foundation, it becomes easy."
SUCCESSFUL TOGETHER
The power couple has since been supportive of each other's success and has a combined estimated net worth of $500 million from their respective careers and businesses.
They own several restaurants, including Bongos Cuban Cafe, Larios on the Beach, and Estefan Kitchen, all in Florida. Estefan's kitchen was the first Cuban cuisine restaurant that opened in Miami.
Estefan and her husband also own two hotels in Vero and Miami Beach called Costa d'Este and The Cardozo, respectively.
OFFSPRING
Estefan's daughter Emily followed in her mom's footsteps as a musician, specifically a drummer, guitarist, singer, and songwriter. Emily helped write the song "If I Never Got to Tell You," and has performed alongside her mom.
On the other hand, her son Nayib has ventured into acting, apart from music. In 2017, it was reported that the Estefan's gifted their son $1.2 million for their home in Miami Shores.
STILL IN LOVE
Last July, Estefan and Emilio celebrated their 43rd anniversary if their first kiss. The singer shared a photo of them looking as youthful as ever in matching black clothing. She wrote:
"Happy 43rd Anniversary of our first kiss, baby, @emilioestefanjr And the fireworks are still going off!"
Please fill in your e-mail so we can share with you our top stories!