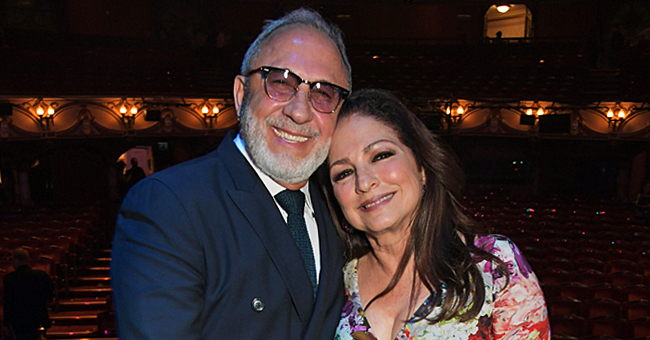 Getty Images
Gloria Estefan Celebrated 43rd Anniversary of 'First Kiss' with Husband Emilio on the 4th of July

Grammy Award-winning singer Gloria Estefan recently took to social media to celebrate the anniversary of her very first kiss with husband, Emilio.
While everyone else was out celebrating the independence day on the fourth of July, Gloria was up and about reveling in the joys of the anniversary of her first kiss.
Via Instagram, Gloria shared a close-up selfie picture of herself and Emilio. The beautiful shot had the adorable pair huddled up and smiling with their faces sporting similar sunglasses.
Although their exact location is unascertained, it is quite evident that the couple had been on a day out at the time they took the picture.
Gloria and Emilio looked as youthful as ever as they both rocked matching black tees. It would be hard to say that the couple is already past their prime considering how beautiful they look in the photo.
Gloria is 61 years old and Emilio, 66, but it seems they drink from the fountain of youth given how they wear age so well. The pair looked wrinkle-free, and even Emilio's grey hair only added a dash of class and elegance to their photo.
As if the picture wasn't already unique enough, Gloria penned down a heartfelt message that dripped of affection for Emilio in her caption. It reads:
"Happy 43rd Anniversary of our first kiss, baby, @emilioestefanjr And the fireworks are still going off! HAPPY 4th of JULY, everyone! We hope it's a great one for all!"
The lovely post elicited several reactions from fans of the couple as well as their fellow celebrities.
Famous American singer, Gloria Gaynor commented:
"Happy Anniversary to a beautiful couple, many more."
While one fan, @fairest.of.them.all_13 excitedly shared:
"My husband and I also had our first kiss seven years ago today. !!!!! I know you might not see this but If you do happy anniversary to you both."
Another user, @wackmaster7 quipped:
"Happy 4th to you, Gloria & your husband. Lucky chap!"
Well, that couldn't be truer, but really, it is more like Gloria and Emilio are lucky to have each other. Going by Gloria's heartwarming story of how Emilio is her "first and only boyfriend," a better term for them would be "soul mates."
While speaking to Daily Mirror once, Gloria said of their long-lasting marriage:
"We've been married 40 years. He was my first and only - I told him he got a good deal! I wasn't looking to get married. We just fell in love."
Gloria further explained that their differences are the key to their happy marriage. She said:
"We're very different, so we balance each other out. But in the things that really matter, like priorities, it's always our family, values, morals. We're on the same page."
Gloria and Emilio continue to enjoy their life as a married couple and being the parents of their two children who have followed the same career path as them.
Their 38-year-old son Nayib is an aspiring filmmaker while their daughter Emily, 24, is a recording artist.
Please fill in your e-mail so we can share with you our top stories!