Alfonso Ribeiro of 'Fresh Prince' & Wife Angela Share Touching Tributes to His Daughter Sienna on Her 17th Birthday
"The Fresh Prince of Bel-Air" star Alfonso Ribeiro and wife Angela, reminisce about daughter Sienna's younger years as they take to social media to pay a heartwarming tribute to her. 
Alfonso and Angela, who tied the knot in 2012, were every bit the doting parents as they took to their respective Instagram pages to celebrate Sienna's 17th birthday.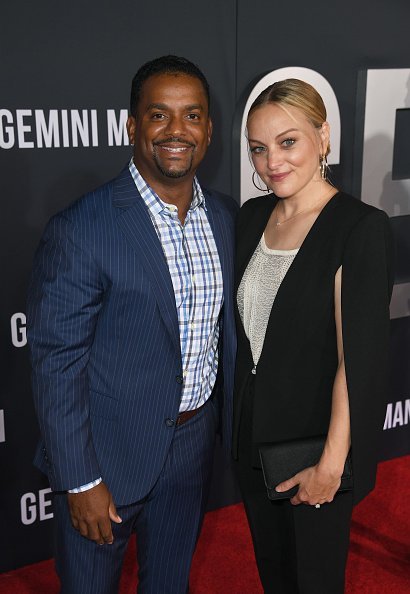 "I CAN'T WAIT TO SEE YOU BECOME EVERYTHING YOU WANT TO BE," ALFONSO WRITES TO HIS DAUGHTER 
Via his official page, @therealalfonsoribeiro, Alfonso shared two pictures of Sienna. The first is a throwback picture of the youngster while the next is a closeup snap taken more recently. 
The first had a little Sienna showing off her flexibility while wearing a white tank top and shorts. The second, however, looks like a zoomed-in screenshot of what may have been a group picture. 
While the two pictures show how much Sienna has grown, they show that her gorgeous smile and wavy locks are still much the same. 
The picture especially seems to invoke emotions for Alfonso, who captioned them with a heartfelt message for Sienna. Alfonso wrote:
"This little girl is now 17 years old. I can't tell you how much I love you. You are becoming a thoughtful, intelligent, and special young woman. I can't wait to see you become everything you want to be. Happy Birthday, Sienna."  
ANGELA ISN'T MISSING OUT ON THE AFFECTIONATE DISPLAY 
Angela's post is no less beautiful as she chose to share clearer snaps of the young beauty. She also shared two snaps of the teen; one features her wearing jeans onesie with her hair covered with a straw hat while standing amongst lush greenery. 
The second, however, features a much more grown Sienna wearing a grey sweatshirt, blue jeans, and black boots. Almost expectedly, she has her wavy mane flowing past her shoulders. 
The pictures are accompanied by a lengthy message dripping of affection for Sienna as Angela got reminiscent while expressing wonder that the little girl she once knew is now 17. Angela wrote:
"Sienna Michele, you have blossomed into a beautiful, compassionate, insightful young woman of whom I am constantly proud."
ANGELA IS A "PROUD STEPMOM AS SHE LEAVES ADVICE FOR SIENNA 
She went on to leave wise words for Sienna, imploring her to stay true to herself and be confident. The indeed proud stepmom concluded:
"Don't measure yourself with "likes." And don't worry about what other people may think...just do you. Happy Birthday! May your 17th year be just as amazing as you! #proudstepmom."
It appears that Angela and Sienna share a tight-knit bond even though the latter is a product of Alfonso's first marriage, and it is indeed admirable.
It is why Alfonso and Angela can easily be deemed the model celebrity couple. They also share sons Anders Reyn, 4,  Alfonso "AJ" Lincoln, 5½, and baby Ava, who was born early May.