Rihanna Appears to Shut down Pregnancy Rumors by Showing off Flat Tummy in a Leopard-Print Dress at Visual Autobiography Launch
Rihanna dispels pregnancy rumors in a sensual leopard print dress at the Guggenheim Museum in New York City.
Superstar Rihanna has been the target of speculation lately since she admitted that she is dating the very eligible and gorgeous Saudi billionaire, Hassan Jameel.
Fans have been watching the singer's tummy, and rumors started that she might be pregnant.
Rihanna revealed that she is going back to her roots in her next album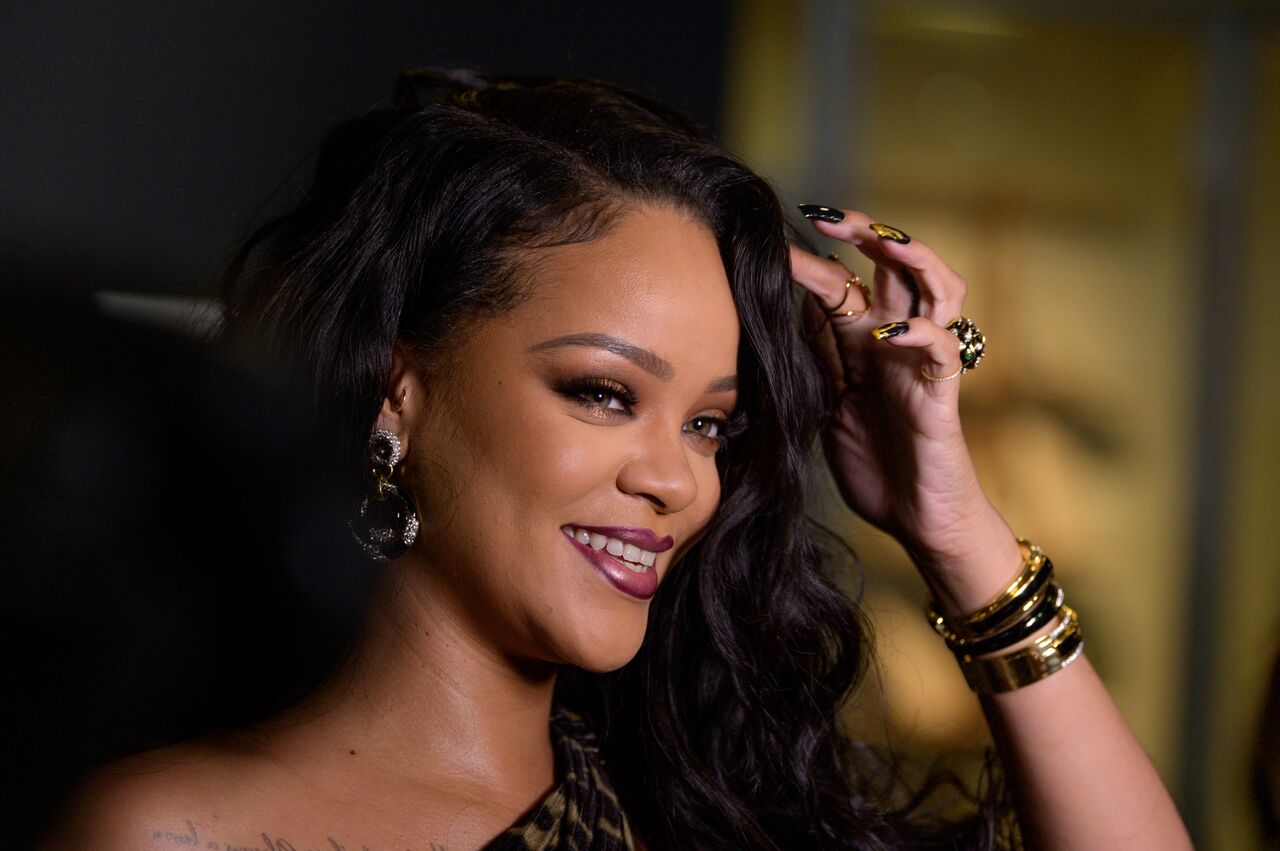 GOSSIP HINTS AT RIHANNA BEING PREGNANT
But Rihanna put paid to the gossip in one fell swoop. She showed up at the launch of her visual autobiography, "Rihanna," at the Guggenheim Museum in New York City in a dress that clung to every curve.
The sizzling leopard print dress by Anthony Vaccarello for Saint Laurent was tightly cinched at the waist and showed that her tummy is perfectly flat. No baby there.
Over 5 years in the making... happy to finally share this collection of incredible memories. Thanks to all of the photographers & artists that contributed & to @phaidon for working with me to publish my first piece of art in a new industry! pre-order on https://t.co/XIX4c7zPdI 📚 pic.twitter.com/9aXtjzFDIJ

— Rihanna (@rihanna) October 7, 2019
RIHANNA'S STUNNED IN LEOPARD SKIN
The Vaccarello creation has an asymmetric crossed neckline, that shows off the singer's tattooed belly. Rihanna teamed the satiny leopard print with dramatic thigh-high wine-colored snakeskin boots.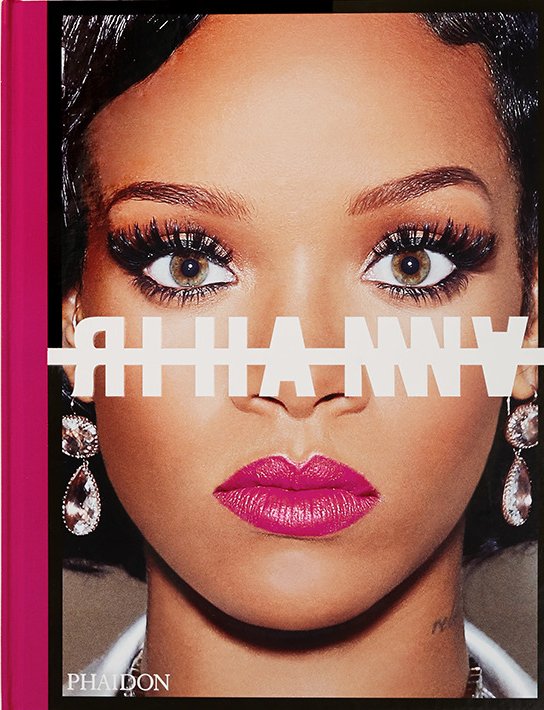 RIHANNA LAUNCHES VISUAL AUTOBIOGRAPHY
The book which Rihanna authored and is set to launch in October is a visually stunning chronicle of her life and her art - from her music to her breathtaking fashion designs.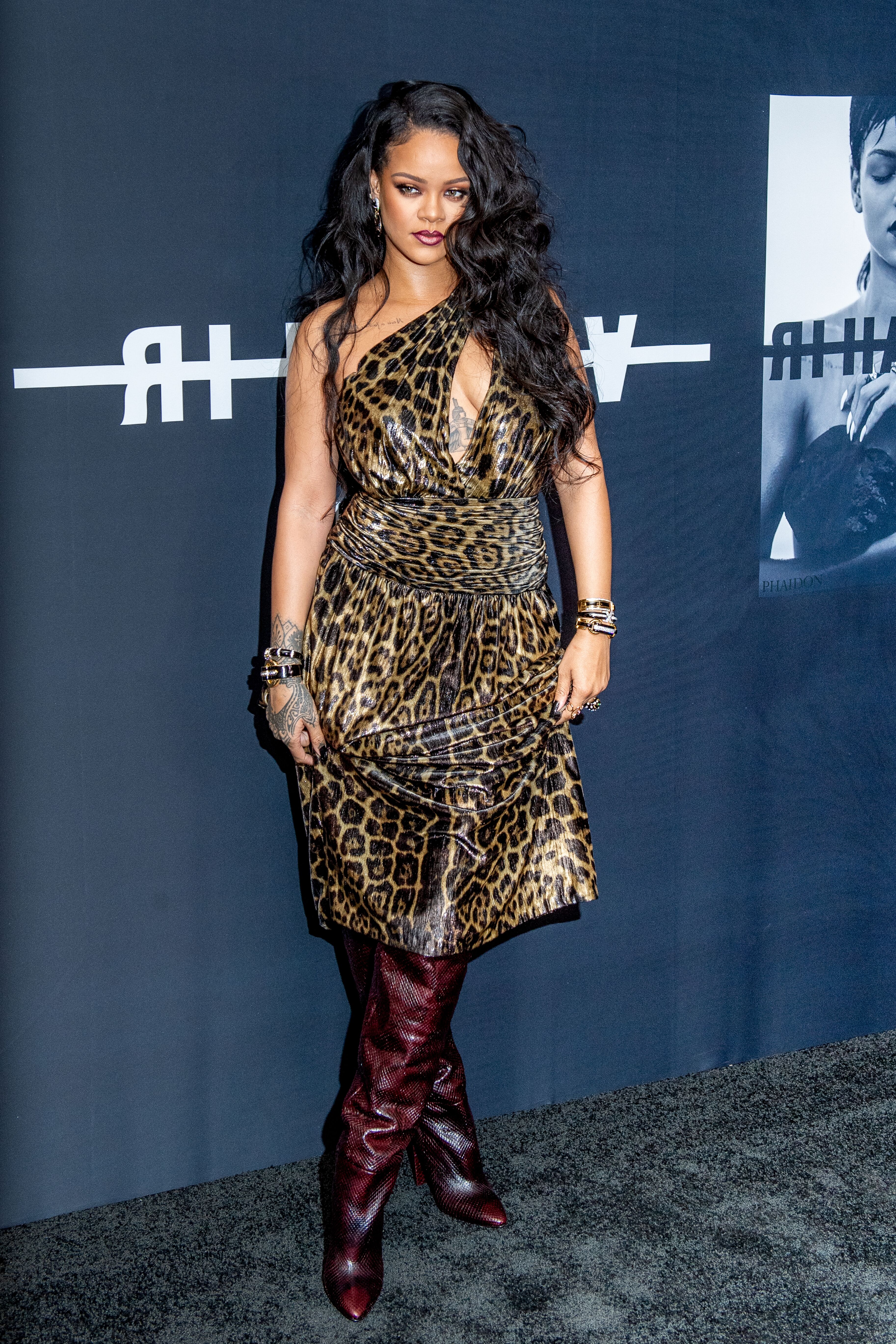 RIHANNA SPEAKS OF NEW REGGAE-INSPIRED ALBUM
But even though she has ventured into other areas of interest, her first love is still music and Rihanna revealed that she is going back to her roots in her next album. She said:
"Even though I've explored other genres of music, it was time to go back to something that I haven't really homed in on completely for a body of work."
For the Barbados born singer, those roots are inevitably reggae. She revealed:
"I like to look at it as a reggae-inspired or reggae-infused album. It's not gonna be typical of what you know as reggae. But you're going to feel the elements in all of the tracks … Reggae always feels right to me. It's in my blood."
We can't wait for Rihanna's reinvention of reggae.
So proud to be on another cover of @voguemagazine wearing my own designs from @FentyOfficial !!! On stands October 16th!
Photographer: @ethjgreen
Fashion Editor: Tonne Goodman
Hair: @yusefhairnyc
Makeup: Kanako Takasehttps://t.co/ARYg5Fmufj pic.twitter.com/LU9TEe1NEh

— Rihanna (@rihanna) October 9, 2019
RIHANNA STUNS ON THE COVER OF VOGUE IN HER OWN FASHION LINE
Rihanna adds another achievement to her long list. She is on the cover of Vogue's November issue, donning her own creations from her haute couture fashion line.
Rihanna is the first woman to design a line for LVMH Moët Hennessy Louis Vuitton, Fenty Maison, and the first woman black woman to head a major fashion house.
Rihanna hit the fashion world like a hurricane at New York Fashion Week three years ago with her Fenty x Puma.
Since then the line has become a sales success. Puma's profits have skyrocketed by 92% a year. Bravo, Rihanna!