Derek Hough of 'World of Dance' Shares Pics of Girlfriend Hayley Erbert on Her Birthday
Renowned American professional dancer Derek Hough is in love! He recently took to social media to publicly confess admiration for his longtime girlfriend, Hayley Erbert, as she marked her 24th birthday. 
Hough, who is best known for his award-winning performances in the famous dance competition series, DWTS shared numerous snaps of his gorgeous lover a few days ago. 
HOUGH SHARES PICTURES OF ERBERT – "THE MOST BEAUTIFUL GIRL IN THE WORLD"
Hough is known for such affectionate displays, and it seems he can never overdo it. The famous dancer posted a series of photos of Erbert, whom he reportedly started dating in 2015 via his official Instagram page. 
The pictures range from scenic snaps that are recently taken and some taken as far back as when Erbert was only a little child. 
There are eight pictures in total, and the very first is a black and white photo of Erbert, who is also a dancer. It has her turned away from the camera so that only her side profile is captured in the picture. 
The two snaps that follow feature Erbert in a mini dress, which is the very same from the first photo. The second features her lying down in the grass and with the Eiffel tower making an indeed impressive display far off. 
HOUGH SEEMS TO BE TAKEN WITH A PICTURE OF ERBERT TAKEN BY PAPARAZZI 
The next three pictures feature Erbert wearing a sleeveless midi dress which she wore while out attending a special occasion with Hough.
One of the snaps features the couple in an intimate embrace and with the handsome star giving Erbert an affectionate kiss on her temple. 
The last two photos, albeit blurry, hold an allure in their own way. The first is an old photo of Erbert; there, the gorgeous star is a little girl outfitted in a black turtleneck and smiling excitedly for the camera. 
The last photo is, surprisingly, one taken by paparazzi while Erbert was recently spotted out on a lunch date with Hough.
Before posting, Hough cropped the image so that only his beautiful girlfriend, who was outfitted wearing a black mini-dress and whose face is bare, is seen. 
HOUGH PUBLICLY DECLARES HIS LOVE FOR ERBERT
As if the carefully curated pictures weren't already enough to show his affection for Erbert, Hough penned down a sweet message in the caption and explained that his favorite of the photographs is the one taken by paparazzi. Hough's sweet message reads:
"Happy birthday to the most beautiful girl in the world. I love you so much. I'm especially fond of the last picture. #happybirthday."
Erbert, who was a top-six finalist on season 10 of "So You Think You Can Dance," marked her 24th birthday on Friday, October 11, and if Hough's loving post is any sign, she must have been the happiest girl in the world! 
Erbert and the "World of Dance" judge have been dating for over four years, and while there always seems to be rumors of them getting engaged, there is still no official reports about the pair getting "legal."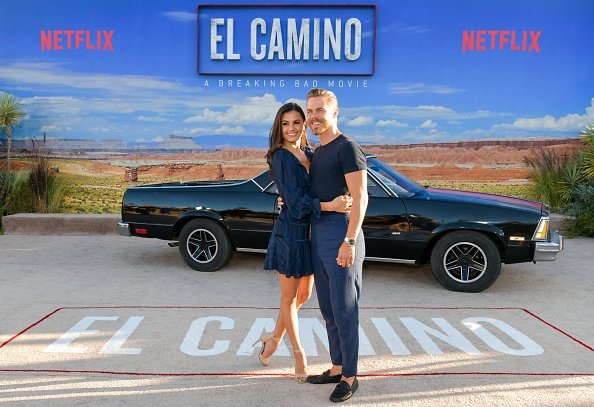 That, however, doesn't stop them from becoming one of the internet's most famous dance couples. They are both talented dancers, and their love for each other couldn't be more visible. 
When they are not being the most romantic couple on public sightings, they are flaunting cute snaps of each other on social media. 
There is no arguing that Hough and Erbert are a couple in love, and going by their respective Instagrams, they are never too shy to show it.