Kate Middleton Shows Admiration for Prince William's Geography Skills during Outing to Pakistan Mountains
Kate Middleton was left impressed by her husband, Prince William's skills in geography during their outing to North Pakistan's mountainous region, where they highlighted the dangers of global warming. 
The Duke and Duchess of Cambridge are contributing their quota to the burning issue of global warming, and their latest efforts saw them go to Pakistan's Northern region, known for its mountains.
There, the Royal Couple saw firsthand the effects of global warming on a melting glacier, and the outing also enabled Kate to gush over William's vastness in geography. 
PRINCE WILLIAM'S GEOGRAPHY KNOWLEDGE IS IMPRESSIVE
As part of the Cambridge Duke and Duchess's outing, they were briefed by Dr. Furrukh Bashir, a staff of the Meteorological Department of Pakistan.
Furrukh, also a glacial expert, narrated the causes and implications of global warming-related issues like climate change and glacial melting on the region.
The Duke and Duchess witnessed an example of some of these effects as they walked on the northern tip of a glacier located in the Hindu Kush Mountain range.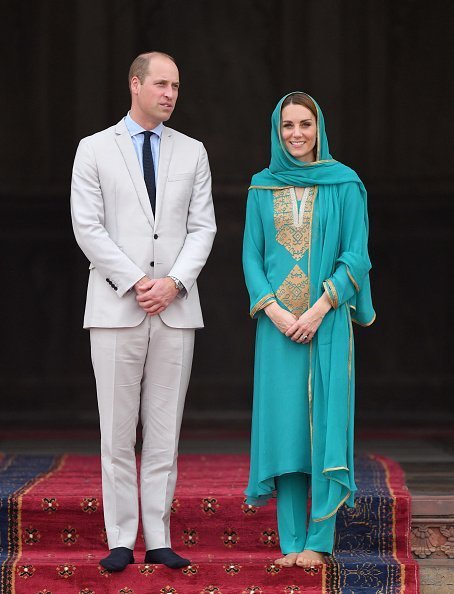 Doing that made them see the amount by which the glacier had receded in recent times due to global warming. While on the glacier, Prince William emphasized the importance of education, awareness, political action in the fight to curb climate change and its effects. 
He then revealed that his geography teacher, Dr. Warren would be impressed that he (The Prince) was back at a glacier after a long time, to which his wife, Kate agreed to, stating that her husband had an excellent knowledge of the subject.
She said:
"I've been very impressed by William's geography." 
THE CHITRALI-WEARING ROYALS
It was impossible to miss Kate's dress as the Royals headed to the Pakistani Mountains. On their arrival, the couple was presented with traditional Chitrali hats, warm shawls, and embroidered jacket for Kate, and coat for William.
The Duchess wore the cap on her head and placed the jacket over her brown vest. Kate's look brought back memories of Princess Diana, who also visited Pakistan for the first time in 1991, and was also presented with a Chitrali hat, very much like the one worn by Kate.
Great pic by Martin Keene of PA of Princess Diana in Chitral in 1991. Kate's hat has peacock feathers 🦚 while Diana's looks like bird of prey 🦅 #RoyalVisitPakistan pic.twitter.com/lNCjCsFayo

— Emily Andrews (@byEmilyAndrews) October 16, 2019
THE ROYAL COUPLE MET WITH PAKISTANI PRIME MINISTER, IMRAN KHAN
Having arrived in Pakistan on Monday, William and Kate visited the country's Prime Minister, Imran Khan, on Tuesday.
Imran Khan is a former cricket player and was friends with William's mother, the late Princess Diana, helping to host her in one of her visits to the country.
For the visit, Kate wore a Catherine Walker designed emerald green tunic, matching it with white pants, by a Pakistani Designer, Maheen Khan. Her accessories and jewelry were also of Pakistani origin.