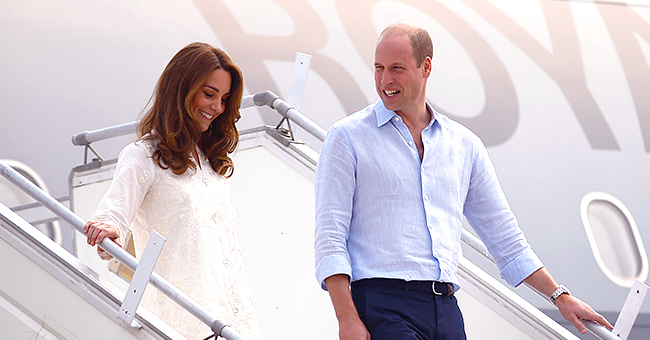 Getty Images
Kate Middleton Stuns in White Traditional Pakistani Outfit as the Royal Tour Continues
It is the fourth day of Prince William and Kate Middleton's widely-publicized Pakistani tour and the Duchess bedazzles yet again in traditional attire.
The tour is fast coming to a close, and the media has since had a field day nitpicking at the Duchess's distinct fashion choices. For the fourth day of their tour, Middleton stepped out in a white number for their visit to the biggest city in Pakistan.
MIDDLETON STEPS OUT IN HIGH-END FASHION FOR A VISIT TO LAHORE
It was a busy day for Middleton. Still, she managed to maintain her poise wearing the shalwar kameez, a traditional outfit popularly worn by Pakistan women and which includes a long tunic and trousers.
It is reportedly a unique design by renowned Gul Ahmed and was accompanied with a shawl by Maheen Khan. Middleton finished off the elegant look with exquisite Woodland Oak Leaf hoop earrings by Asprey London and held on to a blush-colored clutch by Mulberry.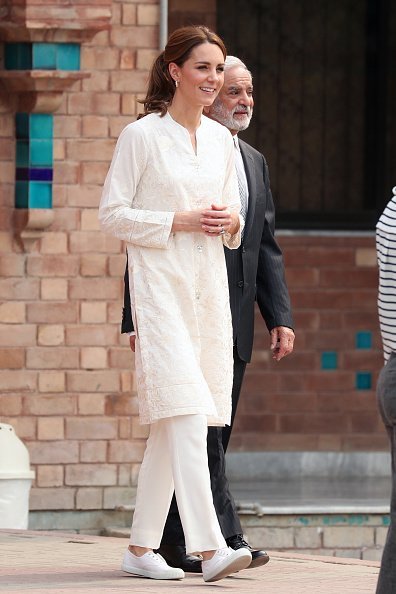 Catherine, Duchess of Cambridge arrives for her visit of the National Cricket Academy during day four of their royal tour of Pakistan | Photo: Getty Images
She paired the ensemble with chic suede heels by Gianvito Rossi that matched her distinctive accessory choice.
MIDDLETON AND THE PRINCE MADE THREE KIDS THE HAPPIEST BY ATTENDING THEIR JOINTLY-PLANNED BIRTHDAY PARTY
The entire ensemble was perfectly befitting of Middleton as she and the Prince kicked off the day with a visit to the SOS Children's Village.
It is reported that the Children's Village is a charity specially created to give vulnerable children the ideal family structure where they are given a home and cared for by a "mother" to help them develop into "happy, confident, and resilient adults."
Middleton, who is a mother of three herself, gave off airs of a mother in her regal outfit as she attended to the children, three of whom were celebrated as they marked their respective birthdays.
The Duke and Duchess were special invitees at the small party held for the kids who were only a little fraction of the 150 children who live at the center; it was the first of its kind in Pakistan when it was established in 1977.
MIDDLETON RENDERS AN EMOTIONAL SPEECH DIRECTED AT THE CHARITY
According to Rebecca English of The Daily Mail, the 37-year-old Royal was scheduled to give a speech at the occasion. It was her very first and speculated to be the only one too.
Middleton's speech turned out to be an emotional one as she uttered words of heartfelt gratitude for the achievements of the charity.
She said:
"Here, women who were once vulnerable, now play the most vital of roles as mothers, and it is most heartening to see that you are not doing this alone."
The Duke and Duchess's visit to the center was followed by one to the National Cricket Academy, where they met some of Pakistan's legendary sports stars.
Please fill in your e-mail so we can share with you our top stories!