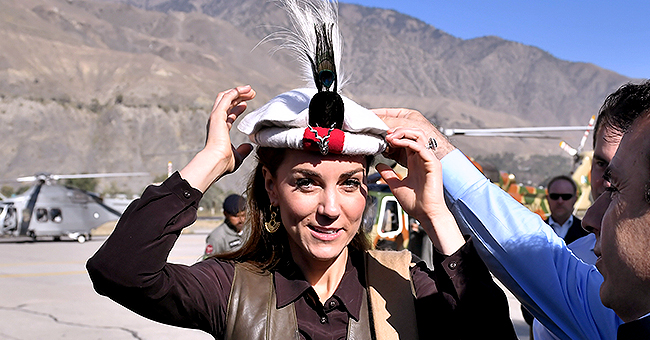 Getty Images
Kate Middleton Pays Tribute to Princess Diana as She Wears a Chitrali Hat during Trip to Pakistan Mountains
During the royal couple's trip to the northern mountains in Pakistan, Kate Middleton and Prince Harry were gifted traditional Chitrali hats. The hats are similar to the one Princess Diana wore when he visited the same area.
On Wednesday, Prince William and Kate Middleton took a trip to Chitral, the Hindu Khush. It is reported, the royal couple visited the area to see the effects that climate change is having on local communities.
As part of their tour of the mountainous area, they visited the Hindu Khush valley and the Chiatibo Glacier, in Broghil National Park.
Upon their arrival, they were given a traditional welcome, fit for a royal. William and Middleton were gifted traditional Chitrali hats. They were also presented with long embroidered coats.
Dressed in her traditional hat and colourful embroidered coat, Middleton dons the same attire Princess Diana was gifted when she visited the area, in 1991.
Wearing the bright white, feather topped hat, Middleton accessorizes her look with large gold earrings, just like Diana.
According to PEOPLE, the Chitrali hats is traditional reserved for men. However, similar to when Diana visited Pakistan, Middleton's status as a member of the royal family makes her an esteemed guest, who is exempt from the rule.
The royal couple were also given a book, which contained pictures of from Diana's solo visit to Chitral, in 1991. Taking off his hat to speak to his host, William graciously accepts the gift and laughs:
"Ha, ha, ha! The same hat."
Taking a peak at the pictures, Middleton nods and smiles as they view the book, she responded:
"Very special."
William and Prince Harry have made it a point to travel to many of the same places Diana toured when she was alive. For Harry he revealed that visiting Africa helped him cope after his mother's death.
A comparison of Princess Diana (Pakistan, on June 22, 1996 ) and Kate Middleton wearing a headscarf (Kuala Lumpur, on September 12, 2012) | Source: Tim Graham/Chris Jackson/Getty Images)
Not only have Diana's sons made a special effort to visit some of the places where she worked. But, the women in the royal family have made small tributes to their late mother-in-law by recreating some of her most memorable fashion moments.
According to PEOPLE, Middleton's fashion throughout their royal tours is strikingly similar to many of the looks Diana donned in Pakistan. However, Middleton has added a modern twist to her culturally inspired looks.
Please fill in your e-mail so we can share with you our top stories!