Kate Middleton Has an Adorable Reaction While Playing Cricket with Prince William in Pakistan
Kate Middleton, Duchess of Cambridge, steals the hearts of many with her heartwarming reaction while playing Cricket with her husband, Prince William.
The Royals recently took a trip to Pakistan on some royal duties, and their support for each other is nothing but amazing.
On the fourth day of the tour, they visited the National Cricket Academy, Lahore, the Duke and Duchess of Cambridge strived to impress their audience and explore their cricket skills.
Kate didn't win but was happy her man scored 
However, Kate, who rocked an all-white tunic and pants fiercely pony-tailed her hair to give a "you-cannot-mess-with-me" look. But, her sporting skills could not be compared to that of her man.
Brilliant photos of Kate playing cricket today 🏏 Love seeing her at sporting engagements, she always looks like she's having so much fun! 📷by @ianvogler #RoyalTourPakistan https://t.co/0GoM5asgiV pic.twitter.com/qfqVj1hZeF

— Zoe Forsey (@ZoeForsey) October 17, 2019
When it was time for Prince William to show his skills, he meticulously played the game in his dark-colored pants. The Duke hit a six, bringing him to bag the highest score one can attain with the way he played the game.
The father of three didn't just succeed in scoring; he also got applause from his audience. That was not all, as his wife rooted for his win. At the point where he played the ball, Kate turned with enthusiasm to see where the shot was going to end up.
The mother of three seemed really impressed when her husband earned the win and clapped to show her admiration for his sporting prowess.
While the duo seemed enthused with their visit, they cheerfully high-fived the kids on their teams after the cricket experience.
The Royals were then led to meet other kids participating in the British Council Dotsi Programme, which promotes sports among kids.
Watch: Prince William gets a big clap from Princess Kate after hitting a six at cricket #RoyalVisitPakistan #lahore #williamandkate pic.twitter.com/njAsBYBlqi

— Simon Perry (@SPerryPeoplemag) October 17, 2019
The loss for the Duchess didn't seem to dull the couple's spirit at all as William jokingly responded to the officials who gave them cricket bats as gifts to their children, Prince George, Prince Louis, and Princess Charlotte.
Their visit was very much appreciated, and the former captain of the National Cricket Team, Waqar Younis, expressed his excitement at their presence.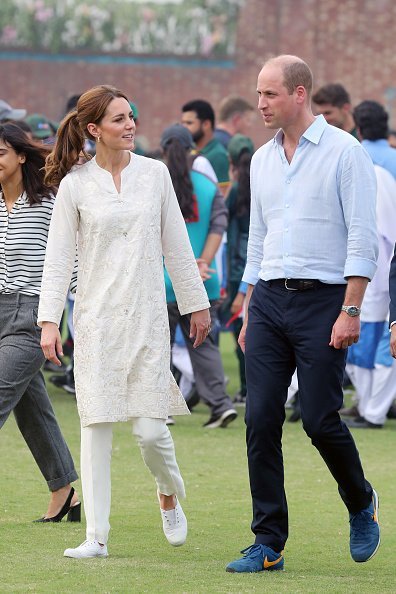 He said:
"I'm glad that they came. It was a great encouragement for these kids."
Waqar further commented on their sports skills; he stated that they both need help for improvement. This is not the first time the Royals will be attending and participating in a cricket event aimed at promoting sports among children.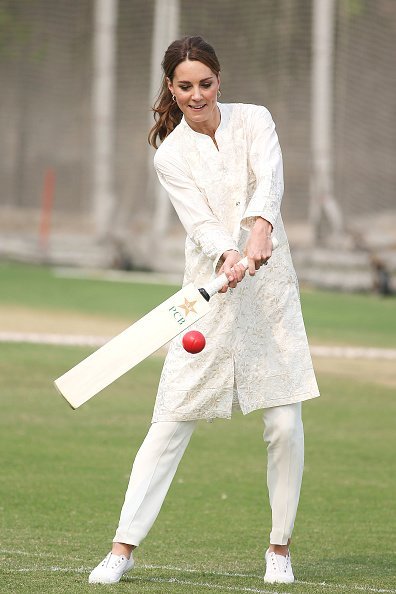 Three years ago, during their Indian tour, Kate enjoyed the activities with children from different charities, after which she met with a cricket legend, Sachin Tendulkar, who seemed thrilled to have the royal couple around. 
Kate may not be very good at cricket but has shown her unrelenting love for kids around the world, and her support for her husband by cheering him on.