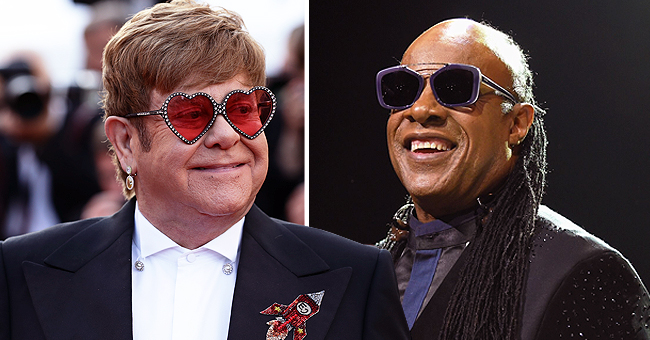 GettyImages
Elton John Recalls How He Once Let Stevie Wonder Drive a Snowmobile on 'Jimmy Kimmel Live'

Veteran singer-songwriter Elton John recounts the story of how he once heeded Stevie Wonder's brazen request that he let him drive his snowmobile. He also disclosed the name of the one singer he has never considered a "rival."
John was a guest during the Tuesday episode of "Jimmy Kimmel Live!" where he animatedly promoted his new memoir, "Me."
ELTON JOHN MAKES A RARE APPEARANCE AT JIMMY KIMMEL'S FAMOUS TALK-SHOW
The session was an enjoyable one for John as well as Kimmel as the former spiced up the exchange with numerous jokes, including one about legendary soul singer, Stevie Wonder.
John has lived a full life, and so has many stories to tell, but it is perhaps that particular tale about him and Stevie that has piqued curiosity.
JOHN HUMOROUSLY RECOUNTS HOW HE'D BROUGHT HIMSELF TO LET STEVIE RIDE A SNOWMOBILE ALONE!
According to John, he was at the Caribou Ranch in Nederland, Colorado, cooking up some new music when Stevie openly voiced his desire to ride a snowmobile.
John said:
"There was thick snow, and Stevie wanted to go out in the snowmobile."
He added:
"By himself."
Stevie, who marked his 69th birthday a few months ago, has lived a greater fraction of his life without eyesight.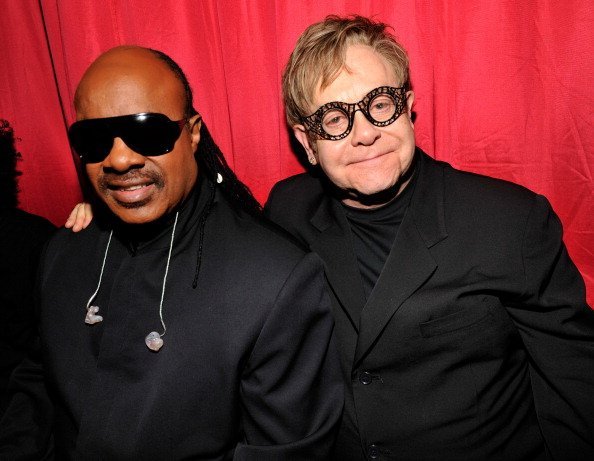 Stevie Wonder and Elton John attends the amfAR New York Gala to kick off Fall 2011 Fashion Week at Cipriani Wall Street | Photo: Getty Images
The lifelong condition, which started when Stevie was just an infant, reportedly developed as a complication of an eye disorder called retinopathy of prematurity (ROP).
The danger of going on a solo ride on the snowmobile was apparent, but John found it a hilarious one as he explained that he decided to face the situation as one where it would mean one less competitor for him.
He laughed:
"We thought, 'OK, that's another rival gone."
He continued:
"That's him out of the way."
THE OTHER STARS ON JOHN'S LIST OF WHO TO BE RID OF ALSO INCLUDED PHIL COLLINS – BUT NEVER BOB DYLAN
Obviously having fun while reminiscing, John laughingly named some other rentable musicians that were next on his list of competitors to get rid of.
The award-winning singer quipped:
"We just needed to get Phil Collins and Rod Stewart up there!"
The hilarious tale is just one out of the many contained in John's new book, "Me."
he memoir has the father of two relating notable personal stories and comedic encounters he's had so far, including one with fellow musician, Bob Dylan, whom he revealed he never considered a rival because he is "way above me."
Please fill in your e-mail so we can share with you our top stories!