Texas Toddler Adorably Waits to Hug Sister as She Returns from School in Viral Video
One-year-old Aliyah's reaction to the arrival of her sister at the end of a school day is a captured moment that will tug at your heart. See how excited she was to see her equally excited older sister and how sweet their reunion hug was.  
The cutest video of two sisters running to each other's arms at the end of a school day reminds us of the simple joys of family.
Jennifer Borget is a mom in awe as she captured her daughters in a sweet moment, one that she reveals is a daily ritual between them.
In the clip Jennifer shared on her Instagram and which has now earned more than 1.6 million views, her one-year-old daughter, Aliyah is first seen looking far ahead at a school bus arriving.  When she spots her sister, Jayda getting off the bus, she runs towards her direction with her arms outstretched.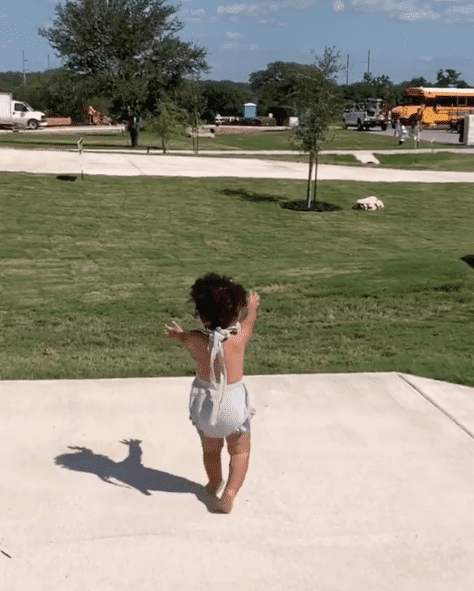 Aliyah excitedly makes noises anticipating her sister's hug. Nine-year-old Jada, who also runs towards her, drops her backpack as she nears and eventually carries Aliyah while giving her a tight hug. 
"Best part of my day," Jennifer writes to caption her post.
The clip tugs at the heart because it was a simple yet powerful representation of sisterly love. According to Jennifer who spoke to Good Morning America, "Any mom loves seeing the love that their kids have for each other." And we couldn't agree with her more.
She said Aliyah misses her siblings the whole day (she also has an older brother, Tyree who's 6) so she looks forward to giving them a hug when they get home. It has been her daily habit to wait outside for their arrival.
Jennifer is glad that her video earned a lot of likes but we'd like to say too that we're glad she shared this with us. Those who saw her post were truly inspired and immediately felt a rush of love.
"This is the most beautiful thing I ever seen," one commenter expressed while another reflected, "The world needs a lot of love right now."
The clip made our day and we're certain if you watch it below it will make yours too. 
BROTHER PROUDLY HUGS YOUNGER SISTER DURING HER GRADUATION
This reminds us of another viral video of two siblings hugging each other in tears at a preschool graduation. 
Older brother Derek, 8, was so proud of his younger sister, Charlee during her graduation that he couldn't help but give her a tight hug. 
Charlee began crying during their touching moment prompting her older brother to shed tears as well. 
Asked why she cried, Charlee said that it was because she was happy. It was all their parents needed to hear to affirm that they did well in raising loving kids.