Alfonso Ribeiro of 'Fresh Prince' & Wife Angela Share Cute New Pics of Daughter Ava Sue in Paris
If one thing could be deciphered from the latest pictures that actor Alfonso Ribeiro and his wife Angela Unkrich shared on Instagram, it is the fact that their cute daughter, Ava Sue, looks exactly like her mother. 
Alfonso Ribeiro and wife, Angela have been busy lately, posting photos of their adorable 5-month-old daughter, Ava Sue Ribeiro, from their time in Paris. The pictures show that the beautiful Ava has taken after most of her mother's physical attributes.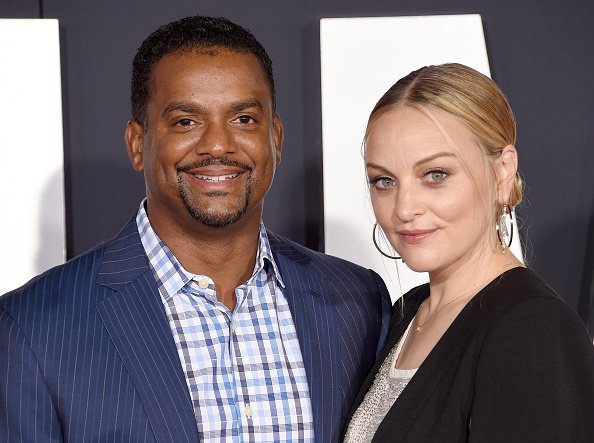 Proud father, Alfonso, posted a photo of his daughter in her wheeler. In the photo, she wore a cream-colored top, brown baby trousers, and brown headband. The adorable Ava sucked her right hand while holding on to her toy with her left hand. Alfonso captioned the photo with the words "Total Cuteness."
In another post he made, Alfonso shared two photos of him and his daughter. In the first picture, he carried his sleeping baby girl on his left shoulder, while standing in front of the famous Eiffel Tower.
In the second photo, Ava was now awake and was seen smiling as her father raised her in his arms. The cute baby wore a cream-colored overall baby dress with a matching head cap. From the photo, her striking resemblance to her mother was clearly seen.
In the caption to the post, Alfonse described what he was doing with his daughter, writing,
"Showing my little one around Paris." 
Angela wasn't to be left out in the posting spree, as she also posted about her baby daughter, though her face wasn't seen in it. In her post, she shared a photo of Alfonso and Ava taken from the "BBC Strictly" studio.
Ava again looked delightful, as she gave a short, cute smile. In her caption to the post, Angela wrote,
"Visiting Daddy at work in the ballroom @bbcstrictly. [Female dancing emoji] [Male dancing emoji] #strictlycomedancing."
The lovely couple welcomed their bundle of joy on May 13. She is the third child of the couple, joining brothers, Anders Reyn, 4, and Alfonso Lincoln, 6, and half-sister, Sienna, 16, who Alfonso has from a previous relationship.
The proud father announced Ava's birth with a sweet post on Instagram, where he shared her first-ever picture. The "Fresh Prince of Bel-Air Star, " who hosts the television show, "America's Funniest Home Videos," currently in its thirtieth year, reflected on Ava's birth and its effects on his household. 
 He told PEOPLE,
"She's a really happy baby. She just smiles and connects all the time. She's got two crazy older brothers that love her. She's just a little sweetheart. There's a lot of love in our house, "
Here's to wishing the Ribeiro Family more love and happiness.