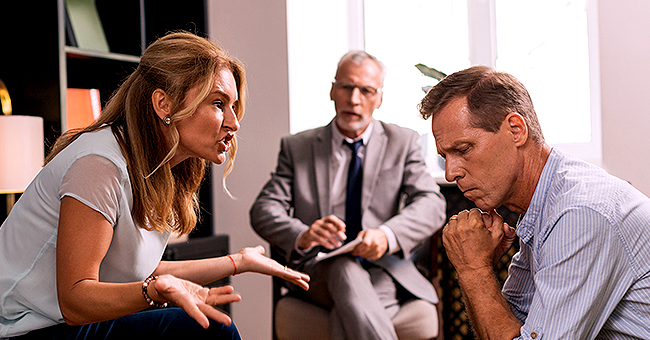 Shutterstock
Daily Joke: An Unhappy Couple Went to See a Therapist

Today's #jokeoftheday is brought to you by a couple who sought the advice of a therapist to save their marriage of 35 years.
A couple tried to salvage what was left of their already failing marriage by going to a therapist, 35 years into their relationship.
COUNSELING SESSION
As the counseling session began, the person asked what the problem was, and so the wife said every problem that occurred in the past decades.
She complained about emptiness, loneliness, feeling unloved and neglected, not having intimacy, and more, while her husband sat beside her.
After a minute of silence, the therapist stood up, walked over to the wife and asked her to stand. He hugged her, then passionately kissed her for a long while, as her husband watched in confusion.
The woman was just quiet and puzzled at what has just happened, so she sat down. The therapist then looked at the man and said:
"This is what your wife needs at least three times a week. Can you do this?"
The husband replied:
"Well, I can drop her off here on Mondays and Wednesdays, but on Fridays, I golf."
A WIFE'S REQUEST
In another setting, a married couple sat by their front porch as their neighbors walked past their house holding hands. The wife sighed and said:
"Look here, Mike. See how Mary's husband takes her to the movies and dinner every weekend? Why can't you do that?"
Mike sipped from his drink and replied:
"Sure, dear, anything you say. Just make sure that Mary is free on the weekend."
NOT SO SMART BROTHER
A pregnant woman got into an accident and fell into a coma. While she didn't wake up, she was able to give birth to fraternal twins -- a boy and a girl.
When she finally woke up, the doctor told her the situation and confirmed her babies safety, adding that her brother named them. She replied:
"My brother is an idiot! What did he name the girl?"
The brother replied, "Denise." The woman thought to herself and said: "That's not so bad. What about the boy?" The doctor replied:
"Denephew."
Need more laughter in your life? Find out what this young boy asked his parents about childbirth for his homework.
Please fill in your e-mail so we can share with you our top stories!