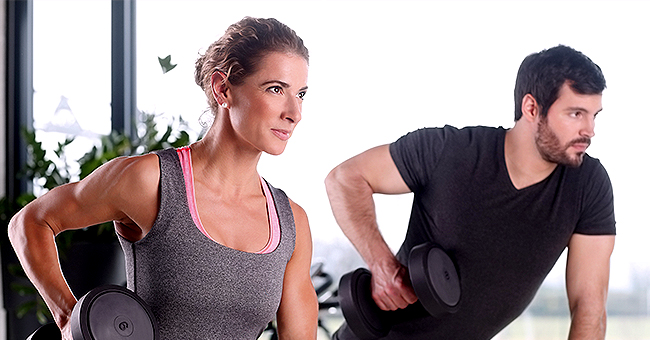 Shutterstock
Daily Joke: Man Keeps an Exercise Diary after Wife Gifts Him Private Lessons at a Health Club

Today's #jokefortheday is about a man who kept a week-long journal of his fitness journey with his personal instructor, Tanya.
A man was gifted by his wife a week's worth of private lessons at a local gym. He thought it would be good, given that he was on the varsity chess team in high school and still in shape.
The man decided to claim the gift and make reservations with a trainer named Tanya, 26, who did aerobics and models for athletic clothing.
The wife, Joan, was thrilled with her husband's enthusiasm to hit the gym and suggested he keep an "exercise diary" to take note of his progress.
DAY 1
Today I woke up at 6:00 am to meet my personal instructor, Tanya. It was difficult getting up that early, but definitely worth it after arriving and meeting my instructor.
Tanya was like a goddess with blonde hair and a killer smile. She toured me around and tried to familiarize me with the different equipment before taking my pulse after a few minutes on the treadmill.
She was quite alarmed at the rate my heart was going, but that was probably only because I was standing beside her in her outfit.
Tanya was very motivating and encouraging as I did sit-ups. Even though I felt like my guy was coming out, I still talked to her. This is going to be amazing!
DAY 2
It took the whole pot of coffee to push me out of the house, but I did it. Tanys made me lie on my back to push an iron bar up in the air repeatedly, and as I kept going, she kept adding weights.
For heaven's sake! My arms felt like jello and my legs were wobbly on the treadmill, but I still made a full mile. Her smile made it worth it!
DAY 3
The only way for me to brush my teeth is by placing the toothbrush on the counter and making my head move back and forth while it's inside. I am almost certain that I have a hernia in both pectorals.
Driving was fine as long as I didn't have to steer left or right. I also parked my car on top of a Volkswagen, but I couldn't bring myself to care.
Tanya was a bit impatient today and said my screaming was irritating other members of the gym. I did the stair monster instead of the treadmill.
Who the heck would invent such a machine to stimulate a movement rendered obsolete after they invented elevators? Tanya said I would live more years with regular exercise. I don't think I want to.
DAY 4
As I parked the car, I could already see Tanya with her vampire teeth in a snarl. I was an hour late, but it took me that long to tie my shoes. It was that painful.
She instructed me to lift dumbbells. Not a chance, Tanya; they put a "dumb" in there for a reason. I hid inside the locker room until someone was sent to look for me. Tanya punished me by making me try the rowing machine. It sank.
DAY 5
I hate Tanya more than any person who hated another since the beginning of time. If there were an ounce of energy left in me, I would use it to hit her.
She said it was best to work on my triceps today. Well, I have news for you, Tanya, my triceps don't exist; and if you want to keep your little gym floor dentless, don't give me any barbells.
I am not going to be held responsible for the damage. You probably went to a sadist school; you are to blame for all this.
DAY 6
Tanya messaged me in the answering machine asking where I am. I had no strength to use the television remote, so I watched the weather channel for eleven hours. Straight.
DAY 7
That was one hell of a week. Thank goodness it's done. Hopefully my wife gives me something a little more fun next time, like a free root canal.
In the same gym the man enrolled in, two men were talking in the sauna after their workout. One man said:
"I'll be honest; my wife really is an angel."
The other man replied, wiping sweat from his forehead:
"You're lucky. My wife's still alive."
Need more laughs to brighten your day? Find out stories from married couples, including one of a 60-year-old millionaire, and lighten your mood.
Please fill in your e-mail so we can share with you our top stories!