Ellen DeGeneres' Fans Wonder What Wife Portia de Rossi Thinks after She Kissed Jennifer Aniston on TV
Netizens have taken to social media to air their opinions about the famous talk show host, Ellen DeGeneres, sharing a full-on kiss with actress Jennifer Aniston right on the screen! 
On Sunday, October 27, DeGeneres took to Twitter to tease the then-upcoming Monday episode, featuring award-winning actress Jennifer Aniston, of her eponymous talk show.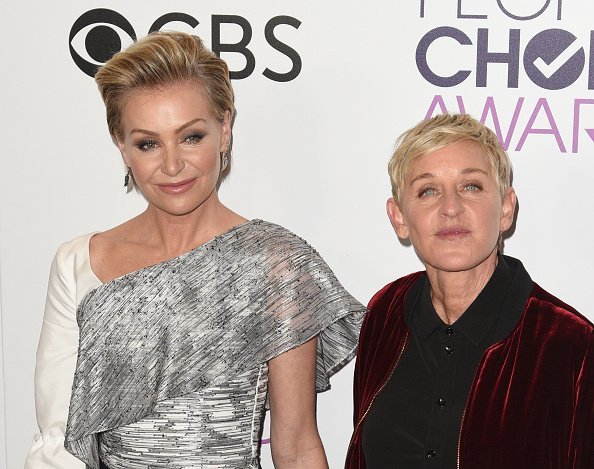 In the picture, DeGeneres, who wore a black jacket atop brown pants, shared a kiss right on the mouth with an equally formally dressed Aniston. 
To caption the image, which Aniston equally shared via her Instagram story, DeGeneres wrote:
"Find out how this happened. Tomorrow." 
Unlike what DeGeneres may have expected from fans, however, the picture has amassed mixed reactions from her massive fan following. 
Find out how this happened. Tomorrow. pic.twitter.com/Y4DwWJXBPE

— Ellen DeGeneres (@TheEllenShow) October 27, 2019
From the reactions, it is noted that fans are very concerned with what DeGeneres' wife of over a decade, Portia de Rossi, thinks of the new picture. 
One especially disappointed fan, @smilingschmidt wrote:
"You know Ellen, regardless of how this happened or Howard Stern (i know getting married), you should take Portia under consideration. I think it would get on your nerves if she was making out with a different person every day and called it work."
Another such fan, @kdawg0729 also wrote:
"Sorry, Ellen. Not impressed. You're married."
A notable fraction of DeGeneres fans, however, found the picture hilarious and commented so. One @Zeegso_o humorously wrote: "IM TELLING PORTIA!!!!" alongside laughing emojis.
Similarly, another Twitter user, @Michael69569 wrote:
"Ur kissing everyone except me!!!!!"
The snap is a still taken during the Monday episode of "The Ellen DeGeneres Show," and it made the second time the comedian will be kissing a guest on the daytime talk show this month following the episode that featured Howard Stern. 
It was Aniston's curiosity about DeGeneres kissing Stern that eventually led to her getting a kiss from the 61-year-old host. While many may have thought lightly of DeGeneres' kiss with Stern, it appears not to be the same for that with Aniston.
The disappointed fans, who are very concerned about Portia's reaction to the kiss, seem to outweigh the humorous ones, but there is still no response from DeGeneres.