Tori Roloff Shares a Message About Dwarfism Being 'Different' While Answering Fans' Questions
Tori Roloff, best known for "Little People, Big World," took to Instagram to share a photo of her husband and son on International Dwarfism Awareness Day.
The TV personality, who has been married to Zach Roloff since 2015, welcomed her first child, Jackson, on May 12, 2017. Just like his father, Jackson was born with dwarfism.
Tori Roloff's photo
In the photo that Tori uploaded in her Instagram account, Zach appeared wearing black shoes, khaki pants, a white shirt, and a black coat next to Jackson, who was dressed in khaki pants, a white shirt, white shoes, and a blue and white bowtie.
The Roloff gentlemen were flashing their smiles at the camera, and their resemblance was uncanny. For the caption, Tori urged people to take to the comment section and ask whatever they wanted to know about dwarfism.
She confessed, though, that she might not be the "most qualified" person to answer people's questions as it is something that she would never fully understand. However, Tori pointed out that she had "good resources" to support her knowledge.
Apart from that, the TV personality admitted that she sometimes forgets that her husband and son were "different" because that "difference" is very typical in her family.
Questions from her followers
Tori's followers quickly started asking her questions. One user, for example, wondered if Jackson's type of dwarfism was different from that of Zach, Amy, or Matt Roloff.
The child's mom made clear that Jackson, Zach, and Amy had achondroplasia. Matt, on the other hand, suffers from dystrophic dwarfism.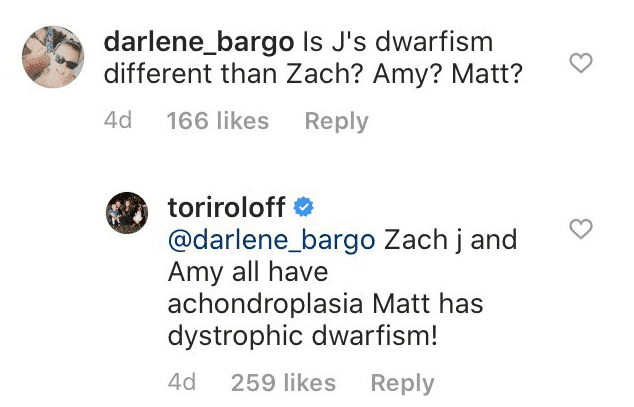 Another follower wanted to know how Tori would handle bullies, to what the proud mother-of-one said that, depending on the situation, she wouldn't ignore or confront it herself.
The "Little People, Big World" star pointed out that she would instead "set Jackson up" to deal with the bullies on his on with her support as the child would have to "learn to deal with problems on his own."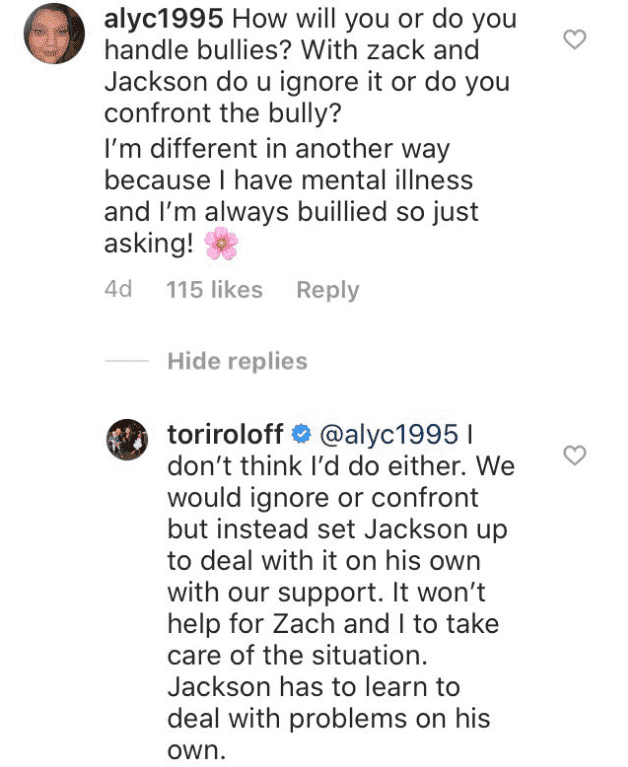 One netizen said that Jackson's legs sometimes looked "bowed" and wondered if doctors have discussed a way to solve that problem, dropping the word "surgery."
Tori stated that, although Jackson's legs "may be a little" bowed, his pants sometimes are long, and they "fall a little funny on him." She added:
"I believe if there is bowing on the legs, doctors like to [perform] surgery earlier to help them grow out of it… if that makes sense??"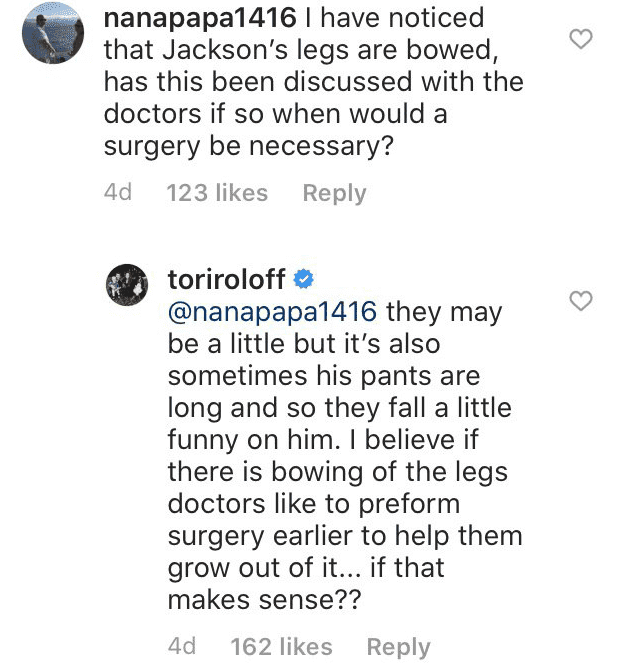 Another person wondered if Zach asked her to reach things that are too high for him, to what Tori replied that her husband would do that all the time. She jokingly added that he loved to make her work more than her.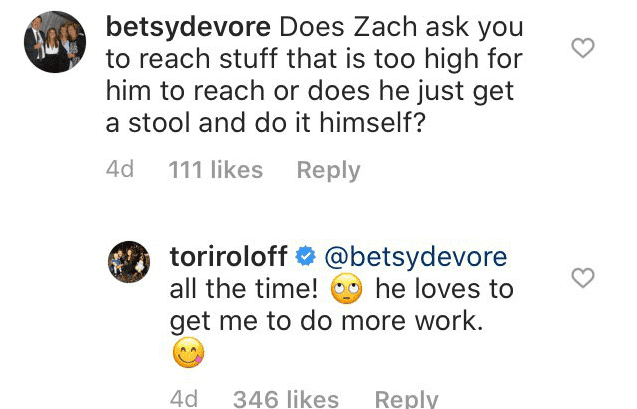 Finally, one Instagram user wondered if her upcoming baby girl had a 50/50 chance of being a little person or regular size. Tori said yes, but pointed out that God was the "only percentage keeper."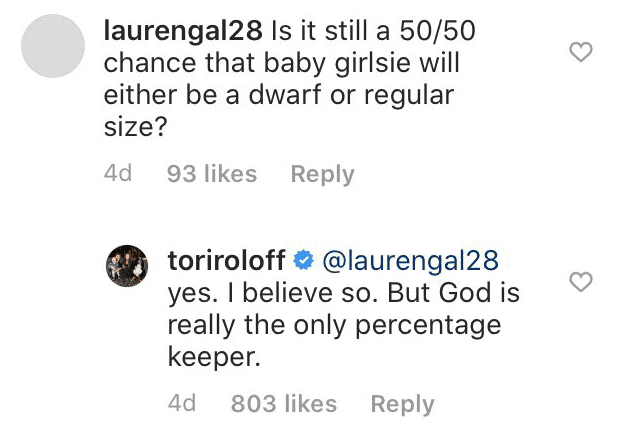 Nowadays, after an exciting first pregnancy, the TV personality is expecting a second child, a girl, who is expected to be born in November this year.
Tori announced the baby news on May 13 with an Instagram post showing Jackson holding a pink balloon with one hand and a blue one with the other one. In the caption, she explained that their family was about to get larger!