Tiffany Haddish of 'Night School' Screams Her Head off as She Goes on Haunted House Tour on 'Ellen'
Ellen DeGeneres put actress a terrified Tiffany Haddish and Andy Lassner through the haunted house at Universal Studios.
Ellen DeGeneres has a special Halloween tradition on her show.
Since she knows her executive producer, Andy Lassner, is the nervous type, she sends him through a haunted house every Halloween with a special celebrity guest. This year she picked Tiffany Haddish, and it was a screaming success.
The haunted house is inspired by Jordan Peele's horror movie "Us", with Lupita Nyong'o and Winston Duke
HOWLING AT THE HAUNTED HOUSE
Andy and Tiffany were already visibly nervous as they approached the haunted house at Universal Studios.
Andy, who is a pro by now, was giving Tiffany tips on how they might be fooled by misdirection, distracted from the real danger when the first hatchet "killer" struck.
The duo wandered fearfully through the haunted house, with Tiffany screaming and jumping with fright as red-clad figures struck at them unexpectedly through seemingly solid walls.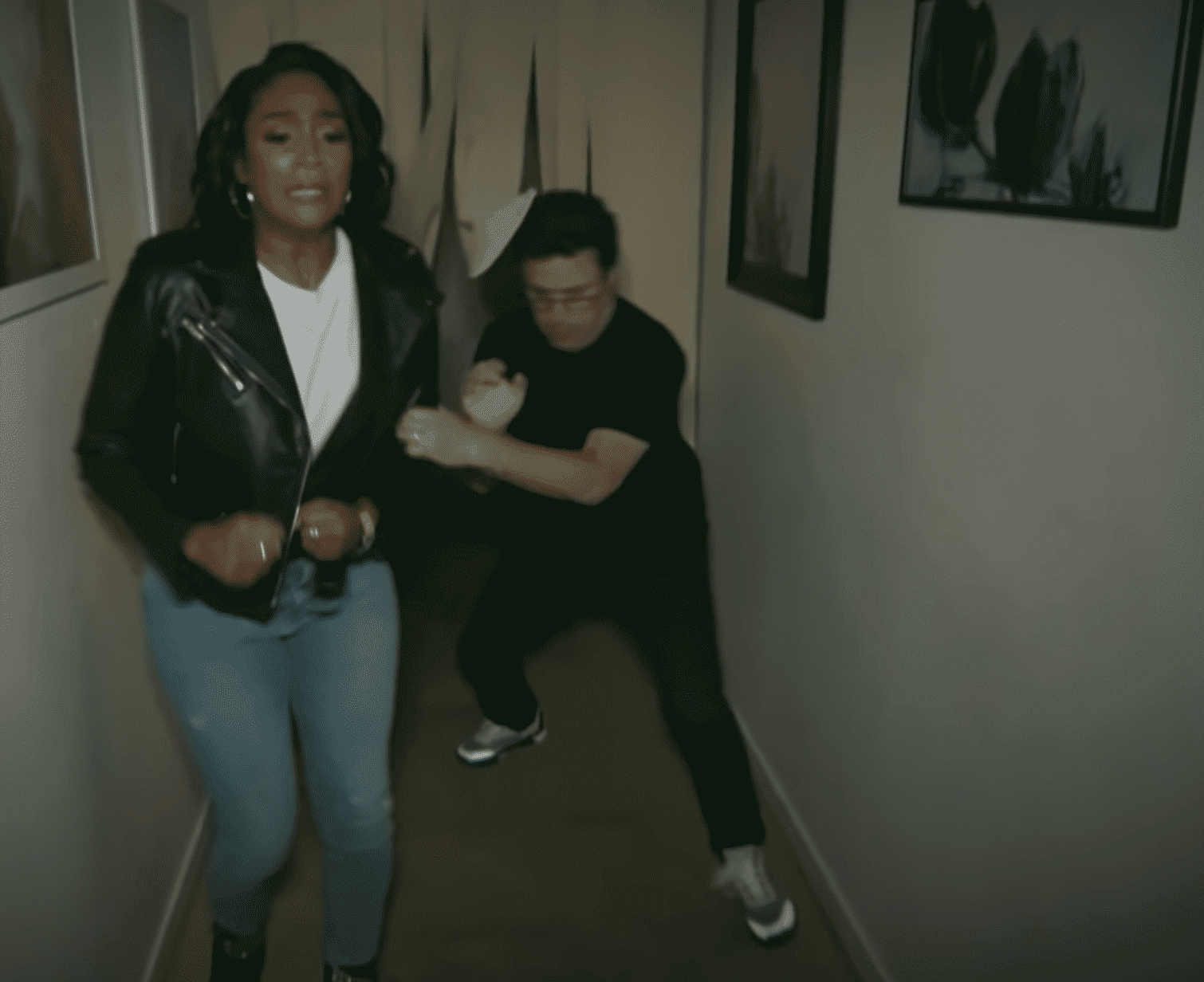 BE AFRAID, BE VERY AFRAID
And then it seemed that the ordeal was almost over. Andy and Tiffany started to relax...only to be ambushed unexpectedly by a scissor wielding maniac. A desperate Andy told the "killer" that they were on a "break," and by that time they needed it.
A TERRIFYING RECREATION OF THE MOVIE "US"
The haunted house is inspired by Jordan Peele's horror movie "Us", with Lupita Nyong'o and Winston Duke as two parents who take their kids to the beach on a family vacation - only to come face to face with their evil doppelgangers, 
Tiffany and Andy were certainly scared by the whole experience, and as they staggered out past the lines of people waiting to go in, Tiffany earnestly promised to pray for the hapless visitors.
ELLEN DEGENERES PUT LIZZO THROUGH A HAUNTED HOUSE
Not content with terrifying Andy Lassner with Tiffany Haddish, Ellen DeGeneres sent him on another horrifying trip through a haunted house, but with singer Lizzo this time.
Lizzo was dressed in a black t-shirt dress and thigh-high snakeskin boots, the perfect outfit to be petrified in.
The singer put her powerful voice to good use, practically screaming the house down, even though the more experience Andy tried to keep her calm.
The two came out of the experience visibly shaken, which would surely have been great fun for the gleeful Ellen.