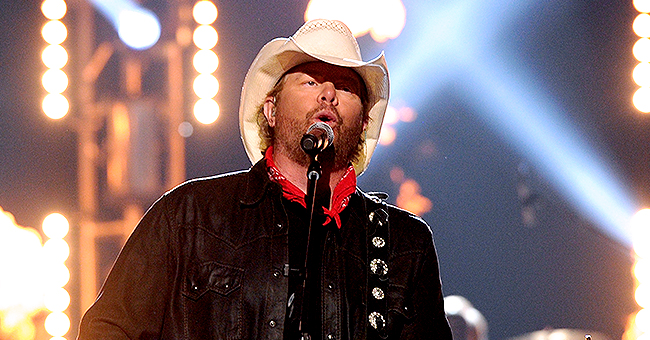 Getty Images.
Toby Keith Shares 'Awesome' Picture after His Weekend Performance in Texas

Toby Keith's performance over the weekend marked yet another tribute to American soldiers with the posting of an endearing picture taken at his show.
After the popular country singer performed in Texas, and he couldn't help but share the picture on social media that speaks a thousand words.
"'We'll always stand up and salute, we'll always recognize.' Thanks to Aundrea for capturing this photo at Toby's show in Texas!" the caption read.
Comments soon streamed in as one follower enthusiastically replied: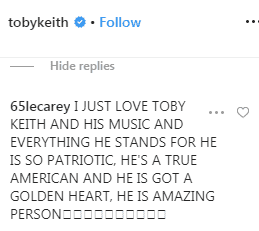 Screenshot of a fan comment to Toby Keith's post on November 4, 2019. | Source: Instagram/tobykeith
Other fans thanked the country singer for sharing the special image and added: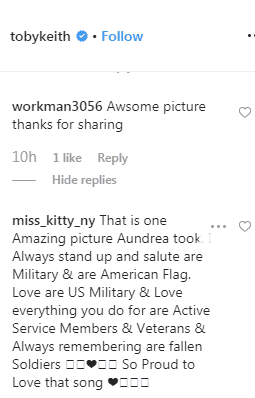 Screenshot of the comments of followers of Toby Keith on a post on November 4, 3029. | Source: Instagram/tobykeith.
The picture came just over a week after Toby celebrated the release of "Toby Keith Greatest Hits: The Show Dog Years" on October 25 through his own record label, Show Dog Nashville he launched in 2005.
While the collection features both new and old hits, Toby is also known for his dedication to American soldiers as much as for his singing.
During a performance late in September, Toby had a special surprise for retired Marine Cpl. Brandon Rumbaugh, who received VIP backstage passes before joining the country singer on stage.
The Pittsburgh native received a Navy Commendation Medal for Valor after stepping on an IED while carrying a fellow Marine to safety in Afghanistan, which resulted in the loss of both his legs.
In gratitude to Brandon's dedication, Toby teamed up with a nonprofit aimed at empowering severely-wounded veterans called The Independence Fund and gifted Brandon a brand new all-terrain track chair worth $16,000 when he joined him on stage.
Moreover, Brandon received another special gift from Toby - his own star-spangled banner acoustic guitar. The following day, the nonprofit took to social media to share the happy news.
"Last night was an amazing night presenting an all-terrain track chair to Marine Cpl Brandon Rumbaugh in Pittsburgh, PA! We can't say enough about @tobykeith and what he does for our Veterans and Service Members. Brandon, we thank you again for your service and sacrifice!" the organization captioned a range of photos taken during the evening.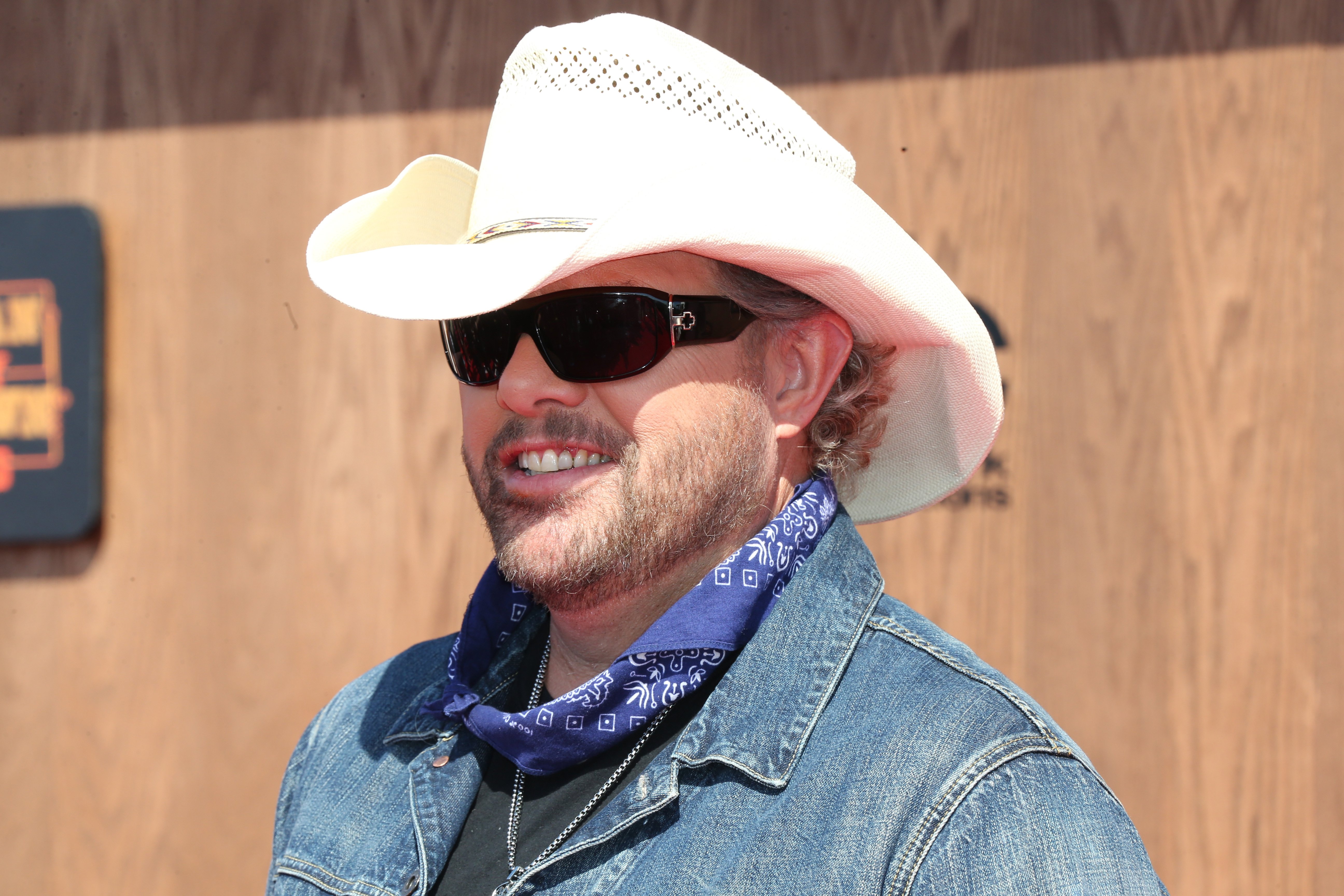 Toby Keith attends the 2016 American Country Countdown Awards at The Forum on May 1, 2016, in Inglewood, California. | Source: Getty Images.
Toby is back on the road for his "That's Country Bro!" tour, which will kick off on November 9 at the Laughlin Event Center in Laughlin, NV, before performing at the AVA Amphitheater in Tuscon, Arizona the following night.
At the beginning of the year, Iraq war veteran Noah Galloway competed in "Dancing with the Stars," and moved viewers to tears with his performance to Toby's song, "American Soldier."
Noah had lost his left leg and arm after coming into contact with an improvised explosive device while serving his country and he impressed the judges with his jaw-dropping performance.
Please fill in your e-mail so we can share with you our top stories!