Tamron Hall's Son Moses Stole Hearts in White Wig & Moses Costume for Halloween in a Precious Photo
Talk show host and onscreen diva, Tamron Hall gets her 5-month-old son, Moses, in the spotlight with his adorable Moses-themed Halloween costume. 
The reality star is undoubtedly a proud mother who, aside from seeing her baby happy, does not mind the cheers from her audience who feel both mother and child looked spectacular for Halloween.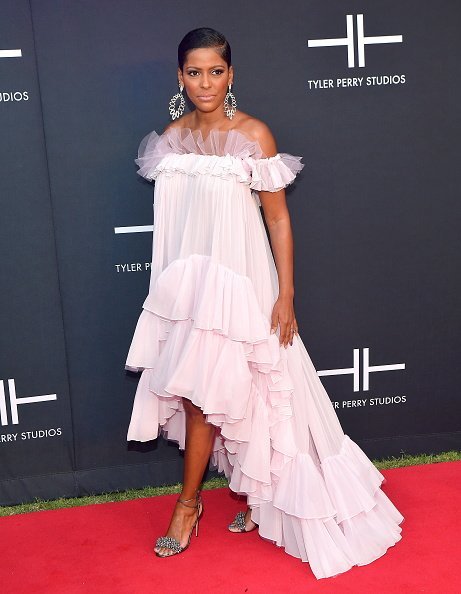 TAMRON HALL'S SON MOSES IN HIS "MOSES" ATTIRE 
The eye-catching, tongue-wagging outfit rocked by Moses made him steal the show on the "Tamron Hall" talk show recently.
While his mother geared towards making her first Halloween on the show, she had it in mind to do it most memorably.
An Instagram update featured mother and child caught up in a warm embrace, but that was not all, as their costume signified a special bond with a twist to a biblical reference. 
Moses donned a white wig, along with a black and red striped robe and an ash-colored shoe, while his mother rocked an all-white long dress, black hair, and concentrated on looking Hebrew.
The dress-up is significant to that of a biblical character known as Moses, who was called to lead his people out of the Egyptian bondage. 
The biblical Moses grew up as an Egyptian Royal even though he was born to a Hebrew woman who kept in a reed basket for discovery and safety, following the ruler's orders to kill every male born Hebrew.
The presenter's caption revealed that she is having fun being her baby's mother and wouldn't trade that for anything in the world.
She further stated that the Halloween theme is nothing but a family affair, which involved her son, herself, and her dog, May Luv.
The 49-year-old equally hinted that little Moses's wig was not glued. However, her Instagram fans and live audience were not bothered about the details of the dress-up; they were smitten by the beautiful looking baby boy who was later wheeled out in a basket with May Luv by his side.
Another eye-catching moment for the mother of one was when she dressed like the award-winning actress, Whoopi Goldberg, and Dominique Devereaux from Dynasty.
TAMRON IS DEVOTED TO PARENTHOOD 
Tamron knows how to thrill her audience and own the stage when it comes to anchoring programs. From being a host on the "Today" show to keeping her "Tamron Talk Show" on lockdown, it appears the mother of one sure knows her onions.
However, during an interview with Good Housekeeping, she acknowledged that one of the hardest tasks she's ever had to face is motherhood. 
The presenter indicated that it comes with its fair share of joy and worries. But she hinted that she wouldn't mind having another baby on the team. 
She, however, said that it would be via surrogacy as a result of the medical complications she has faced.
Whether or not motherhood is a daunting task, Tamron is handling hers well with her constant appearance on the show with her infant, and regularity in how she serenades her baby with sweet words on Instagram uploads.