Amy Duggar of '19 Kids and Counting' Breastfeeds Infant Son Daxton in a Candid Photo
Just weeks after Amy Duggar welcomed her son, Daxton Ryan King, she gives a candid look into motherhood by sharing a picture of her breastfeeding.
On October 12, Amy Duggar and her husband, Dillon King welcomed their first child, a son named. Daxton Ryan King. Sharing her take on her first weeks of motherhood she says:
"Pretty poses, makeup and photoshoots are great but it's not real. Life isn't perfect and I don't want the people who follow me to think that!"
In the picture taken by her mother, a tired looking Amy is asleep on a couch, holding a mug in one hand and Daxton in the other. She cradles her son with one arm as he feeds on her breast. 
"So this is the real me, in real time living my best life! Hot tea in hand, ice water leaned up against me, half dressed and completely worn out! ? Mom thanks for the snapshot of me catching some ??'s!" She concludes in a very candid post.
According to PEOPLE, Amy and Dillon welcomed their son via C-section. She tells the magazine her delivery was easy and went about smoothly. Sharing the meaning behind their son's name, Dillon explains:
"So we were trying to figure out a 'D' name that was different, and we landed on Dax, then Daxton. Amy added that the name Ryan means little king, so it was like, we have to!"
As she adjusts to motherhood, Amy has been sharing all the highs and low of her journey. Praising her for showing the real side of motherhood, one fan says:
"It's refreshing to see a new mom take on this attitude of not having to be perfect. My 4th is on the way and I remember having this imagine of what the first baby should've been like."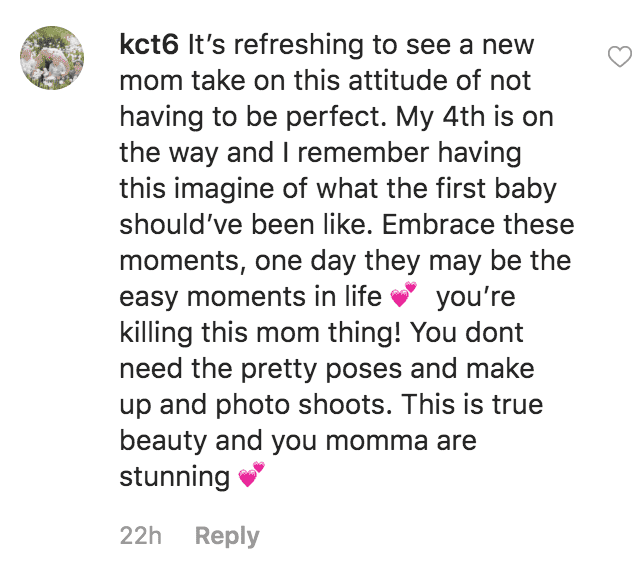 "Embrace these moments, one day they may be the easy moments in life ? you're killing this mom thing! You dont need the pretty poses and make up and photo shoots. This is true beauty and you momma are stunning, ?" her fans adds.
Despite the obvious sleeplessness that comes with welcoming a new-born, Amy is fully embracing and enjoying all the precious moments of Daxton's first weeks.
On Halloween she posted several pictures of him in adorable orange and pumpkin-themed poses.