Gabrielle Union of 'LA's Finest' Reflects on Parenting as Daughter Kaavia James Turns 1
"Bring It On" star Gabrielle Union and husband Dwayne Wade celebrated their daughter's 1st birthday yesterday, and Gabrielle marked to occasion with a special post about parenting.
With little Kaavia reaching her first milestone birthday, actress Gabrielle reflected on her parenting journey thus far. She posted an adorable video featuring a slideshow to the beat of "Lovely Day" by Bill Withers and revealed her fears.
"Scared to hold you. Scared to burp you. Scared to reveal, I have no clue what I'm doing. Scared to go to work. Scared to stay home. Scared when you sleep. Scared when you wake up. Scared I'm not living up to some impossible standard of motherhood," Gabrielle wrote.
Thoughts of losing herself, being exposed as anything other than a good mother kept her fearful, but Kaavia's daily look of "gurl, you got this!" helped the actress be less afraid of being judged. 
Instead of worrying about other's opinions, Gabrielle does her best, which she knows "could change from day to day," and that life indeed will go on irrespective. 
"Man, I finally allowed myself to just enjoy you @kaaviajames and relax into the peace of imperfection. 1 year in and your whole village stays smiling. The family you know and all the cyber aunties and uncles you may never meet, we celebrate you," Gabrielle captioned.
However, the actress didn't slip the song "Lovely Day" into the video randomly. When Gabrielle and Dwyane announced Kaavia's birth via surrogate last year, she posted a sweet picture of them together, and the caption included several lines from the song.
Gabrielle called it "the most loveliest of all the lovely days," which makes the birthday celebration video all the more special.
The actress's fears of inadequacy stemmed from her struggles with fertility. Over five years, Gabrielle suffered several miscarriages and IVF treatments that didn't work before they turned to surrogacy.
Even then, the couple didn't fully allow themselves to believe they would have a baby of their own until Kaavia's birth.
"I felt like I was not only disappointing myself and my spouse but all the people who'd hung a lot of hope on us. I felt like a complete loser and failure," Gabrielle said during an interview.
Gabrielle suffers from a condition whereby the uterine lining grows into the uterine wall, called adenomyosis, and it took careful deliberation before the couple decided on IVF and a gestational surrogate to carry their bundle of joy.
According to Gabrielle, Dwyane is a very "hands-on" dad and constantly wants updates on all things Kaavia when separated due to work.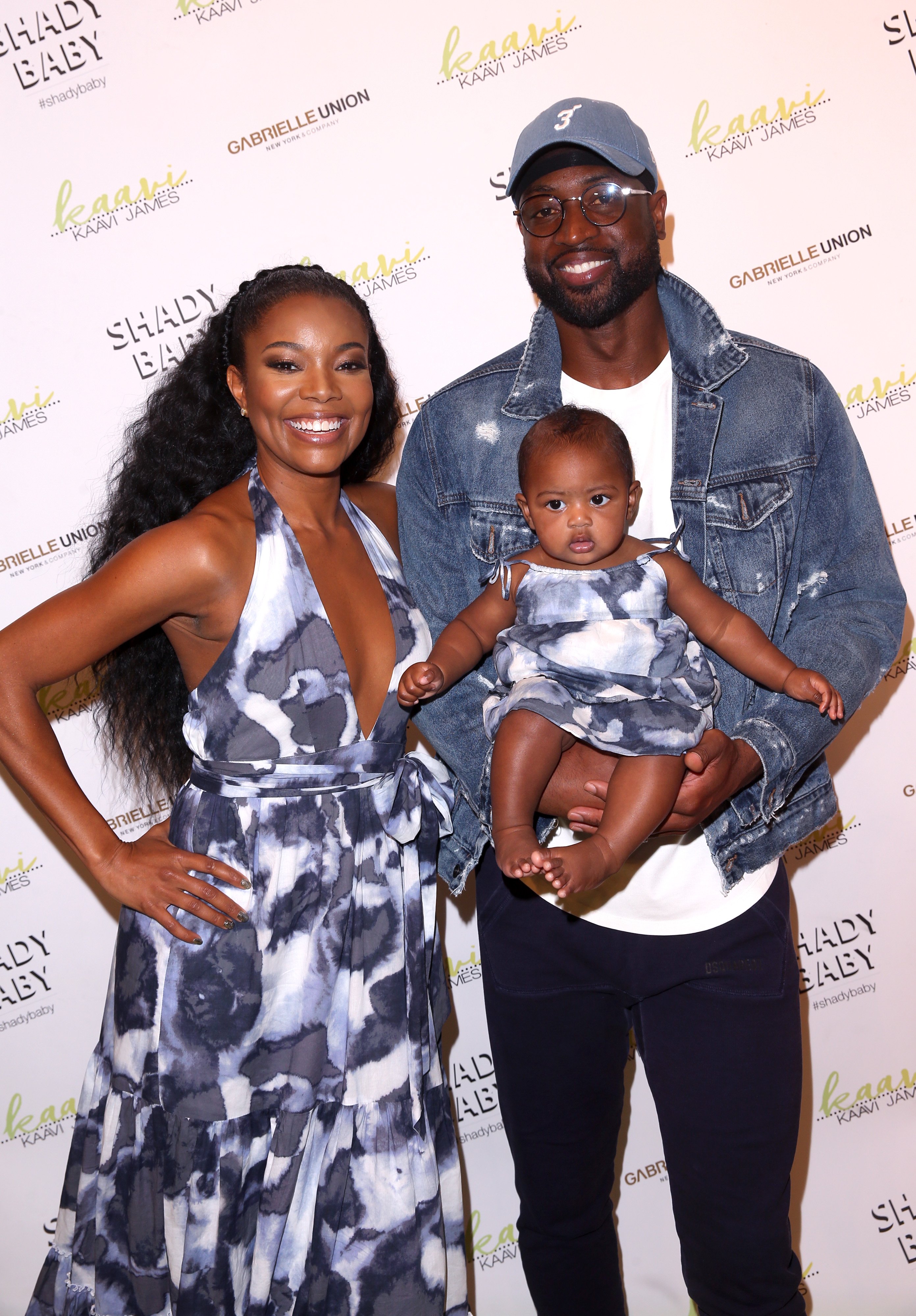 "When he's in Miami, and we're in Los Angeles, he wants to know everything, from her poops to what outfit she's wearing," the actress added.
Dwyane Wade shared his sentimental side when Gabrielle turned forty-seven on October 29.
To mark the special occasion, he posted a gorgeous family photo and shared in the caption how Gabrielle's family "adores" and "respects" her, and how she always inspires him to be "greater."