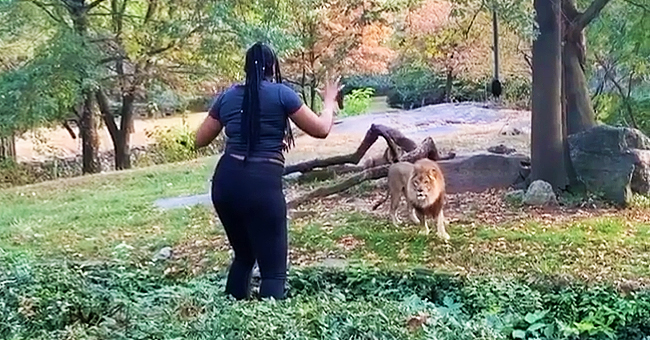 Instagram/realsobrino
Woman Arrested and Charged with Criminal Trespass after Climbing into Lion Exhibit at the Bronx Zoo

The New York City Police Department arrested 30-year-old Myah Autry, who climbed into the giraffe and lion exhibits at the Bronx Zoo in late September.
According to a law enforcement source, Myah posted on her now-private Instagram account that she intended turning herself in at the Barclays Center on Wednesday and that she notified various media outlets.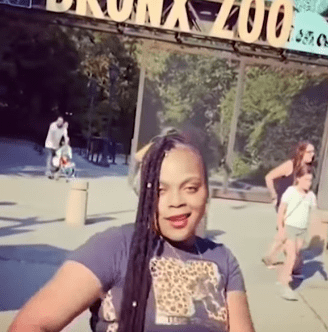 Myah Autry visiting Bronx Zoo. | Source: YouTube/NBC New York
Police arrested Myah on two counts of criminal trespass while she happened to be wearing an NYPD shirt CNN reported. She allegedly posted videos of her escapades climbing over wooden fences into the giraffe and lion enclosures.
However, a member of the public present did capture footage of Myah in the lion enclosure waved and dancing to attract its attention.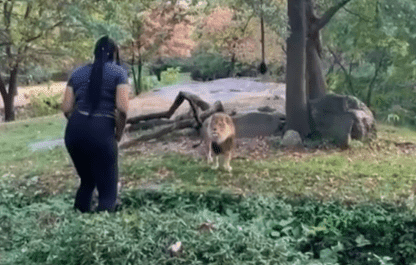 Myah Autry standing inside the lion exhibit at Bronx Zoo. | Source: YouTube/CBS News
The video shows Myah, only a short distance from the animal, and she said, "I want to get closer to him," only moments before scaling the wooden fence.
Myah made it out of the enclosure in one piece, and Bronx Zoo officials pointed out that it could have ended very differently.
"This action was a serious violation and unlawful trespass that could have resulted in serious injury or death," they said. "Barriers and rules are in place to keep both visitors, staff, and animals safe. We have a zero-tolerance policy on trespass and violation of barriers."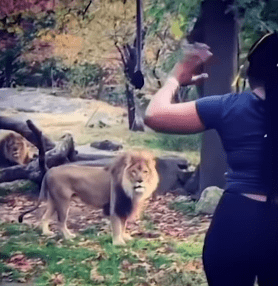 Myah Autry waving at the lions while inside their enclosure. | Source: YouTube/NBC New York
Whether or not Myah has an attorney is not known, and according to the zoo, she gained access by never crossing a large moat separating visitors and the lion exhibit.
Ease of access and safety measures became a subject of concern when a lion fatally mauled an intern at the Conservator's Center in Caswell County, North Carolina, last December.
Safety features in animal sanctuaries of any kind are meant to keep everyone safe, meaning it works both ways. Bronz Zoo failed to make sure people stay out of the enclosures, while "ineffective procedures" failed to keep a lion in his enclosure at the Conservator's Center.
The incident marked three "serious" violations for the center, which the state Occupational Safety and Health Division issued a citation on to pay penalties of $3,000.
The center also has to change its procedures to match guidelines set by the Association of Zoos & Aquariums and the North Carolina Zoo.
Onto a lion story of sorts on a lighter note, a sea lion showed his custodian his humorous side, and the video soon went viral.
The smart sea creature would pretend to be asleep, and when his human caretakers come close, he would suddenly wake up, which gave them a fright.
Please fill in your e-mail so we can share with you our top stories!