Pink Announces Break from Music to Spend More Time with Her Family and Let Husband Carey Hart Focus on His Career
Pink looked pretty in orange at the CMA Awards when she announced that it's her husband, Carey Hart's "turn" to work on his career ahead of her memorable duet with Chris Stapleton.
Pink and Chris delivered a powerful performance of "Love Me Anyway," and she couldn't help but gush about Chris when ET caught up with her before the show.
"He's my person. He's my favorite voice today in music, and I just love him," Pink said. "Truly, he is the most amazing songwriter. He's the most amazing human. I love his family. They're so kind and humble. He loves music, and he loves collaborating, and here I am."
While the singer admits that Chris's music "gets spun a lot in our house," a place she intends spending time at, as Pink announced her hiatus from her career.
Since Pink spent the last two-and-a-half years touring and recording with her family supportively by her side, this year turned into more of a "family year." 
Willow is in school, and Jameson will soon be a preschooler, so Pink wants to spend more time with them, but also to allow Chris to pursue his interests.
"Carey has a lot going on as well," Pink said on Wednesday. "He is super supportive. He follows me around the world, and now it's his turn."
Carey and Pink's children joined them at the ceremony since its "so much fun" for them, which makes it equally enjoyable to the singer.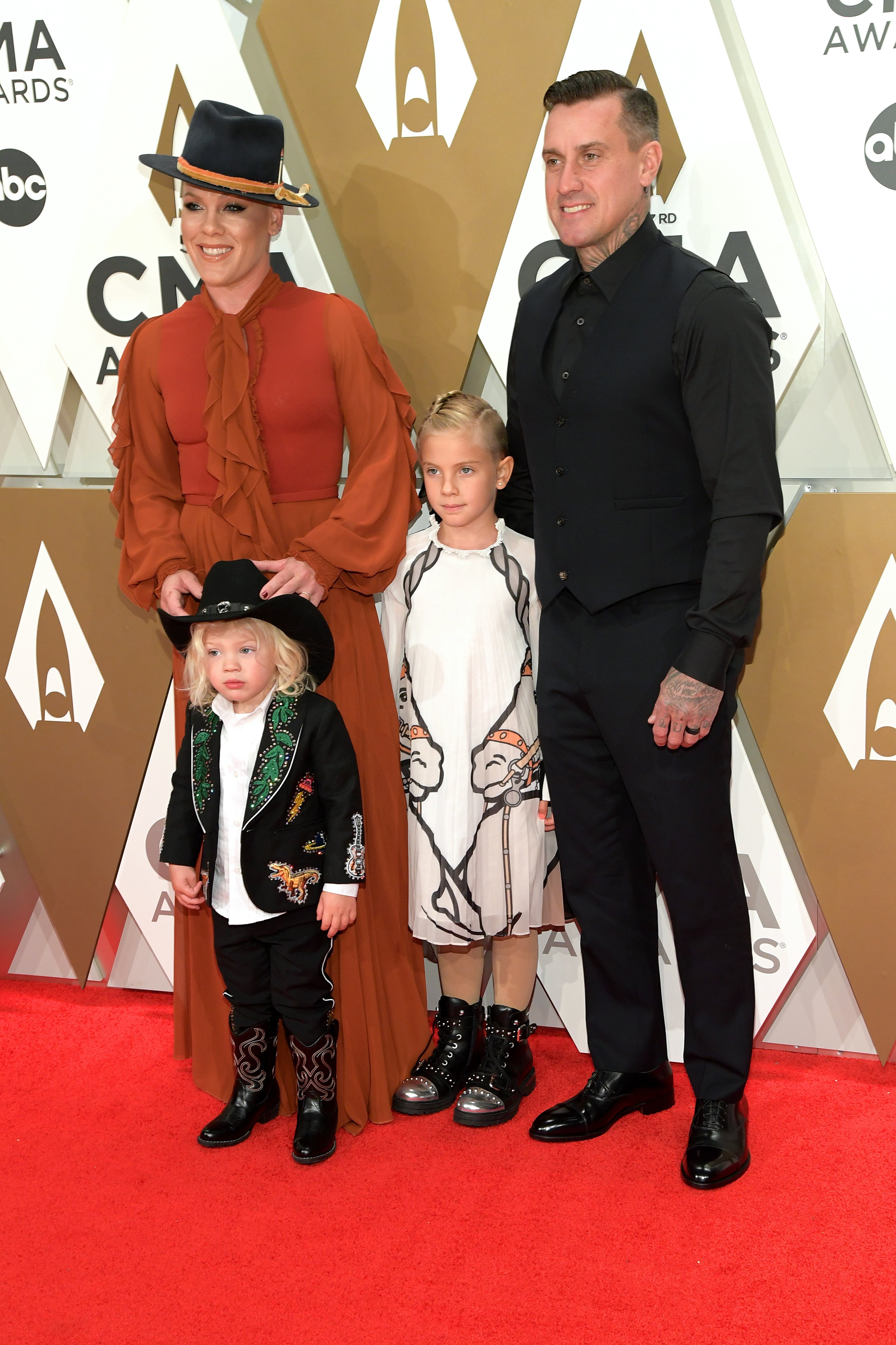 Fans will have to wait and see what adventures Carey has gotten himself into, even though he already has a stacked plate.
He turned his two passions, Motocross, and tattoos, into a varied and very successful career. After all, Carey is the one responsible for THE backflip that caused him to ride into the record books at the 2000 Gravity Games. The first rider to have successfully done so on a 250cc motorcycle.
Carey's second passion led to partnering up with John Huntington, and together they opened the Hart & Huntington Tattoo Company in the Palms Casino, Las Vegas, in 2004.
The following year A&E Network decided to make a reality show about the workings of Carey and his shop we all know as "Inked."
While Carey had since taken total ownership of Hart and Huntington Tattoo Company, the shop extended with branches in Orlando at Universal Citywalk, Honolulu, and Cabo San Luca.
Based on the designs of the talented artists that work for him, Carey also brought out a quality clothing line, and also makes time for the Hart & Huntington Tattoo/Rockstar Supermoto Team.
But the supermoto star also has a romantic side, which came into plain view when Pink celebrated her 40th birthday early in September.
Alongside a slideshow of happy memories shared between Pink and Carey, he posted how "proud" he is of the person Pink became and how his wife of thirteen years is "more beautiful than ever."