Illinois Teen Went Missing after Leaving Her High School in Missouri
The authorities are currently looking for a missing teenage girl named Emma Roberts, who disappeared after being seen leaving her high school in Wisconsin.
Emma was last spotted at the end of the school day last Wednesday in Salem. It has been reported that the girl's family has recently moved across the state line into unincorporated Antioch, Illinois.
However, despite the move,it was decided that it was best to keep her enrolled at Central High School District of Wetosha. So far, there are no leads regarding her whereabouts.
PLEASE SHARE!! **Lake County Sheriff's Office Continues Search for Missing
Unincorporated Antioch Teen**https://t.co/fN91StP6P8 pic.twitter.com/S16oAvi0kN

— Lake County Sheriff (@LakeCoILSheriff) November 16, 2019
EMMA TOOK A CHANGE OF CLOTHES WITH HER
According to the Lake County Sheriff's Office, it is believed that Emma was given a ride home, where she packed a bag before her family had the chance to come home.
When they arrived, the teenager was nowhere to be found and, as of right now, it is impossible to say what she is wearing since she packed a change of clothes.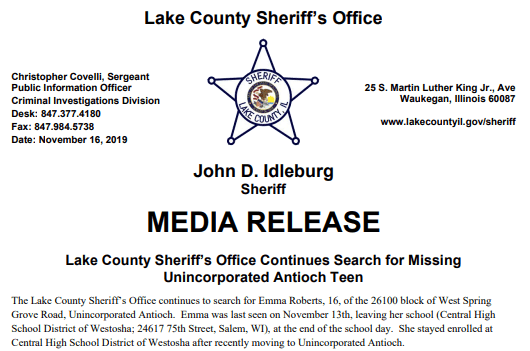 The police officers in charge of the case shared that Emma left without her cellphone, which was previously taken from her by her parents "as a consequence."
"If you see Emma, please dial 911, so law-enforcement can immediately respond."

EMMA'S POSSIBLE LOCATIONS
While her whereabouts are unknown, it has been suggested that the youngster may be in the Racine/Kenosha County or around the Lake County areas, around 55 miles north of Chicago.
The Lake County Sheriff's Office is currently working alongside the National Center for Missing and Exploited Children in order to locate Emma.

EMMA'S DESCRIPTION
The 16-year-old is described as being 5 foot, 7 inches tall and weighing around 145 pounds. She has dark blonde hair, blue eyes and a tattoo of a guitar with the word "Dad" on her left shoulder.
The authorities encourage those who might have any information regarding the case to come forward and to keep an eye out for any teenager who might fit Emma's description.