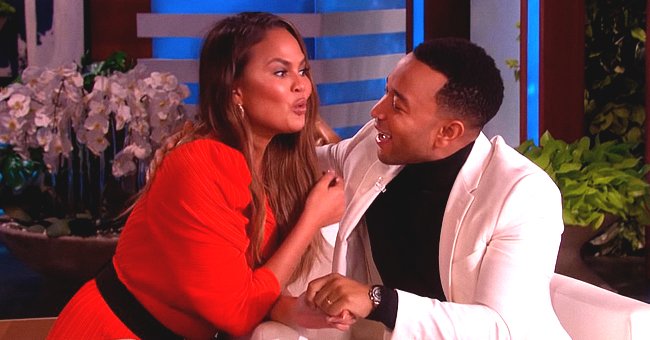 Youtube.com/TheEllenShow
Chrissy Teigen Jumps out and Scares Husband John Legend as He Guest Hosts 'The Ellen DeGeneres Show'

John Legend got the scare of his life while guest-hosting Friday's episode of "The Ellen DeGeneres Show," as his wife, Chrissy Teigen, jumped out while he was talking, making him scream in shock.
There was more than one moment of surprise in the Friday edition of Ellen's show last week. First off, the newly crowned PEOPLE's Sexiest Man Alive, John Legend, was the Guest Host for the show and was doing so well.
That was until his wife popped up from nowhere to send John Legend into a shocking reaction. John Legend began the segment with a bit of showboating as he revelled in being named the sexiest man alive. He said:
"I'm still, believe it or not, the Sexiest Man Alive. Is it me, or did I even get sexier during the break? I don't know. Anyway, I want to thank the audience for singing "All of Me." I wrote that song about my wife Chrissy, and she was in the music video."
Soon after that, John revealed to the audience that the Record Company wanted someone else to be his love interest in the video; and no one would guess who that person is.
He asked the audience if he could play an edited version of the "All of Me" video showing who the person was, and when they obliged, behold, it was Ellen DeGeneres, wearing a ridiculous wig and costume, who was John's love interest. That video sent the audience into roaring laughter.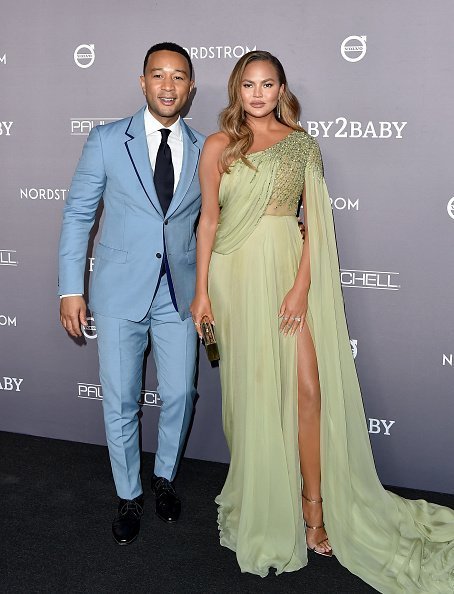 John Legend and Chrissy Teigen attend the 2019 Baby2Baby Gala Presented By Paul Mitchell at 3LABS in Culver City, California | Photo: Getty Images
John then begged the audience not to tell his wife, saying:
"Don't tell Chrissy guys, she'd be very jealous of Ellen."
He had barely finished talking when Chrissy Teigen popped out from Ellen's end table, and scared her husband, shouting:
"What are you *expletive* doing?"
Her emergence shocked the life out of her husband, who screamed: "Ah," and sent the audience into cheers. Though her scaring act was well executed, Chrissy, who has been married to John Legend for six years, admitted it was the hardest thing she has done, saying:
"That was the hardest thing I've ever done. I didn't mean to swear, I'm so sorry. Should we do it again?"
John Legend lifted his wife out of the box, after which they continued with even more hilarious dialogue. Ellen confirmed that she was part of the plan to scare John Legend, with a tweet which read:
@JohnLegend was my guest host today, so of course, @ChrissyTeigen had to come and scare him.
John Legend was named PEOPLE's Sexiest Man Alive for 2019, adding it to his honors list, which already includes Emmy, Grammy, Oscar, and Tony awards. In accepting the honor, the 40-year-old said:
"I was excited, but I was a little scared because it's a lot of pressure. Everyone's going to be picking me apart to see if I'm sexy enough to hold the title. I [also] following Idris Elba, which is not fair and is not nice to me."
The honor makes John Legend the 34th Sexiest Man Alive of PEOPLE, with the first recipient being Mel Gibson, back in 1985.
Please fill in your e-mail so we can share with you our top stories!