Tamron Hall Exudes Gorgeous Glow as She Poses in Pink Ruffled Dress in Photo from 2019 Glamour Women of the Year Awards
Tamron Hill looked pretty in pink at the Glamour Magazine Women of the Year Awards,  where she donned a gorgeous ruffle dress with sheer lining. 
Tamron Hill exuded beauty inside-and-out during the recent Glamour Magazine event, where she wore bright pink to support other women receiving awards that night. As she put it herself, that night was all about "women supporting women."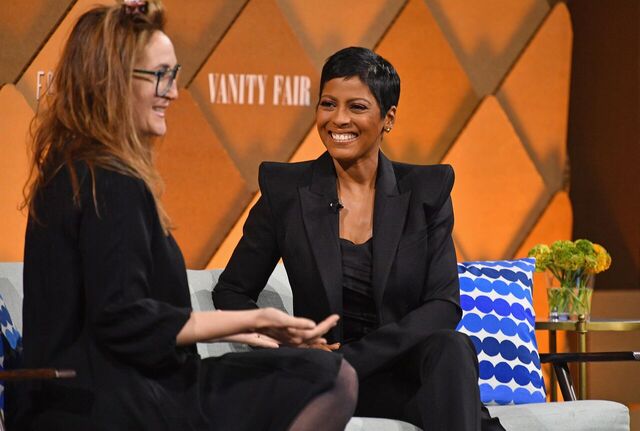 AN EMPOWERED WOMAN HERSELF
Like many other women doing well in their respective fields, Tamron Hall has been living her best life. While she had a difficult time adjusting to being taken out of the "Today" show, it turned out to be a blessing in disguise for her. 
Now, she hosts her very own daytime talk show, "The Tamron Hall Show." She partnered up with Disney to create an avenue where in-depth conversations with celebrities are made available to the public. 
COMING HOME TO A HAPPY FAMILY
 On top of launching her very own "Tamron Hall Show," Tamron also welcomed her son Moses recently, enjoying his company at home after a long day at work. However, Moses himself has been reassuring his mom that she need not worry about him while she's working, as he's growing up to be quite the independent little man. 
Recently, the proud mama shared a photo of her six-month son carrying up his own baby bottle, saying "Just last year, turn up for me was something very different. #mosesandmama 6 months and counting. Happy Saturday." 
LIVING HER BEST LIFE
Hall and her husband Steven Greener welcomed baby Moses on April 24, and they announced that they were expecting a child just a month earlier. She feared that having a child at her age was a dangerous thing, so she postponed letting everyone know that she was expecting a child. 
Tamron is living her best life, hosting her very own show and afterward, coming home to a happy family. With so many interesting things up her sleeve, fans are now able to catch a glimpse of her every day all thanks to "The Tamron Hall Show."