Jussie Smollett Fights Back as He Files Suit against City of Chicago Following Alleged Hoax Attack
Jussie Smollett is countersuing the Chicago police, accusing them of malicious prosecution.
Disgraced actor Jussie Smollett is accusing the Chicago police of exposing him to public ridicule by accusing him of staging a fake hate crime against himself.
The original charges were dropped by the Cook County prosecutor but the Jussie Smollett story is far from over.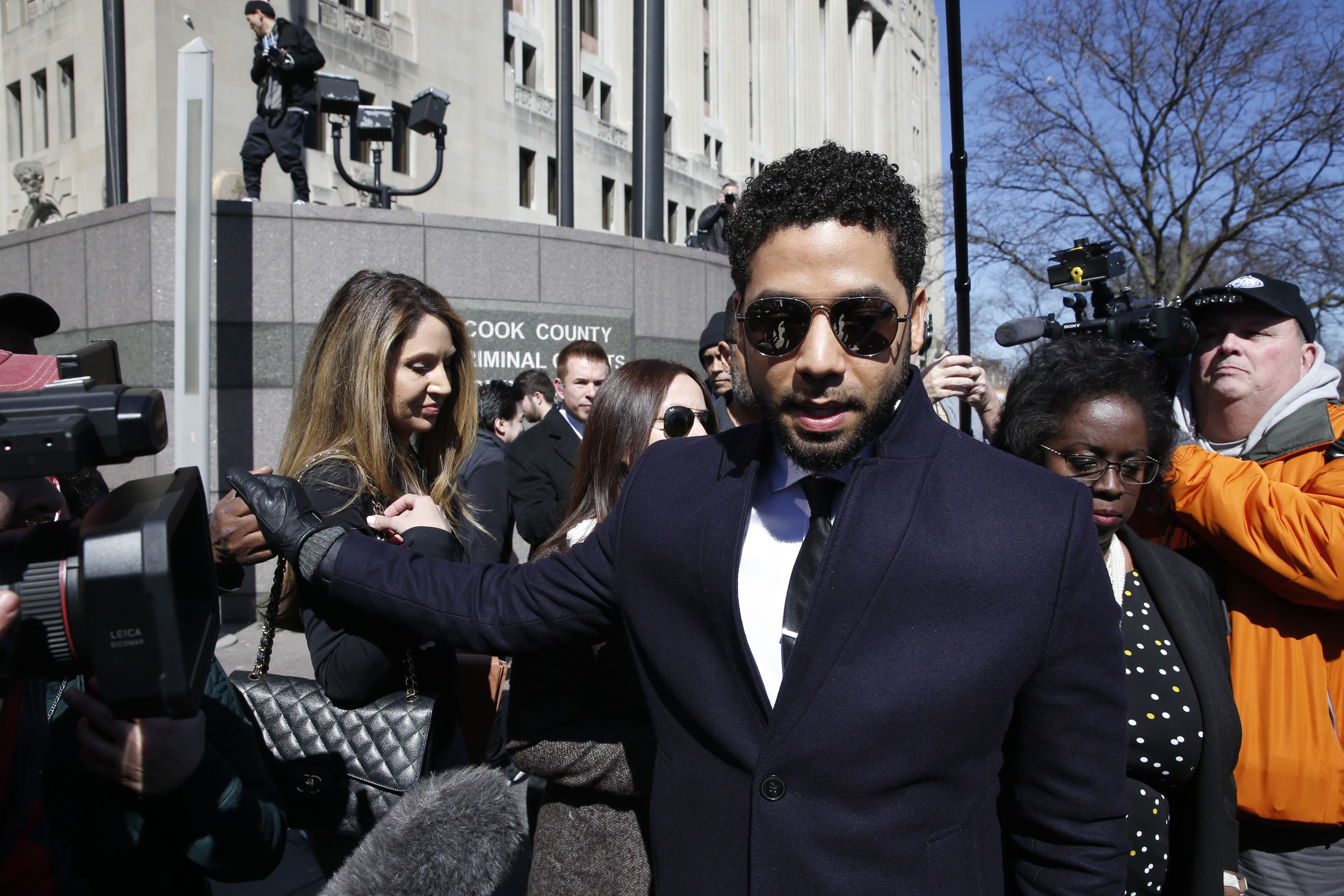 CHICAGO POLICE SUE JUSSIE SMOLLETT
Chicago Police are suing the actor for the money, over  $130,000, they spent pursuing the investigation of a false crime report.
Smollett had told police in January 2019 that he had been attacked and beaten by two masked white men who poured bleach on him and hung a noose around his neck while shouting homophobic and racist slurs.
THE FAKE ATTACK
The subsequent Police investigation led them to two Nigerian men, the Osundairo brothers, who worked with Smollett and who revealed he had paid them $5,000 to stage the attack, supposedly to raise his profile and boost his career.
JUSSIE SMOLLETT'S LAWYERS COUNTERSUE
The old adage is that the best form of defense is an attack, and Smollett's lawyers seem to have taken it to heart. Despite the hours of surveillance tapes released by the Chicago PD and the testimony of the Osundairo brothers, his lawyers maintain the attack was real. They wrote:
"Other than the Osundairo Brothers' self-serving and fabricated statements, which contradicted their earlier statements and resulted in their release from custody with no criminal charges being filed against them, not a single piece of credible evidence independently corroborated their claim that the attack was a hoax." 
JUSSIE SMOLLETT'S COUNTERCLAIM MAY BACKFIRE
Smollett's counterclaim against the city, Chicago Police detectives Michael Theis and Edward Wodnicki, Supt. Eddie Johnson and the Osundairo brothers may backfire and drag the actor back into court on hoax charges.
A special prosecutor is investigating Cook County State's Attorney Kim Foxx's handling of the case and will determine whether or not  Smollett will be prosecuted for staging a hoax hate crime.
The investigation was prompted by indications that Foxx had dropped the charges and let Smollett off with a fine and community service due to pressure from prominent figures on the actor's behalf.
Case Update: Jussie Smollett is now officially classified as a suspect in a criminal investigation by #ChicagoPolice for filing a false police report (Class 4 felony). Detectives are currently presenting evidence before a Cook County Grand Jury. pic.twitter.com/FhDcbBKsuU

— Anthony Guglielmi (@AJGuglielmi) February 20, 2019
THE JUSSIE SMOLLETT SCANDAL CONTINUES
When news that beloved "Empire" star Jussie Smollett had been a victim of a hate crime broke, there was a wave of public support and sympathy for the actor.
But three weeks later, it was revealed that the crime had been a hoax staged with the help of the Osundairo brothers who worked with Smollett on the series.
Smollett was arrested on February 21, 2019, and later released on a $10,000 bond. Then to the public's shock, the charges against Smollett were dropped on condition that he forfeit his bond, and do community service.
The question now is: was it a plea bargain agreement which is tantamount to an admission of guilt, or a get-out-of-jail-free card...