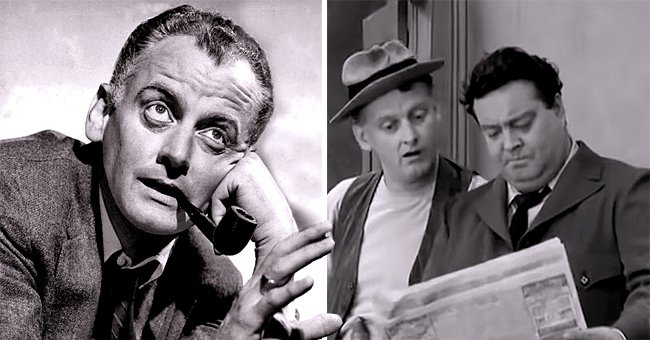 wikipedia // youtube.com/Wenyi Zhang
Art Carney's Life Before, during and after 'The Honeymooners'
The television classic "The Honeymooners" saw the chemistry spark between Jackie Gleason and Art Carney, which was a part of what brought success to the film. Here's a look at the actor's life.
Although avid watchers of "The Honeymooners" focused much on Martin and Lewis, and Costello and Abbott, a great love interest in the series were Art Carney and Jackie Gleason.
According to the author of "Art Carney: A Biography," Michael Seth Starr, the actor was able to make a name for himself on the "Classic 39" and talked about Carney's role in the series. He said:
"If you watch those 'Honeymooners' episode today, they really stand the test of time -- and a lot that has to do with the chemistry between Jackie Gleason and Art Carney."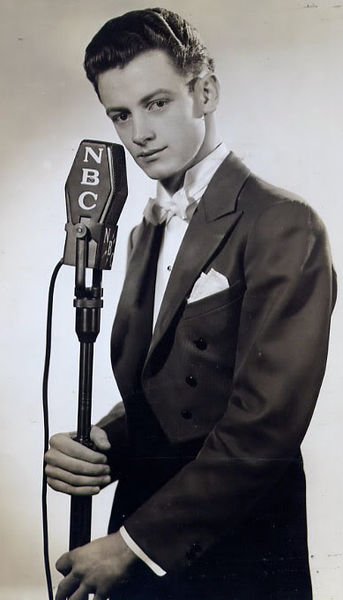 Early publicity photo of Art Carney. | Source: Wikimedia Commons
New York-born Arthur William Matthew Carney was born on November 4, 1918. The actor served in Normandy during World War II until a sustained injury forced him to go home.
In 1936, Carney graduated high school from A.B. Davis High School and became a member of the Horace Heidt Orchestra, traveling with them to perform classic songs.
He simultaneously became an announcer for the radio show "Pot o' Gold, which made him earn a small role in a feature film alongside Jimmy Steward.
Publicity photo of Jackie Gleason, Art Carney, and Audrey Meadows in "The Honeymooners." | Source: Wikimedia Commons
After his ounce of fame, Carney's career took off, and he became a known radio performer in the genre of comedy and drama.
Geoffrey Mark, the author of "The Lucy Book: A Complete Guide to Her Five Decades on Television" and "Ella: A Biography of the Legendary Ella Fitzgerald," said:
"Unlike people we know today. Art really came up through the ranks in radio. It was his voice that got him noticed, because he was a mimic. He never became a star in radio that there was no 'Art Carney Show,' but he was on everything."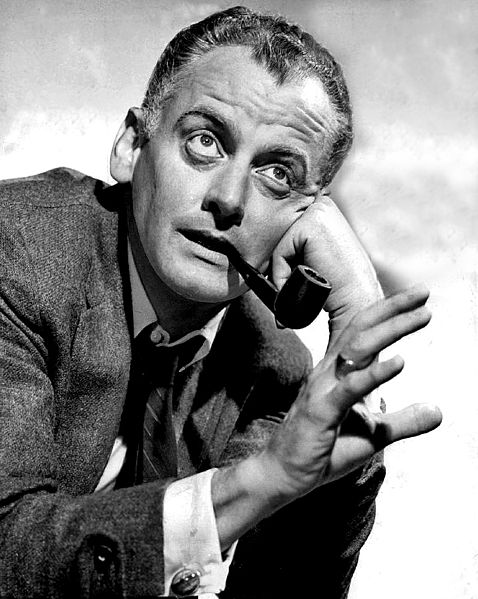 Early publicity photo of Art Carney. | Source: Wikimedia Commons
Carney had different appearances on different networks that made him a hardworking man, jumping from one soap opera to another, to an interview, then to a sitcom -- all in various networks.
In the mid-40s, Carney appeared on the ABC Radio Network as the voice of "Red Lantern: The Fish Prime Minister" on the children's show "The Land of the Lost."
He also performed on "The Bill & Cora Baird Puppets" and "Art Carney Meets the Sorcerer's Apprentice" in the early '60s.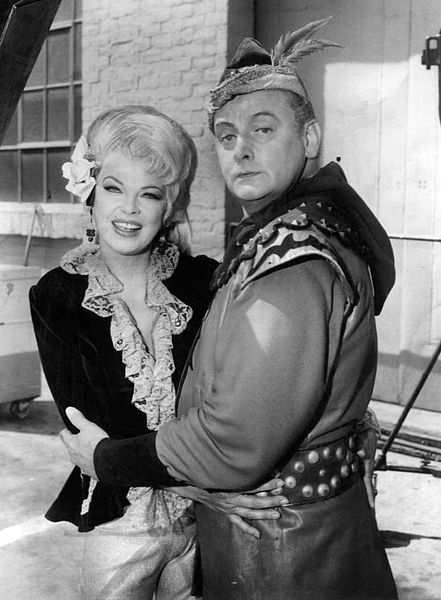 Photo of Art Carney as the Archer and Barbara Nichols from the television program "Batman." | Source: WIkimedia Commons
Mark thought of Carney as "unsung talent" during his early career, which was nearly the same time television began to evolve. He said:
"It was through happenstance that he ended up with Jackie Gleason to create one of the greatest on-screen pairings in TV history."
"THE HONEYMOONERS" AND CARNEY'S OTHER HITS
Although Carney was pretty much on several shows, it was "The Honeymooners" that his fans looked forward to most every week, which is also the show that won him an Emmy Award.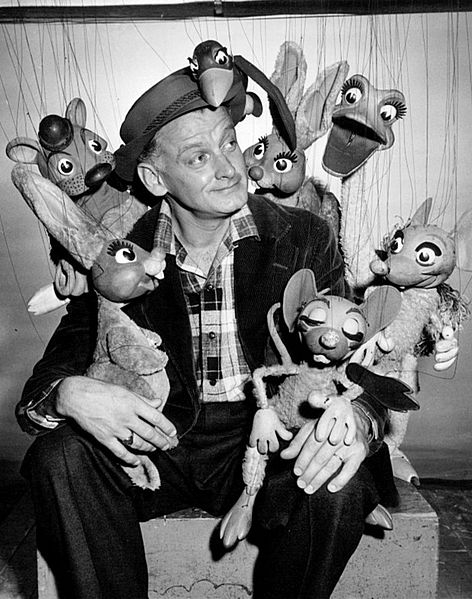 Photo of Art Carney with Bil Baird's puppets for a television production of "Peter and the Wolf." | Source: Wikimedia Commons
Jackie Gleason then turned the variety show into an actual sitcom that produced 39 episodes from 1955 to 1965, until eventually switching back to a variety show. Peter Crescenti said:
"It was a smart move. The reason he gave for the decision was that he felt they'd essentially run out of good ideas. You have to remember that they did 'The Honeymooners' as sketches in 1952, '53, '54, and the first half of '55. That's a lot of plots."
In 1974, Carney played the role of a 72-year-old man in the film "Harry and Tonto," despite only being 55-years-old.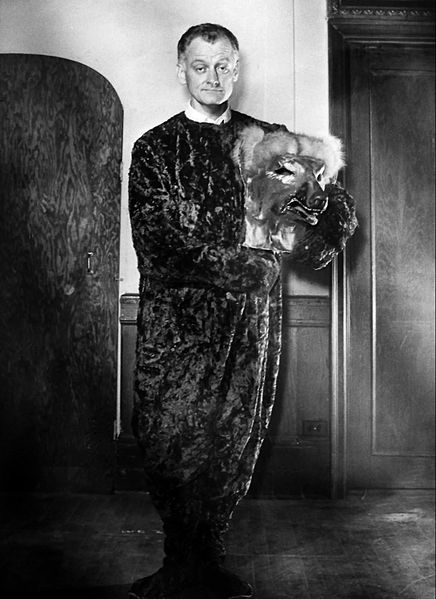 Photo of Art Carney in a dog costume for "The Man in the Dog Suit." | Source: Wikimedia Commons
The actor had to whiten his hair and wear heavy makeup, yet he played the part very well that he won an Academy Award and an Oscar Award for it. Starr said:
"Years later, when Art Carney would win an Oscar for Harry and Toronto, he seemed to have come out of nowhere. But he didn't. He was a good actor."
Carney was also in the films "Firestarter," "The Late Show" and "Last Action Hero," and in the shows "Terrible Joe Moran," and "The Art Carney Show." In 1960, the actor earned a star on the Hollywood Walk of Fame in California.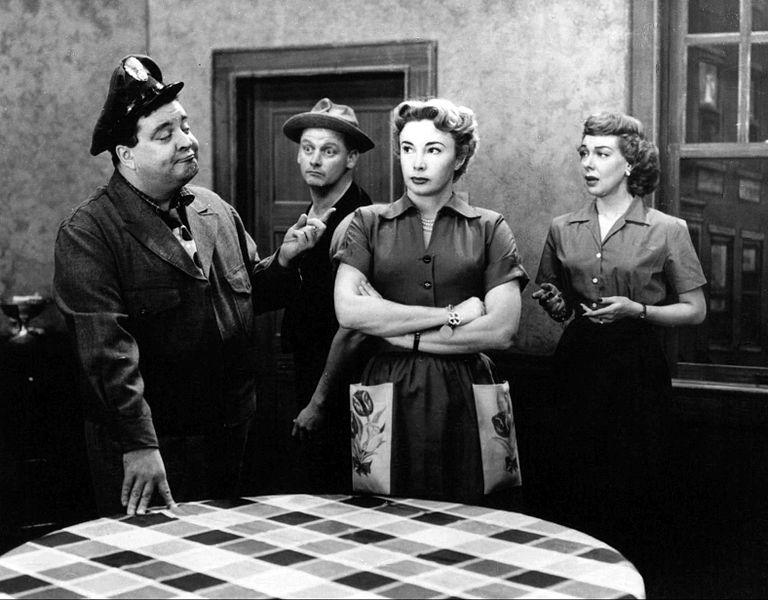 Photo of the full cast of "The Honeymooners." | Source: Getty Images
Nine years later, he was again recognized for his role in Brian Friel's "Lovers" and garnered a Broadway's 1969 Tony Award for Best Actor.
Carney retired over a decade before his death and instead lived in his home in Westbrook, Connecticut. He was married first to Jean Wilson Myers then to Barbara Carney.
The actor is survived by his three children from Myers, Eileen, Bryan, and Paul, and his six grandchildren, with only one grandson.
Please fill in your e-mail so we can share with you our top stories!