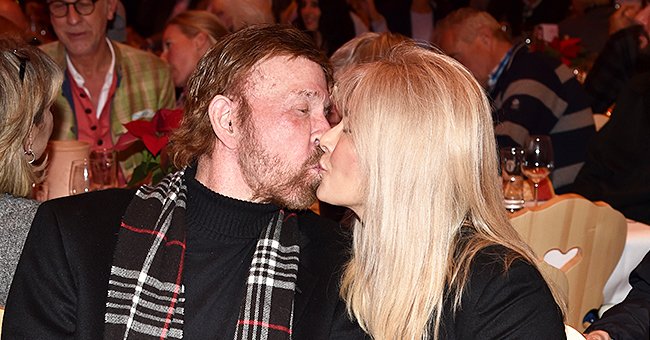 Getty Images
Chuck Norris from 'Walker, Texas Ranger' Is a Doting Husband to Gena O'Kelley and Proud Dad of 5 Kids

He has an epic reputation as the ultimate tough guy, but the cult hero has proven to be first and foremost a loving husband and family man, and now he is putting his career aside for the sake of his wife.
79-year-old "Way of the Dragon" star Chuck Norris is not only an actor famous for his action films and as a martial arts master that has founded many schools around the US, but he is also a massive internet and cultural phenomenon.
Two years ago, Norris revealed that he had left acting behind for good in order to take care of his wife Gena's health and battling in court against several drugs companies that he accuses of poisoning her with gadolinium during a routine scan.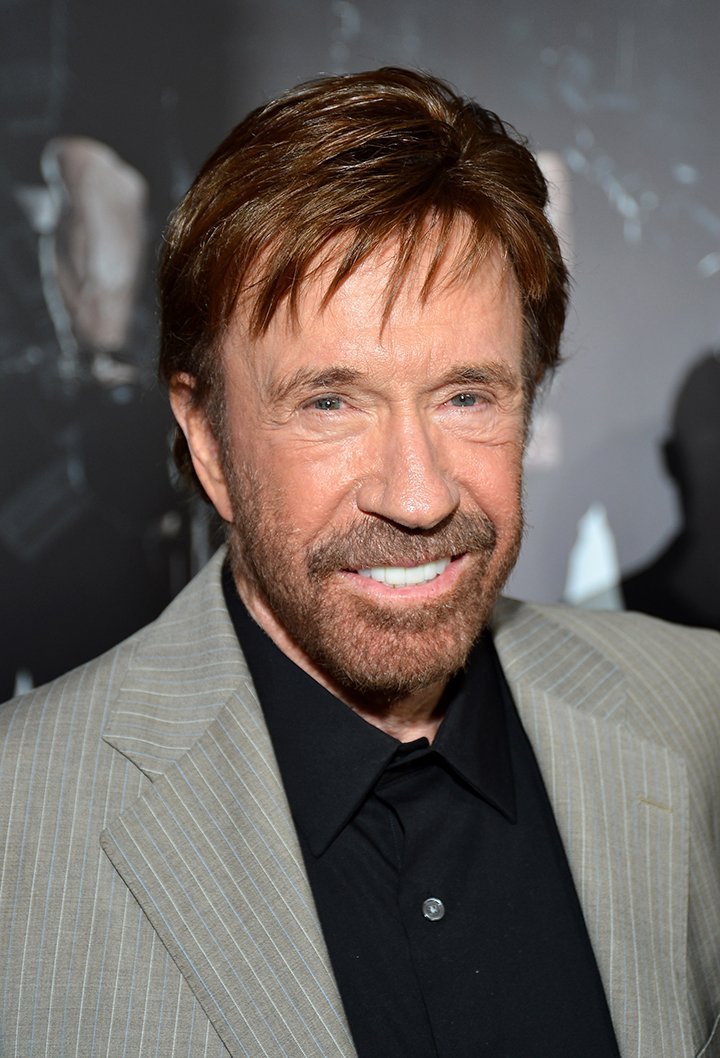 Chuck Norris. I Image: Getty Images.
"I've given up my film career to concentrate on Gena, my whole life right now is about keeping her alive. I believe this issue is so important," Norris told Mirror in 2017. He is also devoting to raise awareness about gandolinium poisoning.
So now that he has left his years of performing behind for such noble reasons, let's revisit the journey that brought him here.
CHILDHOOD
The "Walker, Texas Ranger" star was born on March 10, 1940, in Ryan, Oklahoma, to a truck driver named Ray and his wife Wilma. His birth name is Carlos Ray Norris and he is the eldest of three children.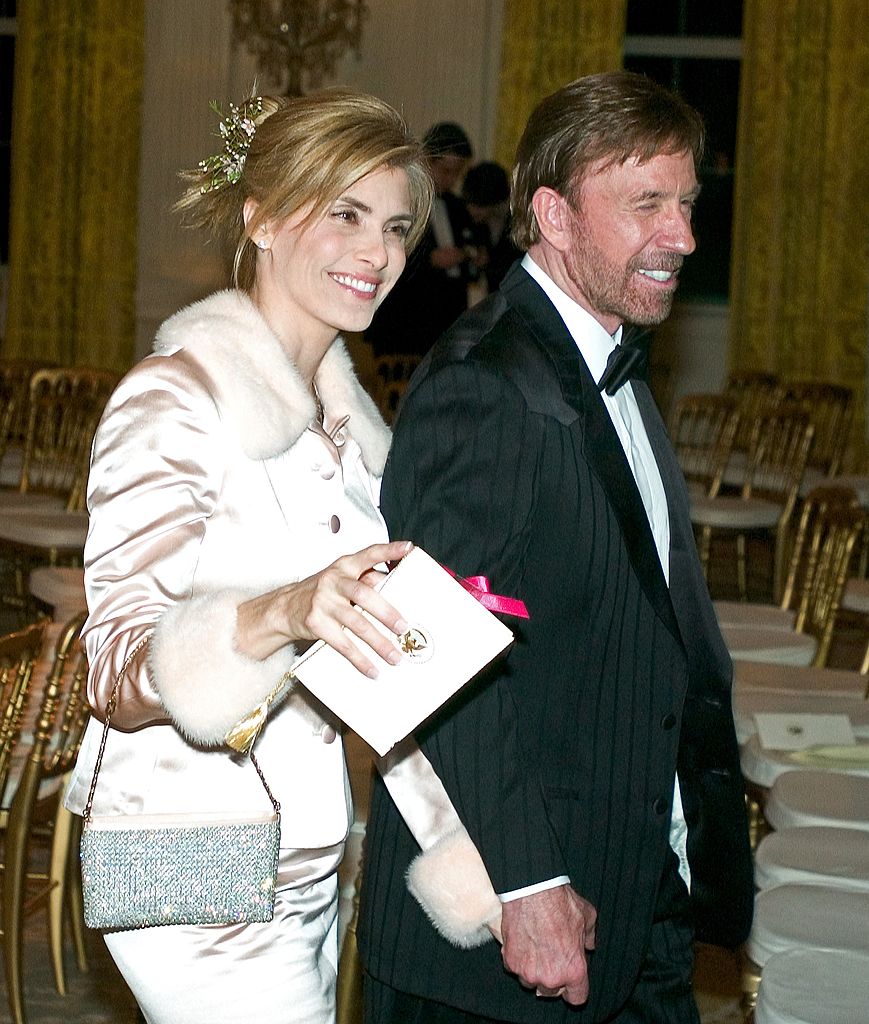 Chuck Norris and his second wife Gena. I Image: Getty Images.
At age 10, following his parents' divorce, Norris moved to California with his mother and two younger brothers, where he stayed until he graduated from North High School in 1958.
The same year, without wasting any time, Norris married Dianne Holechek before joining the US Air Force.
MARTIAL ARTS BACKGROUND
While stationed at the Osan Air Base in South Korea, Norris had his first encounter with martial arts.
He had planned to become a policeman after returning to the US, but one night of duty in the Asian country made him realized he was nothing without a gun. With this in mind, he set out to study Korean martial arts.
In less than four years, Norris became the first Westerner to reach the eighth-degree Black Belt in Tae Kwan Do.
In 1962 he left the service after briefly serving at March Air Force Base in California, and he had changed his choice of a career to become a full-time martial artist.
TEACHING MARTIAL ARTS
During the later part of his military service, Norris made some extra money by working as a Karate instructor, and once he returned to civilian life he went on to support himself by teaching Karate.
He was so good at it that he eventually opened more than 30 Karate studios, counting many celebrities like Priscilla Presley and Steve McQueen, all this before Norris himself became part of the exclusive club of Hollywood stars.
In fact, this link with the entertainment industry was what led to Norris becoming curious about acting.
ACTING CAREER
But despite the initial popularity of Norris' chain of schools, business started to slow down after two years. "I lost everything. It took me five years of giving seminars and teaching private lessons to avoid bankruptcy," he wrote in 2017.
McQueen, who contrary to Norris was at the peak of his career, was not only one of his pupils, but he also developed a close friendship with the future star, and the two had Bruce Lee as a common friend.
Seeing that Norris martial arts career was not profitable at the moment, McQueen suggested his friend to try acting, since he believed Norris had that "certain presence" that makes an actor appealing.
"I checked into various acting schools, but they were all too expensive. Finally, I found a school that could be paid through my GI Bill. So, I began studying acting, and the rest, as they say, is history," Norris recalled.
HIS BREAKTHROUGH ROLE
While acting lessons paid off and by 1968 Norris had already made a small uncredited appearance in the comedy film "The Wrecking Crew" starring Dean Martin and Sharon Tate, it was only in 1972 when he made his mark in the movies.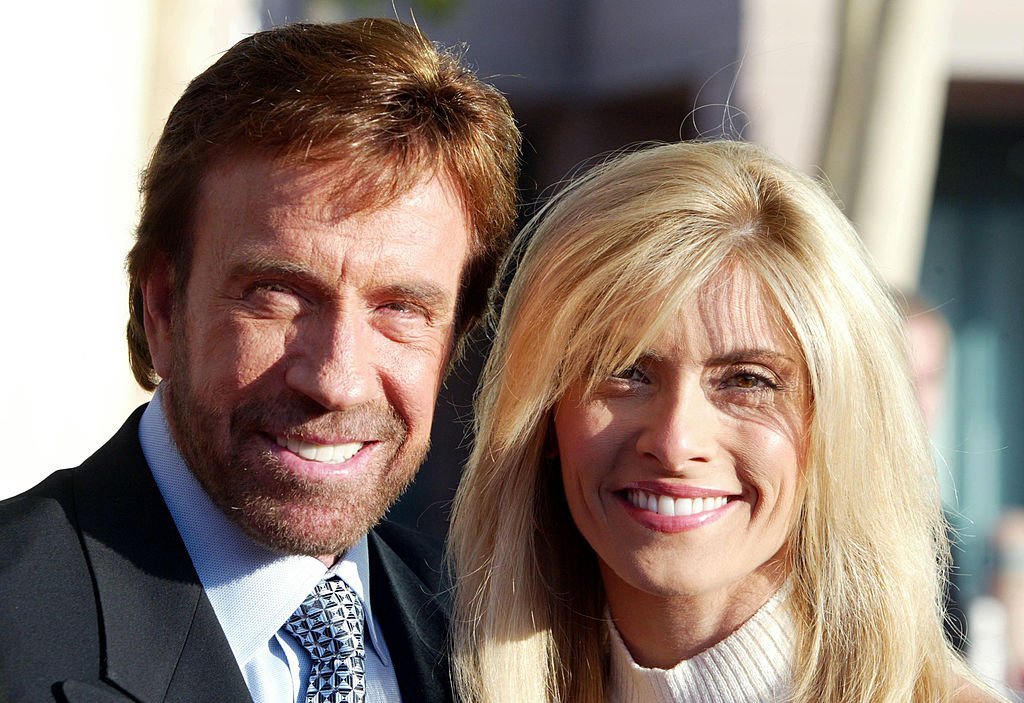 Chuck Norris and his second wife Gena. I Image: Getty Images.
Norris unchoreographed fight scene with Bruce Lee in the film, with the famous Roman Colosseum as epic setting, is to this day the stuff of legend. Then in 1977, he got his first leading role in "Breaker! Breaker."
During the next years, Norris continued cementing his reputation of onscreen hunter of the bad guys with films like "Missing in Action" (1984), and "Delta Force" (1986), but his most famous role to date was going to be in a TV series in the '90s.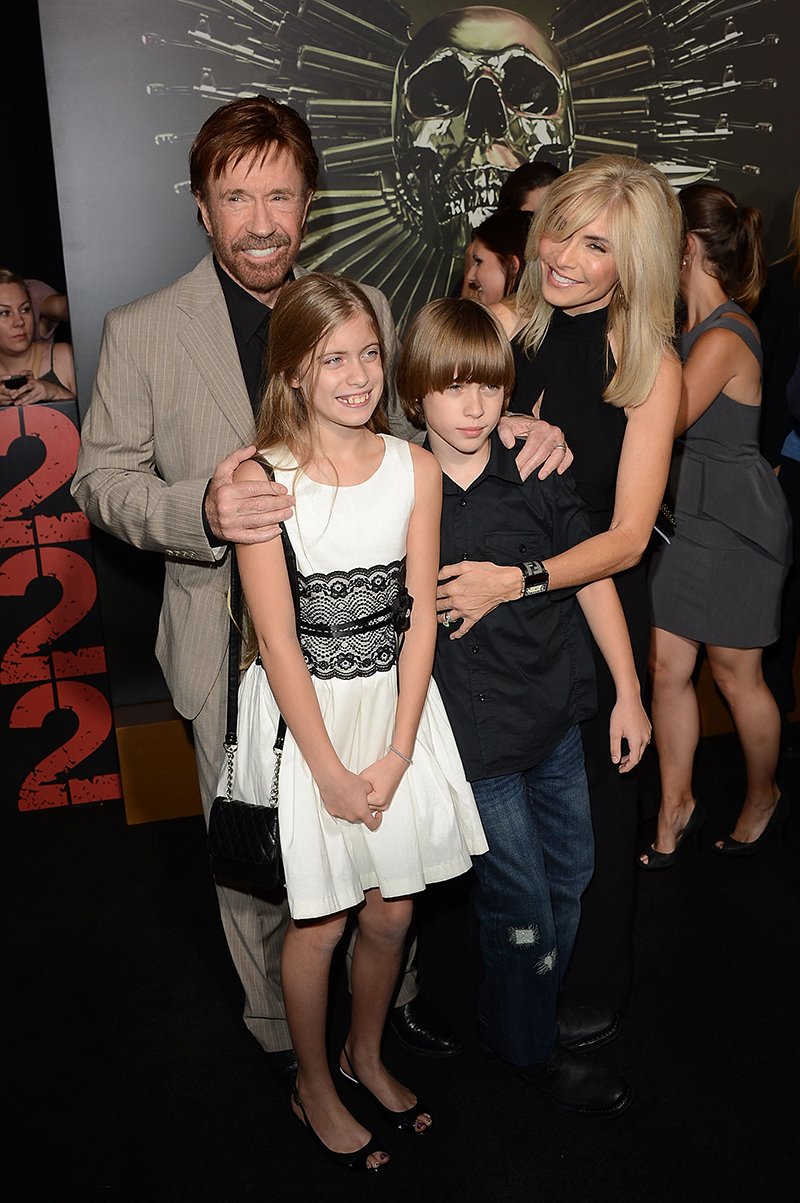 Chuck Norris and his wife and children. I Image: Getty Images.
END OF HIS FIRST MARRIAGE
In 1988, Norris divorced from his first wife, Diane, whom he had known since his high school years. During their marriage of 30 years, the two produced three children, Mike, born in 1962, and Eric, born three years later.
Mike is 57 now and grew up to become an actor and director, with more than 30 credits under his name. He debuted as a director in 2000, directing his father in a few episodes of "Walker, Texas Ranger."
Eric is 54 and he pursued acting as well, besides being a racecar driver and stuntman. Influenced by his father, he practiced Karate from a very young age. He was the stunt coordinator in "Hawaii Five-0" from 2017 to 2019.
In 1991, Norris found out that he had inadvertently fathered a daughter named Dina in 1964, following a brief affair he later admitted to have had with a woman named Johanna while married to his first wife.
"I didn't need DNA or blood tests. I went to her, wrapped my arms around her, and we both started crying. At that moment, it was as if I had known her all my life," the actor wrote about reconnecting with his daughter in his book "Against All Odds."
WALKER, TEXAS RANGER
By the end of the 1980's, Norris was having trouble finding relevant roles in movies, so he decided to give it a try at acting for the small screen, and in 1993 he landed the role of crime fighter Cordell Walker in "Walker, Texas Ranger."
The series became a hit and gave Norris more exposure than any of his previous works, apart from introducing him to a newer generation that was going to adopt the Internet and turn him into a larger-than-life myth.
Norris starred in the contemporary Western series for eight years, earning three consecutive BMI TV Music Awards between 1997 and 1999. Following the end of the series, Norris slowly got away from the business until retiring in 2015.
SECOND MARRIAGE AND RETIREMENT
Norris has been married to his wife Gena (née O'Kelley) since 1998, with whom he welcomed twins Dakota and Danilee in 2001, when Norris was 61. The brother and sister already debuted on TV in the show "Yes, Dear."
In 2013, Gena reportedly fell ill and had to undergo an emergency MRI scan to check for rheumatoid arthritis, but apparently there were unexpected side effects from an injection given to the star's wife prior to the test.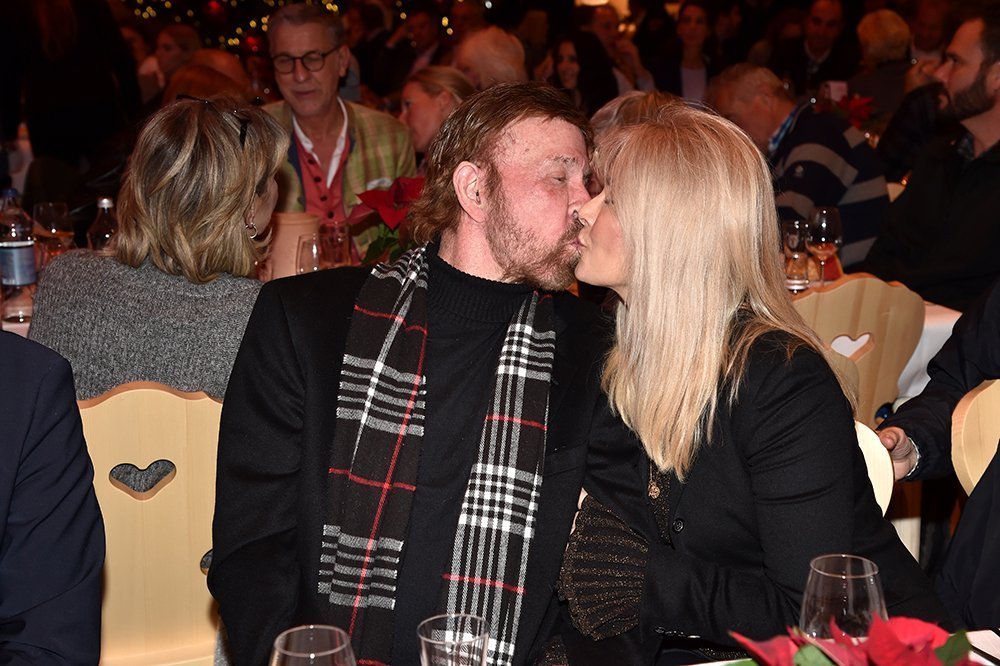 Chuck Norris and his wife Gena. I Image: Getty Images.
"[It was] as if acid had been passed through it. The burning was isolated at first, but it just kept spreading," Gena said about her symptoms, attributed to gadolinium toxicity.
Since then, the couple has been devoted to spread the word about this little known threat.
"It's infuriating and heartbreaking — it's a vicious, ugly secret that has been kept hidden — something Chuck and I are determined to change," Gena also told Express.
Please fill in your e-mail so we can share with you our top stories!