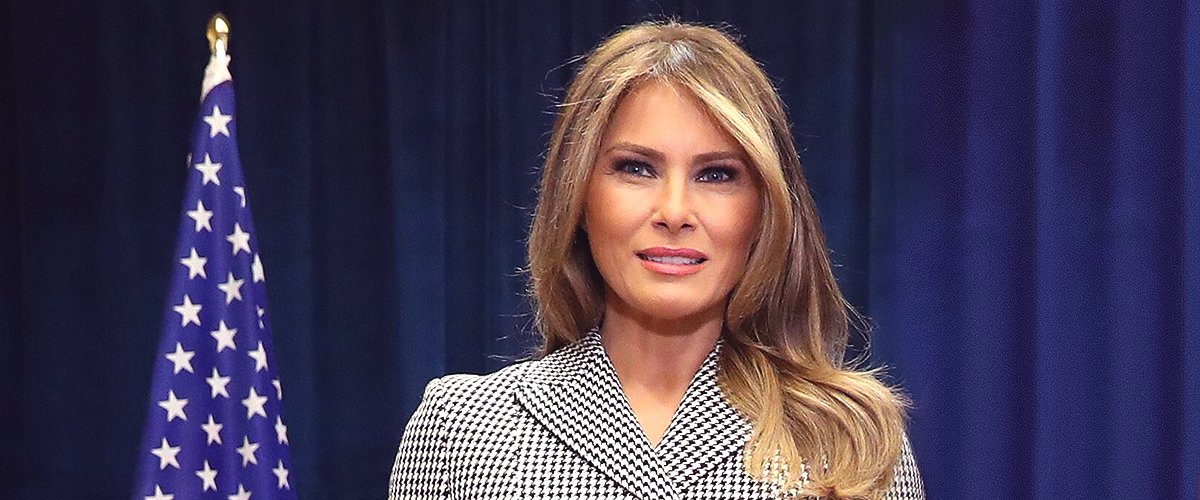 Getty Images
Stylist on Melania Trump's Worst Fashion Choices: 'She Committed a Lot of Fashion Crimes'

Change is meant to be the only constant thing in life, but fashion evolves, and so have Melania Trump. However, she didn't become a style icon without making some wrong choices along the way.
Way before meeting Donald Trump, in an era before she went on the campaign trail with him, and in a world before she became the First Lady of the United States, Melania Trump, was simply a girl who emigrated from Slovenia, in pursuit of a career in modeling.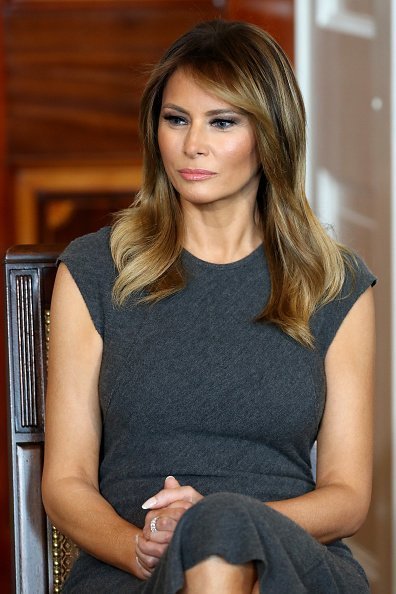 Melania Trump meets with teen age children at the White House on October 09, 2019 | Photo: Getty Images
Before the world knew her name, the First Lady of the United States had a profound and lasting love for fashion. She had, and still has the body, the looks and a personal sense of style that has seen some exciting times and some cringing moments.
SHE WASN'T ALWAYS FASHIONABLE
In the '90s, when Melania was a model attending parties, mingling with the high and mighty of the New York social scene, and walking runways at fashion shows, she was more of a fur-wearing, bedazzle-loving, cleavage showing, and leggy girl.
Over the years, she has tamed her more "Tacky" side and switched to more conservative and elegant choices.
FLOTUS's recent fashion choices have led many to see her as one of the fashion icons of the 21st century. One of her notable iconic moments is the baby blue high neck Ralph Lauren dress and matching pumps she wore to the inauguration ceremony in 2017.
Another noteworthy moment for Melania was in October, during a dinner at the White House with senior officers of the military and their spouses. The mom-of-one looked divine in a blue and red patterned short-sleeved dress, matched with black pumps.
A BEAUTIFUL AND ELEGANT LADY
Recently, the First Lady brought the chic in a camel-colored leather buttoned-down long-sleeved shirt, and olive cropped-out pants, worn to the American Red Cross Society in Washington D.C. She paired it with a tan and black Python comfy loafers.
In 2016, one of the former model's admirers predicted her fashion icon status, tweeting,
"Melania Trump will become the most beautiful and elegant First Lady ever. She will be a huge fashion icon."
This past August, another tweeted,
"I don't know, but I love Melania Trump's style. Her style of clothing and shoes are very stylish and classy."
Two months after, another fan of FLOTUS tweeted,
"I love Melania Trump's sophisticated and stylish outfit… her designer [should get] commended. Wow! Exceptionally stunning."
THERE HAVE BEEN SOME UNFLATTERING CHOICES
While the fashion stylist, professional shopper, and style commentator, Rost Dikoy, agrees that Melania's stylist has done a flawless job, he told Amomama in an exclusive interview that he does not approve of some of her fashion choices.
Among some of the unflattering choices is this photo of the First Lady dressed in a moored jacket with cropped wide pants. The stylist said about the outfit,
"Unfortunately, the proportions of the figure is violated in the wrong way. This piece significantly shorts Melania's growth. We see a long torso and short legs. Also, heavy fabric made the image square."
In the stylist's words, the FLOTUS has committed a lot of fashion crimes, and wearing a black short-sleeved dress with a deep V-neckline is one of her offenses, even though he admits,
"Yes, her love for necklines remains. Although they became not so vulgar."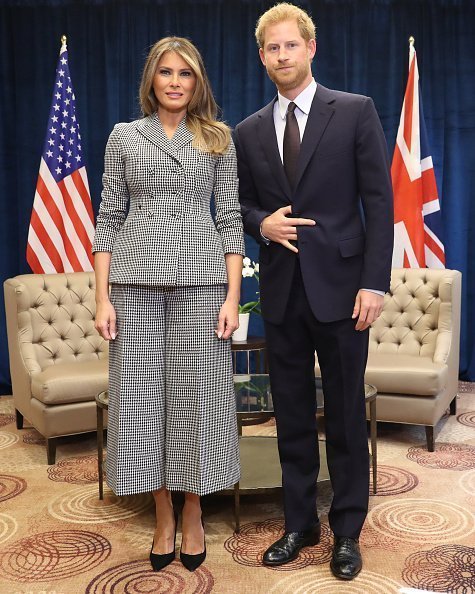 Prince Harry with U.S. first lady Melania Trump at the Invictus Games 2017 on September 23, 2017 | Photo: Getty Images
Dikoy believes that Melania's past as a model helps her pose effortlessly. Still, not even that could save her from looking like a fashion newbie in an awful looking silver beaded outfit, with a landing that stopped below her knees.
AN ICON TO WATCH ALWAYS
The First Lady appeared to redeem herself, and in the stylist's words, "Return to the right choice of clothes," in a floor-length gown worn during the dinner hosted by Queen Elizabeth during the First Family's state visit in June.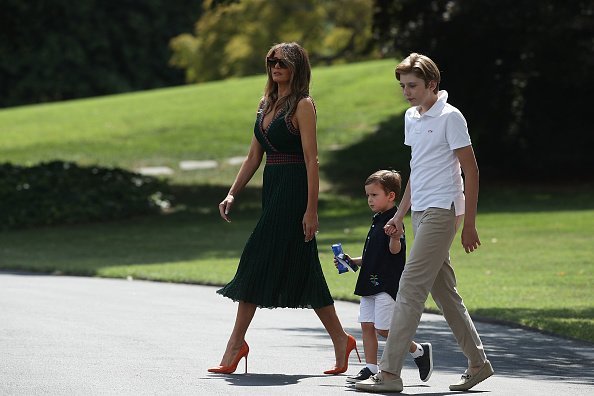 Melania Trump with son Barron, and grandson Joseph Frederick Kushner on the South Lawn of the White House on August 25, 2017 | Photo: Getty Images
Fast forward to September 2019, and the title of fashion icon does not apply to her. Melania wore a blue dress that looked from the waist down as a lousy mop, and it also had a sheer blue long-sleeved hand.
Other bad fashion choices by the former model include an ugly brown dress with an orange belt and a coat of the same color draped on her shoulders.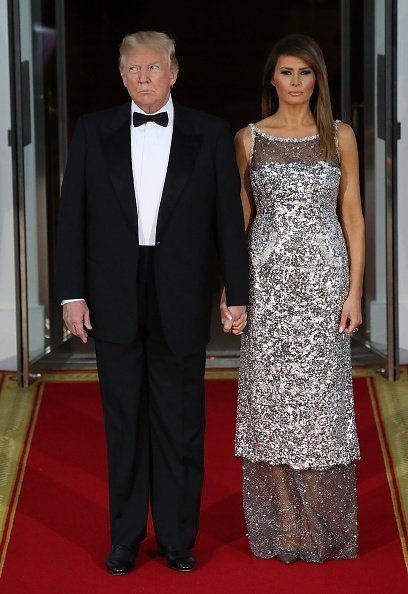 Melania Trump at the North Portico for before a State Dinner at the White House on April 24, 2018 | Photo: Getty Images
Another is the gray dress with a pleated bottom, long-sleeve, fabric belt, and a gray coat, worn by Melania during an official visit to France in November 2018. While it was appropriate for the weather, it was unflattering on the FLOTUS. Dikoy concludes,
"Today the looks of Melania Trump look fragmented and become subject to criticism, and for any fashion critic, every Melania outfit is a matter of debate and discussion. For me, it's more of a challenge to work with her wardrobe as a stylist."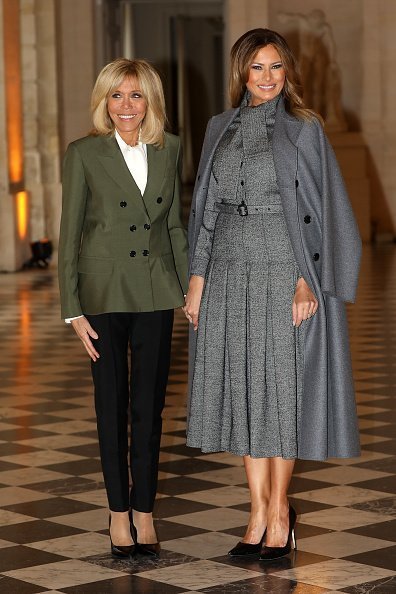 Lady Brigitte Macron and American First Lady Melania Trump 11 at Chateau de Versailles on November 11, 2018 | Photo: Getty Images
The First Lady's fashion evolution shows that she's here to stay, and love or hate her, she's a fashion icon to watch always.
Please fill in your e-mail so we can share with you our top stories!