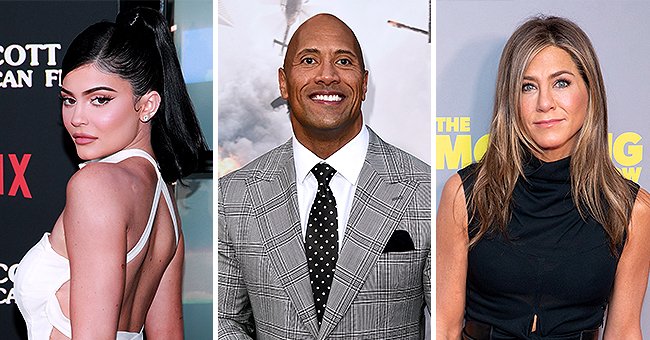 Getty Images
Celebrity Photos That Got the Most Likes on Instagram

Instagram has over a billion monthly users and pictures are liked more than three and a half billion times a day. So getting the most likes on a picture is no easy feat.
Attracting enough people to a post requires a large following as well as some photography skills. Not to mention, you need t live a life worth documenting.
These ten pictures checked all the boxes required and launched these celebs into the Instagram history books. Here is a look at the top ten most-liked Instagram posts.
1. Kylie Jenner and Stormi
When your mom is a billionaire with a makeup empire, having her wrapped around your fingers will definitely draw attention. Thus when Kylie Jenner took to Instagram to share a sweet post of her daughter Stormi holding her hand it's no surprise that the likes flooded in.
The post currently has over eighteen million likes and was once the most-liked Instagram picture on the platform. However, a picture of an egg eventually beat her but it was later deleted without warning in October 2019, allowing Jenner to reclaim her title.
2. XXXTentacion
Rapper XXXTentacion's last post was made before he passed in June 2018. It is the only picture on his Instagram feed and gained a lot of attention from fans.
The post gained 17.5 million likes. Even more spooky was the music video that was released after his passing showing the rapper attends his own funeral.
3. Jennifer Aniston
Jennifer Aniston joined Instagram recently and her first post caused ripples. In the throwback picture, Jennifer Aniston and her Friends co-stars were pictures smiling brightly at the camera.
While the picture quality was lacking but it gained over 5.2 million likes. Aniston also became the fastest person to reach a million followers when she reached the goal in five hours and 16 minutes. The record was confirmed by Guinness World Records.
4. Dwayne 'The Rock' Johnson
Dwayne 'The Rock' Johnson left fans stunned when he took to Instagram to reveal he had married his long-term girlfriend Lauren Hashian in a private ceremony in Hawaii in August 2019. The post was a huge hit.
The owner of the People's Elbow and global movie star earned 14.6 million likes on the post. His Instagram account is also one of the most followed accounts on the platform.
5. Selena Gomez
Someone used to gaining millions of likes on her post is Selena Gomez. The singer takes up two spots on this list.
The first picture to make the list is a picture of her hanging out with her friends on the beach. The post has over 14.5 million likes.
6. Selena Gomez in Italy
The second picture of the singer is one from her trip to Italy. In the gorgeous picture that was liked more than 14.5 million times showed Gomez posing by a river in Italy.
Selena is jokingly referred to as the Instagram Queen and has over 161 million followers. It's no wonder her pictures gain so many likes.
7. Jenners as Avengers
Kylie Jenner is another regular on the list. She earned another spot when her post of her family dressed up as Iron Man, Captain Marvel, and Thor raked in the likes.
With 13.6 million likes fans of the makeup mogul loved the adorable Halloween picture. It has been reported that the reality show star is paid around $1.2 million for a single post on Instagram.
8. Justin Bieber
Justin Bieber slid onto the list with a sweet tribute to his wife Hailey Baldwin Bieber. The sweet post gained 13.4 million likes.
However, just before posting the picture, Bieber had challenged fans to like one of his pictures 20 million times. He claimed he would release an album before Christmas if the goal was achieved but so far the post to Hailey is the closest he has gotten.
9. Kylie & Travis Scott
Yet another picture from Kylie to make the list earned 13.3 million likes. The post was a series of photos to pay tribute to Travis Scott on his birthday. The picture was accompanied by a heartfelt message reading:
"Watching you evolve into the partner, friend, son, and father you are today has been so fulfilling my real life bestie & hubby all wrapped into one. I love you and I'm so so proud of you. happy happy birthday. Let's fuck around and have another baby."
10. Spiderman and Iron Man Reunite
The number ten spot on the list was snagged by actor Tom Holland. He posted a picture with fellow MCU co-star Robert Downey Jr.
The post is currently sitting at 13.2 million likes and is cutely captioned "We did it, Mr Stark!" The caption struck a chord with many fans.
Please fill in your e-mail so we can share with you our top stories!