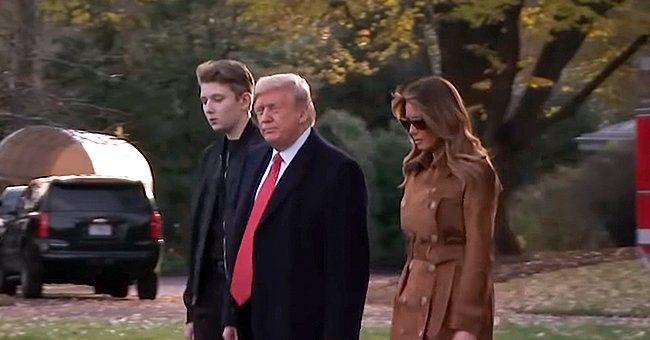 youtube.com/VOA News
Donald Trump's Teen Son Barron Looks Grown up with Different Hairdo as the Family Heads to Florida for Thanksgiving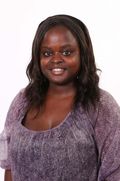 Barron Trump makes a rare public appearance as he joins his parents, Melania and Donald Trump, to board a helicopter, which was headed to Florida for their thanksgiving holiday.
It seems every time Barron Trump makes a rare public appearance, he appears to be looking a lot taller each time he is photographed.
Recently, the 13-year-old son of the heads of state, First Lady Melania Trump and President Donald Trump, was spotted boarding a helicopter to Florida.
Towering over both his parents, Barron wore a black ensemble, compete with a bomber jacket, and matching New Balance sneakers.
Making his way across the South Lawn of the White House, he trailed behind Trump, who wore a navy blue suit, with a red and white spotted tie under a long coat.
It is no surprise that Barron is so tall. Trump is 6 feet and 3 inches. Melania, a former model, also stands tall, at 5 feet, 11 inches.
The last time Barron was spotted with his parents, was in August when the family arrived on the South Lawn of the White House. They had come from spending ten days at the Trump National Golf Club in Bedminster, New Jersey. Even then his advancing height was just as apparent.
Walking hand in hand with the president, Melania wore brown suede from head-to-toe. She opted for a trench coat and knee-high, square heeled boots.
Arriving at the helicopter, Trump held Melania's hand and affectionately placed his hand on Barron's back as they boarded the helicopter.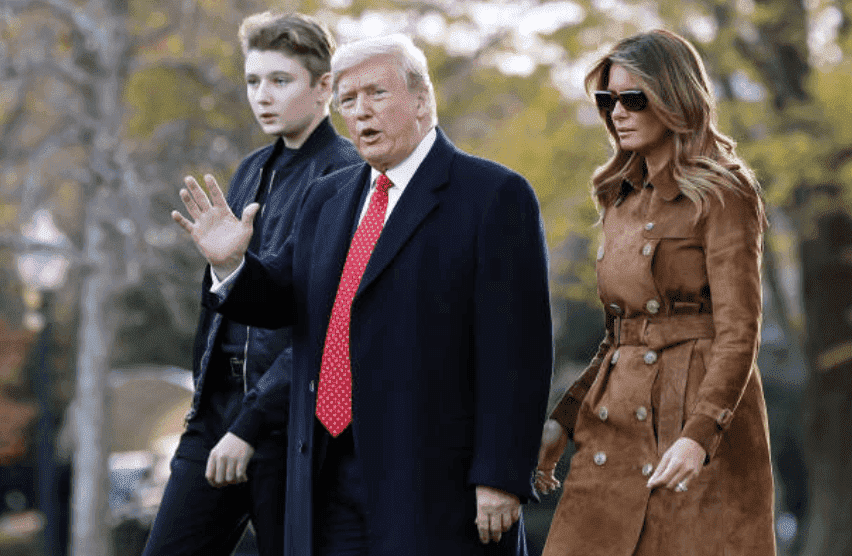 President Donald Trump, Melania Trump, and their son, Barron Trump waves as walk across the South Lawn before boarding the Marine One, on November 26, 2019 in Washington, DC | Source: Photo by Chip Somodevilla/Getty Images
The first family was headed to Mar-a-Lago in West Palm Beach, Florida, where they will be spending their thanks giving weekend.
Melania's parents Viktor and Amalija Knavs, who flew in to join the family trailed behind them, as they all headed to the private helicopter.
Barron, who is reportedly the favorite uncle to Trump's ten grandchildren, makes very few public appearances compared to his siblings.
In an attempt to give him as much of a normal life as possible and to shield him from public scrutiny, Melania and Trump have kept him out of the public eye.
Please fill in your e-mail so we can share with you our top stories!