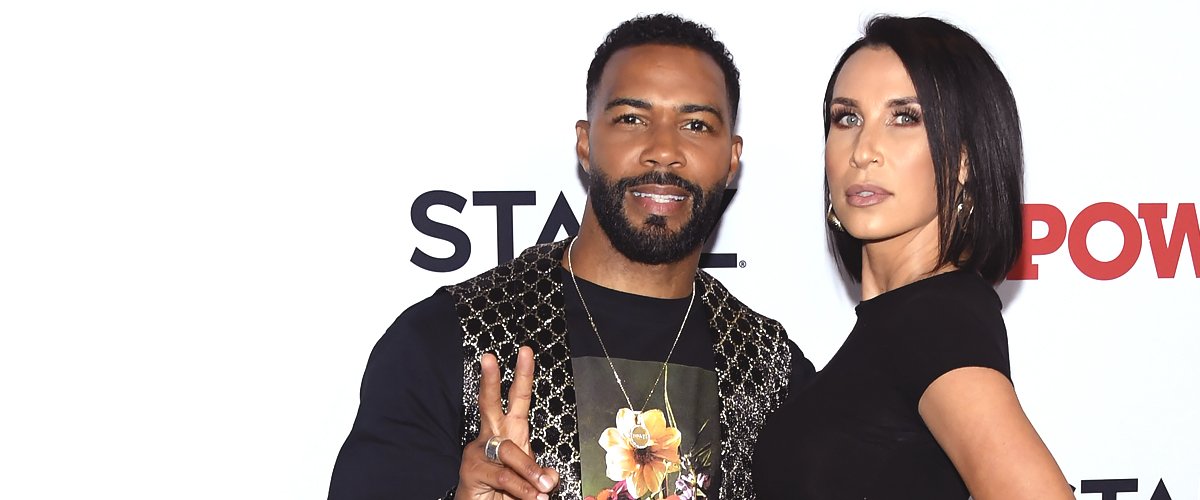 Getty Images
Jennifer Pfautch: Life Drama and Other Facts about Omari Hardwick's Wife
Actor Omari Hardwick, known as James St. Patrick on "Power," has been married to Jennifer Pfautch since 2012. Their romance has been surrounded by drama, unfortunately.
Born in 1974, Omari's career in the entertainment industry began in 2002 on "Circles." Although he kept getting roles in different films and TV shows, the most important one came in 2006, when he landed the role of John "Sack" Hallon on "Saved."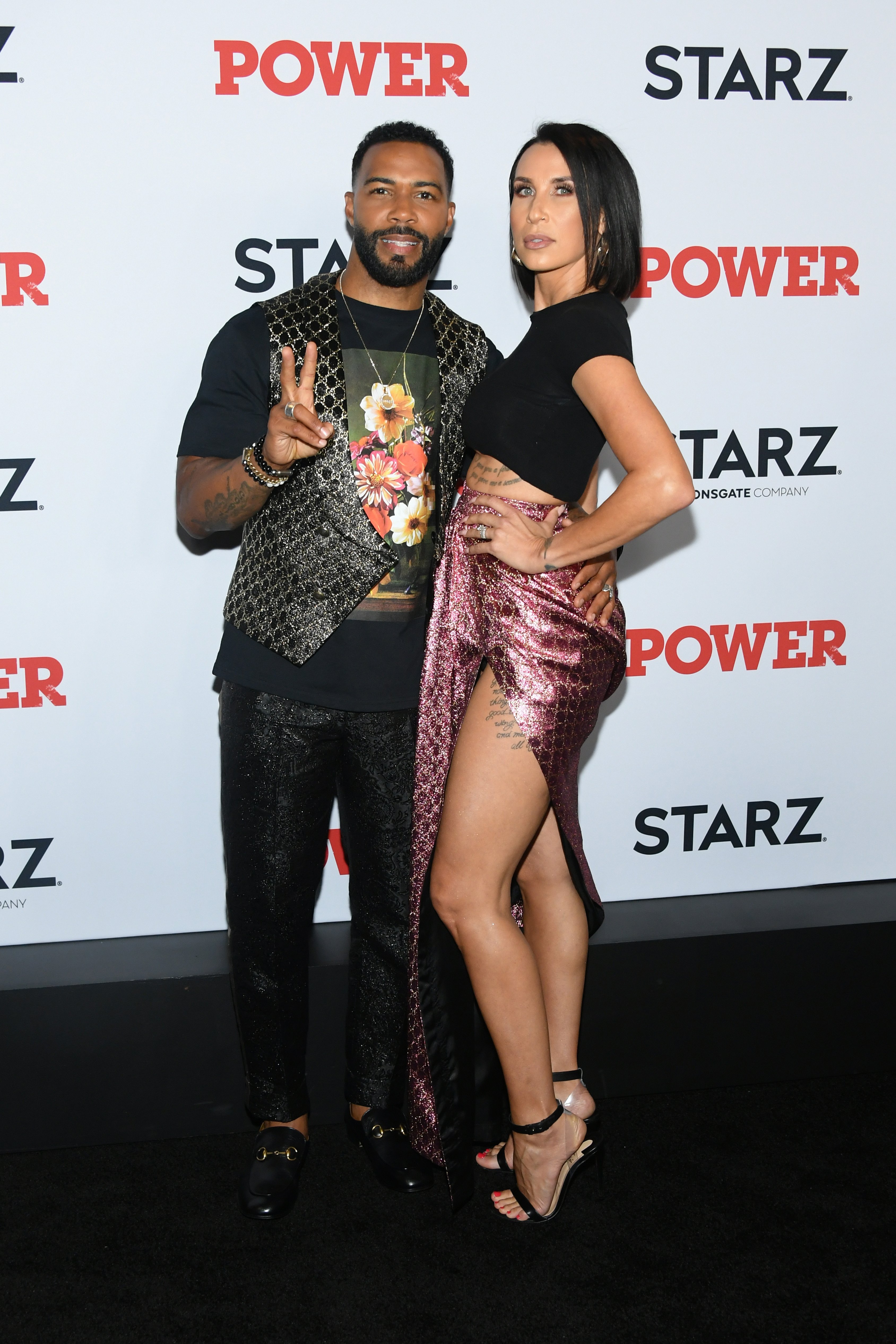 Omari Hardwick and Jennifer Pfautch on August 20, 2019 in New York City | Source: Getty Images
Omari Hardwick's movies
From that point on, Omari's fame has been increasing, taking main parts in "Dark Blue," "Being Mary Jane," "Sorry to Bother You," and, starting in 2014, "Power."
His portrayal of James St. Patrick, a.k.a. Ghost, has been so good that it got him a BET Award nomination in 2017. Omari Hardwick's wife, Jennifer Pfautch, has been supporting him for a long time.
Jennifer Pfautch and Omari Hardwick's relationship
Although they have been married for more than seven years, details of their relationship before walking down the aisle are scarce, to say the least. The same can be said about Jennifer's early life.
Thanks to the Magazine of California Lutheran University, we learned that she was born in 1982, that she got a Communication major, and that she interned at NBC's Primetime Entertainment Publicity Department in Burbank, California.
Judging by her LinkedIn profile, she started working as an assistant in the Creative Artists Agency in 2004. She later moved on to the Paradigm Talent Agency to work as a publicist.
While it is not confirmed, it is believed that Omari and Jennifer Pfautch met each other thanks to her job as a publicist.
Jennifer and Omari's wedding
Details of the couple's wedding are also rare, unfortunately. However, Jennifer and Omari Hardwick have uploaded some photos on Instagram celebrating their anniversary, which leads to the conclusion that they tied the knot on May 4, 2012.
Given the fact that Omari is Black and Jennifer is White, some people have been complaining about the couple's interracial relationship.
Back in July 2017, one of his Instagram followers wrote in one of his posts that he "lost points" for marrying a White woman. The netizen pointed out, though, that she "still got" him.
Omari probably had had enough of those racist comments at the point, so he clapped back with:
"I'd prefer you not have me. You just lost all points with me. Good luck in life."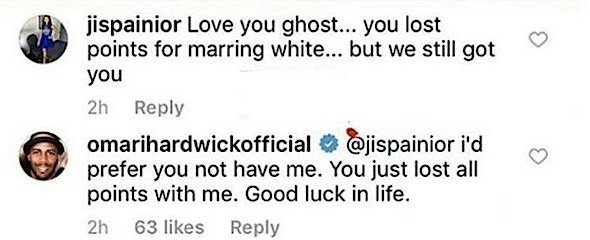 Omari's response to a netizen judging his interracial relationship | Source: Instagram/omarihardwickofficial
Jennifer Pfautch's asking for support
Shortly after the uncomfortable experience, Jennifer uploaded a photo in which she urged women to support each other instead of putting them down. In the caption, she wrote:
"Ladies, we are so much better together, than wasting our energy trying to stay separate. None of us are the same. None of us have identical experiences. … Openness, compassion and a willingness to grow are prerequisites for creating a unconquerable sisterhood."
Despite all the negativity that the couple has faced, they have had two children so far: daughter Nova and son Brave. In a 2017 interview, Omari talked about his and Jennifer Pfautch's kids.
He said that "Super Nova," as he called his daughter, was almost five years old at that point, which means that she was born in 2013. As per "Brave Boy," Omari said that he was "two years and five months," meaning that he was born in February 2015.
Jennifer and Omari's children
The actor admitted that Nova walked "so much later" than her brother but started talking "so much earlier" than Brave. According to his experience, boys are a little bit slower on the development in terms of speaking, but their motor skills are "off the chart."
He joked about another "off-the-chart" aspect in boys: the level of craziness and insanity. Kelly Ripa, the host of the show and mother of two sons and a daughter, replied with, "Oh, just you wait," implying that the craziness had just started.
Unfortunately, facing backlash is not the only negative situation that the Hardwicks have gone through. Omari's sister Shani Hardwick passed away when she was just 33 years old.
The actor's brother, Malik Hardwick, passed away at 45. So far, Omari has only one brother alive, Jamil Hardwick. He is married and has a child. Even though the causes of the death of his siblings are unknown, he once tweeted about the feeling.
Omari on losing his first child
Omari also mentioned losing a child. While in an interview with Lance Gross, he said that his first child with his then-girlfriend was stillborn, a fact that left a significant gap in his life.
Thankfully, he managed to overcome such a difficult situation and is now focused on spending as much time with his family as possible.
As per his career, he is focused on "Power" but has also accepted some roles in different films. "Army of the Dead," which is expected to hit theaters in 2020, is Omari's latest gig as an actor.
Throughout the years and all his acting credits, he has received a lot of money. Omari Hardwick's net worth is estimated at $5 million.
Please fill in your e-mail so we can share with you our top stories!